Enriching the food belt
Share - WeChat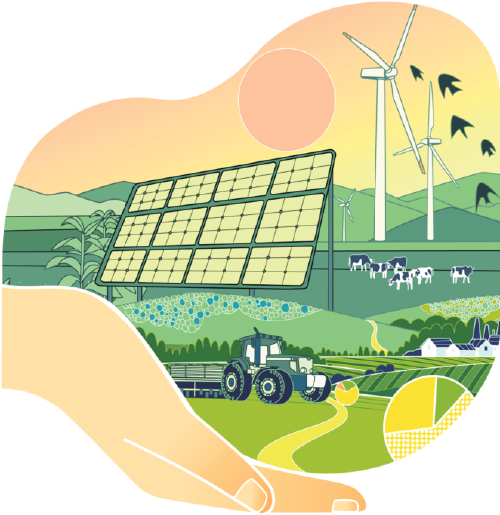 By enhancing tropical agriculture under South-South cooperation, China's experience promises to be a win-win for global food security
Tropical regions are home to about 40 percent of the world's population. Agriculture in the tropical region, which is one of the major food providers in the world, is a prominent component of the global agricultural supply chain, playing an essential role in global food security and sustainable development. However, the modernization of agriculture in most tropical regions is relatively underdeveloped, and tropical agriculture faces mounting pressures due to climate change, growing food demand and systemic socioeconomic and environmental constraints. While facing many challenges, the region is also rife with opportunities. More efficient and sustainable development of agriculture can be achieved with the joint efforts of the international community.
The United Nations World Food Programme China is dedicated to knowledge sharing and technology transfer among developing countries in the pursuit of promoting food security, nutrition improvement and poverty reduction through South-South cooperation. Recognizing the immense potential of sharing China's best practices, technological innovations and capacity-building efforts in tropical agriculture development, WFP China has forged strategic partnerships with a wide range of Chinese government counterparts and academic institutions, aiming to strengthen South-South cooperation in the field of tropical agriculture.
One of these collaborations was the signing of a memorandum of understanding between WFP China and the Chinese Academy of Tropical Agricultural Sciences in 2021, which outlined a road map for South-South cooperation on tropical agriculture to improve food security and rural livelihoods in developing countries of tropical areas. Knowledge sharing and capacity building are prioritized in the collaboration. Leveraging the academy's technical expertise in tropical agriculture, we jointly organized training activities and developed knowledge products to enhance smallholder farmers' resilience to climate change and improve food security and their livelihoods.
Cassava is a major staple food and cash crop in many tropical countries, especially in Africa. The Republic of Congo is one of the world's largest producers of cassava, with 98 percent of farmers engaged in cassava cultivation. In collaboration with the Chinese Academy of Tropical Agricultural Sciences, WFP China supported the Country Pilot Project in the ROC, aiming at enhancing the development of the cassava value chain by tapping into China's successful experience to create benefits for the most vulnerable people suffering from hunger and malnutrition.
The project provided technical support to the development of the cassava value chain in the ROC through technical training, seminars and video courses, which have empowered local smallholder farmers, producers and officials in cassava production, processing, post-harvest loss management, and value chain development. In the past, cassava products were mainly processed manually in the ROC, where people grated the tubers on perforated metal sheets and pressed the cassava under piles of rocks. Currently the local cassava production, thanks to technical support under this project, has improved significantly with the introduction of processing techniques, such as mechanical graters and screw presses, which has led to increased production volumes, reduced post-harvest losses, and improved livelihoods for smallholder farmers. Mbessi Lucien, a local smallholder farmer, said: "Our children need to gain this knowledge, so that when we are old, they will follow in our footsteps."
Driven by demands from other developing countries, smallholder value chain capacity, post-harvest management, disaster-preparedness and climate change adaptation, poverty reduction and rural vitalization innovation have been identified as priorities of WFP China's South-South cooperation engagement, with tropical agriculture as a major focus. In Madagascar, WFP China supported local women groups in developing the cassava and banana value chains to promote women's economic empowerment. In Mozambique, smallholder farmers benefited from China's expertise in sweet potato processing technology and post-harvest loss management of fruits and vegetables. A series of seminars and workshops were held to share China's technical solutions in the realm of tropical agriculture development with participants from more than 20 developing countries. This year, delegations from Cote d'Ivoire, Guinea, Cameroon, Cuba and Timor-Leste conducted on-site study tours to learn about China's experience in developing crop value chains and explored future cooperation opportunities with China.
Knowledge sharing through South-South cooperation is pivotal in addressing challenges and advancing sustainable agricultural development within tropical regions. As a dedicated partner to developing countries that seek innovative and adaptable solutions for their developmental obstacles, WFP China remains steadfast in its commitment to exploring and supporting new areas of South-South cooperation, guided by the evolving needs of developing countries amid the complex global context of food insecurity.
By actively participating in South-South cooperation, WFP China is well-positioned to unlock the potential of tropical agriculture, empowering developing nations and catalyzing transformative changes in agricultural practices and landscapes. As an increasing number of tropical developing countries benefit from China's successful experiences in South-South cooperation, these collective international efforts promise to make a substantial impact on global food security. It contributes significantly to building a sustainable and resilient future free from hunger.
The author is WFP Representative and Country Director of the United Nations World Food Programme China. The author contributed this article to China Watch, a think tank powered by China Daily. The views do not necessarily reflect those of China Daily.
Contact the editor at editor@chinawatch.cn.
Most Viewed in 24 Hours
China Views