Revitalizing ASEAN development
Share - WeChat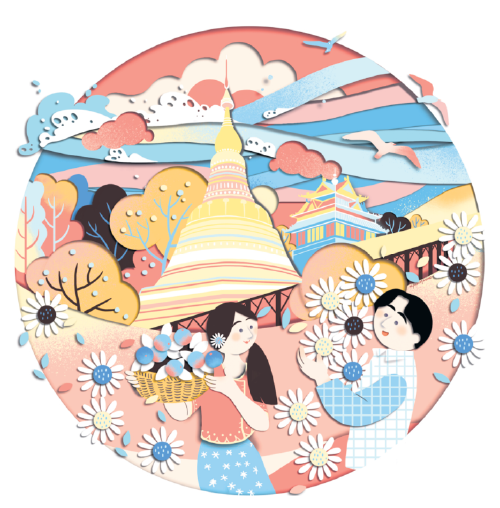 New decade of cooperation with Thailand on Belt and Road & RCEP will stimulate and increase China's role in the region
In 2013, Chinese President Xi Jinping announced an initiative for China to work with member countries of the Association of Southeast Asian Nations for the 21st Century Maritime Silk Road in order to build a closer China-ASEAN community with a shared future. In the 10 years since the launch of the Belt and Road Initiative, China and ASEAN members have enjoyed growth in connectivity, deepening economic integration and robust business ties of trade, investment and financial partnership.
With the in-depth implementation of the BRI and the establishment of the China-ASEAN Free Trade Area, China's investment in ASEAN has increased year after year. As of 2022, the total trade in goods between China and ASEAN was close to $975.34 billion, and ASEAN has become China's largest trading partner since 2020.At the same time, China has continuously increased its investment and industrial transfer to ASEAN countries.
The development of Belt and Road will provide even better opportunities for cooperation between China and ASEAN. ASEAN is developing, more capital is needed, and China's outbound direct investment has grown rapidly. A flood of Chinese foreign direct investment steadily arrived to carry out projects in the ASEAN economies with cumulative turnover of more than $380 billion by the end of July.
The growing investment between the two sides is a result of deepening economic ties between China and ASEAN members, as well as active diplomatic exchanges, which gave rise to many cooperative projects. China-ASEAN two-way investment would increase further with the implementation of the Regional Comprehensive Economic Partnership. ASEAN is an important participant in the BRI, which has pushed the construction of many China-invested infrastructure projects in Southeast Asia, such as the China-Laos Railway.
With more than 650 million consumers and as a supply chain hub for major industries, ASEAN has become an important strategic market. Chinese investors increasingly view Thailand and other ASEAN countries as potential markets for their products and services. Thai businesses should thus see more opportunities for expanding the market at the local and regional level, but they may also face a more competitive business environment. The overall sentiment for Thailand among Chinese investors remains very bullish, despite the COVID-19 setback.
China and Thailand can lead the way and also combine the real evidence of the BRI into the RCEP in empirical ways.
First, a direct effect will come from the increase in the volume of trade between Thailand and the RCEP member countries, while an indirect effect will come from ASEAN and five other countries reducing their tariffs for the first time. And RCEP will benefit from its member countries' market access to their bilateral agreements, which would reduce the tariff barriers and benefit trade opportunities from both Thai goods and services, including increased investment causing economic expansion.
Second, the RCEP brings opportunities and intense competition. Skilled labor and cheap products will feed into both normal trade channels and e-commerce trade, which is expected to affect small and medium-sized enterprises and Thai farmers in particular. Both the public and private sectors need to tweak work plans to increase their competitiveness to meet the challenges. The RCEP will be a free market that will intensify competition in the service sector. Especially, the financial sector will be pressured to reduce the level of protection from the law. Regulations may be relaxed to allow flexibility, which may cause financial services to be moved by labor and capital.
Third, rising geopolitical risks and the impact of COVID-19 have accelerated global supply chains rearrangement in order to make it more resilient. Thus, the global supply chains are likely to rearrange in two fundamental ways: diversification and regionalization. The diversification trend will see more companies adopting multi-sourcing and reducing aggressive reliance on sole-source in order to protect their supply chain against future disruptions such as geopolitical conflicts, pandemics and natural disasters.
Meanwhile, the regionalization trend will observe more relocation of production networks at the regional level. In addition, some critical production such as pharmaceuticals and hi-tech sectors may be moved back to the home country to lessen supply risks as well as increase the product's speed-to-market. As a result of this regionalization trend, more multinational companies have in recent years adopted a strategy called "China Plus One" as a means of diversifying risks from sole operations in China by setting up alternate production bases or seeking more supply sources in at least one other country. Due to their large market size and efficient production bases, ASEAN countries, including Thailand, have attracted much interest as a major destination for foreign investors.
Cooperation between China and Thailand will help ASEAN revitalize regional development. Greater cooperation between China and ASEAN will stimulate and increase China's role in ASEAN.
The author is an associate professor of economics and director of the Center for ASEAN Studies at Chiang Mai University, Thailand. The author contributed this article to China Watch, a think tank powered by China Daily. The views do not necessarily reflect those of China Daily.
Contact the editor at editor@chinawatch.cn.
Most Viewed in 24 Hours
China Views