Catalysts for growth
Share - WeChat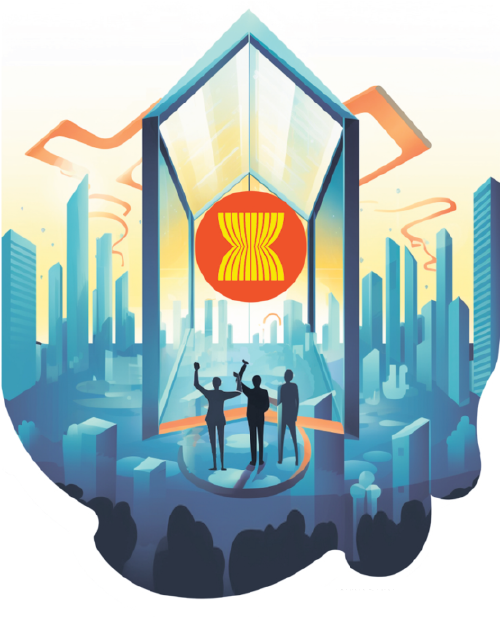 New avenues for cooperation between China and ASEAN are accelerating the region's economic integration and post-pandemic recovery
The 43rd Association of Southeast Asian Nations Summit, led by Indonesia as the ASEAN chair, proved successful. It yielded several significant outcomes. Indonesian President Joko Widodo underscored the shared responsibility of ASEAN and its member countries to prevent the emergence of new conflicts, tensions or wars while simultaneously working toward reducing existing tensions.
In addition to the summit, ASEAN held several bilateral meetings to explore potential economic collaborations, including the ASEAN-China Summit. At that summit, Chinese Premier Li Qiang reaffirmed China's commitment to supporting Indonesia's chairmanship and bolstering ASEAN's economic integration and regional connectivity. The ASEAN-China Free Trade Agreement and the Regional Comprehensive Economic Partnership were highlighted as catalysts for accelerating an inclusive and open trade and investment framework in the region, contributing to the region's economic integration and post-pandemic economic recovery.
Reflecting on the events of 1997-98, it is evident that ASEAN and China have made substantial strides in fortifying their ability to address potential financial crises. These include bolstering economic fundamentals, expanding foreign exchange reserves, diversifying economies and enhancing financial regulations. Moreover, they have reinforced regional financial cooperation and established mechanisms to address financial risks. However, persistent challenges remain, such as high levels of debt and the potential repercussions of a global economic slowdown. The COVID-19 pandemic has also ushered in new challenges for ASEAN and China, including its impact on global trade and supply chains, necessitating proactive economic measures.
As a comprehensive and contemporary agreement, the Regional Comprehensive Economic Partnership stands as a potent instrument to assist Asian economies in rebounding from the pandemic's effects. Beyond regulating market access, the RCEP encompasses crucial provisions for cultivating a conducive electronic trading (e-commerce) ecosystem and empowering micro, small and medium-sized enterprises. This includes facilitating their entry into the marketplace and the regional supply chain. Since the onset of the COVID-19 pandemic in early 2020, ASEAN's short-term and medium-term economic outlook has been disturbed. Supply chain disruptions have accelerated trends toward reconfiguring global value chains. Consequently, there is a heightened focus on supply chain diversification and resilience efforts and the adoption of transformative innovations, particularly in digital and automation technologies.
The institutional arrangements of the RCEP and the potential development of the 3.0 version of the China-ASEAN Free Trade Agreement present numerous opportunities for economic and trade collaboration between China and ASEAN. These arrangements could enhance market access, bolster regional economic integration, stimulate trade and investment flows between China and the ASEAN members, and foster supply chain connectivity. Additionally, they may facilitate the growth of e-commerce and other collaborative areas, ultimately benefiting ASEAN businesses and consumers. Nevertheless, these institutional arrangements pose challenges, such as addressing non-tariff barriers and safeguarding intellectual property rights. There is a need to ensure equitable benefits across sectors and countries, as well as to enhance the business environment within ASEAN.
From the digital cooperation perspective, in January 2021, the inaugural ASEAN Digital Ministers' Meeting embraced the ASEAN Digital Masterplan 2025, envisioning the transformation of ASEAN into a premier digital community and economic bloc empowered by secure and innovative digital services, technologies and ecosystems. Subsequently, in 2022, the Action Plan for implementing the ASEAN-China Partnership on Digital Economy Cooperation was approved. Projections indicate that ASEAN's digital economy will surge from 1.3 percent of its GDP in 2015 to 8.5 percent by 2025. Concurrently, China's digital economy achieved a milestone of 50.2 trillion yuan ($7 trillion), securing its global position as the second largest. Despite prevailing economic challenges, Southeast Asia's digital economy is steadfast, with expectations to approach nearly $200 billion in gross merchandise value by 2022, marking a 20 percent increase. This insight is gleaned from the latest e-Conomy SEA report by Google, Temasek, and Bain &Company.
More recently, at the Southeast Asia Regional Cooperation Conference in Jakarta, Indonesia, on Sept 1, an initiative was unveiled for the development cooperation of Southeast Asia's digital economy. China Mobile, a leading Chinese telecommunications operator, spearheaded the initiative in collaboration with partners from Southeast Asia, including Singapore, Indonesia, Malaysia, Thailand, and Brunei. The core objective of this initiative is to propel the digital transformation of industries within Southeast Asia and nurture the region's digital economy. It strives to advance and expedite collaboration between the digital economies of China and Southeast Asia, focusing on digital economy infrastructure, network resources, 5G applications and the digital ecosystem.
The COVID-19 pandemic, alongside the evolution of digital technology and increased regional cooperation, has expedited the establishment of digital trade in the Asia-Pacific region. This digital transformation presents new avenues for economic development, eliminating barriers for global sellers to participate in international trade. Continuous enhancements in digital infrastructure promise to resolve two major obstacles affecting cross-border trade: logistics and payment processing.
Moreover, as digital technology continues to advance, its integration into trade becomes more comprehensive. Global trade is entering an era of intelligence where data plays a pivotal role. Critical infrastructure such as 5G will facilitate the development of new data distribution platforms and network architectures, enabling the internet of everything. Accumulating big data and harnessing artificial intelligence will play essential roles in informed decision-making. Consequently, global trade is undergoing a profound transition from digitization to the intelligence phase, with "digital commerce" emerging as the latest development.
ASEAN could contemplate strategies for addressing these opportunities and challenges, including improving infrastructure and logistics connectivity, primarily through the Belt and Road Initiative, to facilitate trade and investment flows. Furthermore, negotiations and dialogue could be pursued to reduce non-tariff barriers and enhance intellectual property rights protection. Additionally, enhancing the business environment can be achieved through reducing bureaucracy, streamlining regulations, and promoting healthy competition. Finally, ASEAN and China could collaborate to mitigate the economic impact of the COVID-19 pandemic and support businesses in adapting to evolving market conditions. By leveraging these complementary advantages, China and ASEAN can work together to promote economic development in the region. Cooperation should be based on mutual respect, shared goals and the recognition of each country's unique strengths and challenges.
The author is head of the department of economics at the Centre for Strategic and International Studies, Indonesia, and a lecturer at Indonesian International Islamic University. The author contributed this article to China Watch, a think tank powered by China Daily. The views do not necessarily reflect those of China Daily.
Contact the editor at editor@chinawatch.cn.
Most Viewed in 24 Hours
China Views