Huawei's Mate 60 Pro a remarkable breakthrough
Share - WeChat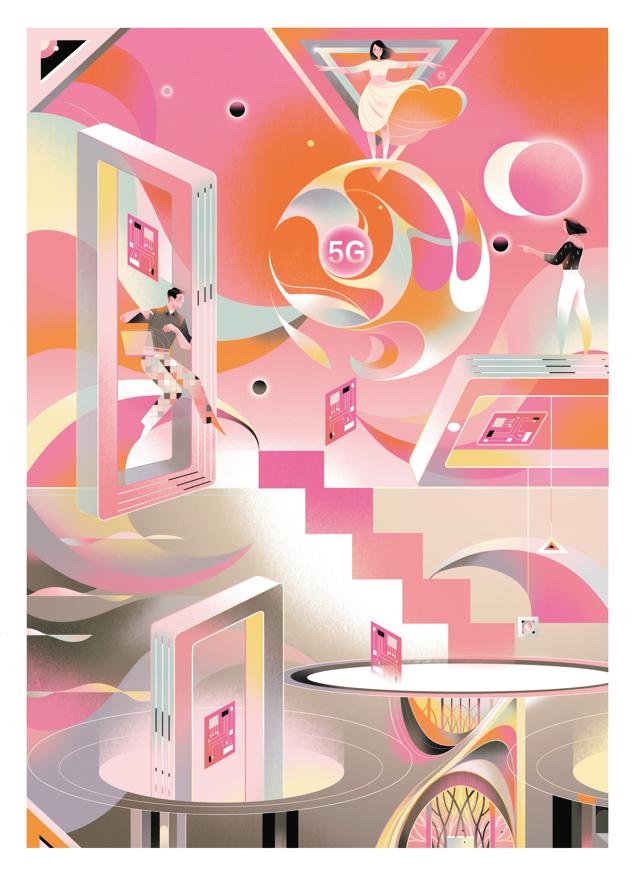 While Huawei's official website does not call Mate 60 Pro a 5G smartphone, the phone's wideband capabilities are on par with other 5G smartphones, raising a pertinent question: As a leader in 5G technology, has Huawei managed to develop a 5G smartphone on its own?
The answer is not simple. Huawei, as a pioneer in global 5G communication equipment, has played a leading role in the commercialization of 5G technology, with its robust system design and fields such as baseband chips, baseband processors and 5G modems.
However, basebands and modems are not the only aspects that define 5G wireless communication. The stability and high-quality signals of a 5G smartphone also depend on other critical components such as RF transceivers and RF front ends and antennas. These components are largely dominated by four US high-tech giants-Qualcomm, AvagoTechnologies, Ansem and Qorvo — which account for a staggering global market share.
Huawei has faced significant challenges in sourcing critical components because of the sanctions imposed by the United States which are primarily responsible for the inability of the Chinese company to launch 5G smartphones in the past three years. However, Mate 60 Pro, despite not being labeled a 5G device, exhibits mobile network speeds comparable to Apple's latest 5G-enabled devices, offering a stable communication experience. This suggests Huawei has, over the past three years, overcome the 5G development and production constraints due to the US sanctions by collaborating with domestic partners, and establishing an independent and controllable stable supply chain.
Considering that Huawei has not explicitly marketed this device as a 5G smartphone, it is possible that it is yet to fully overcome some key core technological and componential shortcomings. For the time being, we can consider Huawei's Mate 60 Pro as a "4.99G" CT protocol. But when combined with the satellite communication capabilities of Mate 60 Pro, it is clear Huawei has been trying to find more advanced wireless communication solutions for smartphones and making significant progress in this endeavor. This should be recognized as a remarkable endeavor, even a breakthrough.
Another point to note is Huawei's in-house development of Kirin 9000s chipset by using the 7 nanometer advanced process. Reverse engineering analysis carried out by Canadian company TechInsights suggests that Mate 60 Pro was likely developed with the help of Semiconductor Manufacturing International Corporation. The SMIC has leveraged existing DUV(deep ultraviolet) lithography equipment and its N+2 process to achieve 7 nm manufacturing, thereby narrowing the gap between China's integrated circuit manufacturing capabilities and the world's most advanced levels from eight years to five years.
However, the Kirin 9000s chipset's process technology still lags behind the global standard by two generations. And Apple unveiled a new flagship iPhone powered by a 3 nm chipset recently. This highlights the fierce competition in the semiconductor industry, where the race to produce smaller, more efficient chips is driving innovation and pushing technological boundaries.
While the current gap between the semiconductor manufacturing capabilities of Chinese companies and leading global firms is just two generations, it's important to recognize that 7 nm chips represent the limit for DUV lithography. To manufacture 5 nm and more advanced chips, it's imperative to develop or gain access to EUV(extreme ultraviolet) lithography technology.
So China has still to catch up with the cutting-edge global standards of nano chips. And huge amounts of money and efforts are needed to intensify research and development to do so. Yet closing the technology gap in the semiconductor industry is a challenging but achievable task, because it's essential for China and Chinese companies to stay competitive in the global market.
In the context of the highly globalized semiconductor industry and against the backdrop of intense competition in the technology-driven global economy, the big question is: How can we foster constructive collaboration to reduce costs and risks in this industry and propel the healthy development of the global economy?
In summary, Huawei's Mate 60 Pro and Kirin 9000s chipset demonstrate the significant strides China and Huawei have made in the domains of 5G and advanced chips. They also shed light on the challenges China and Chinese companies still face and what directions they should take to develop high-tech, including 5G technology and nano chips. In this globalized and fiercely competitive technological world, we must continue to explore, innovate and cooperate to achieve bigger breakthroughs and facilitate the advancement of technology and the economy.
The author is director of the Industrial Science and Technology Development Institute, Chinese Academy of Science and Technology for Development.
The views don't necessarily reflect those of China Daily.
If you have a specific expertise, or would like to share your thought about our stories, then send us your writings at opinion@chinadaily.com.cn, and comment@chinadaily.com.cn.
Most Viewed in 24 Hours
China Views