Sporting events boost host cities' economic growth
Share - WeChat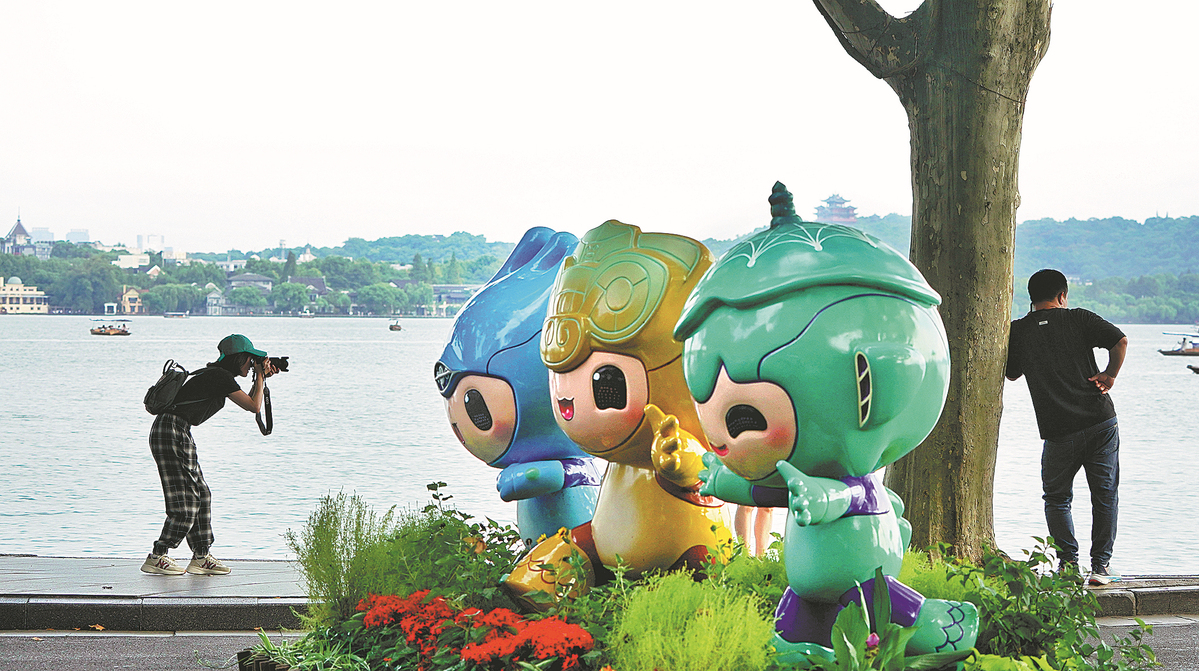 China has been hosting international and Asian sports galas since 1990 when Beijing hosted the Asian Games. Beijing has also played host to the 2008 Summer Olympics and the 2022 Winter Olympics. And while Guangzhou, Guangdong province, hosted the 2010 Asian Games, Chengdu, Sichuan province, played host to the 31st FISU World University Games from July 28 to Aug 8.
Now Hangzhou, Zhejiang province, is hosting the 19th Asian Games which opened on Saturday and will conclude on Oct 8.
These big sports events, together with grassroots competitions, such as the "Village Basketball Association Competition", dubbed "Village BA", in Taipan village in Guizhou province, and the "Village Super (Soccer) League", in Rongjian county in the same province contribute to China's national physical fitness campaign.
A sports event also promotes the image of the host city and stimulates its development. So, cities now see sports events, whether international or domestic, as a way of improving people's livelihoods and injecting new vitality into the socioeconomic life.
To host a big sports event, a city has to build and renovate stadiums and other sports venues, as well as parks and install exercise equipment, so people can use them to stay physically fit or improve their physical health.
Host cities have learned to put vacant places to good use. They build roofs and canopies in open spaces, and/or develop underpasses to install fitness equipment to encourage more people to join the national fitness campaign. Accordingly, in September, China's General Administration of Sport announced four standards for mass sport events, in a bid to attract more people to sports.
For example, the success of the World University Games in Chengdu inspired a large number of people in the city to take up or resume playing sports. Chengdu has held a series of grassroots sports activities, including hiking, running and cycling.
Good sports facilities are needed to encourage people to participate in sports and boost the consumption of sports gear and related products. Many places are holding different sports competitions including cycling, running, rock-climbing, and extreme sports to meet people's rising diversified demands for recreation.
Open, big sports events can boost the consumption of sports gear, which in turn will boost overall domestic demand. For example, the Hangzhou 19th Asian Games, the second-largest multi-sport event, after the Summer Olympics, are expected to create 414.1 billion yuan ($56.8 billion) worth of gross domestic product, generating an income of about 103.3 billion yuan for the city and providing jobs for about 670,000 people. As such, the Asian Games are likely to boost Hangzhou's development, helping it become a full-fledged modern metropolis.
Also, the Wuxi Marathon, recognized by World Athletics as a road race and held in Wuxi, Jiangsu province, attracted about 33,000 participants in March and made a profit of 195 million yuan from industries such as catering, accommodation, transportation and tourism. Suzhou, another city in Jiangsu, hosted the Sudirman Cup World Badminton Mixed Team Championships in May, and revenue from ticket sales of the eight-day event was 34 million yuan, with people's sports-related spending exceeding 410 million yuan.
Grassroots sports competitions, too, help boost local economies due to an increase in consumption. This shows a sports event is no longer about sports alone; it is also about the host city's economic development. A sports event is also a good opportunity for the host city to demonstrate its charm.
China has introduced several policies to upgrade the sports industry and build "sports cities", so quite a few cities have been attaching greater importance to sports and sports events.
However, in the long term, China needs to build more world-class sports cities, and improve people's livelihoods by hosting more sports events, thereby boosting host cities' economies.
The views don't necessarily reflect those of China Daily.
The author is an associate professor of Shanghai University of Sports.
If you have a specific expertise, or would like to share your thought about our stories, then send us your writings at opinion@chinadaily.com.cn, and comment@chinadaily.com.cn.
Most Viewed in 24 Hours
China Views