Retail therapy, with empathy
Share - WeChat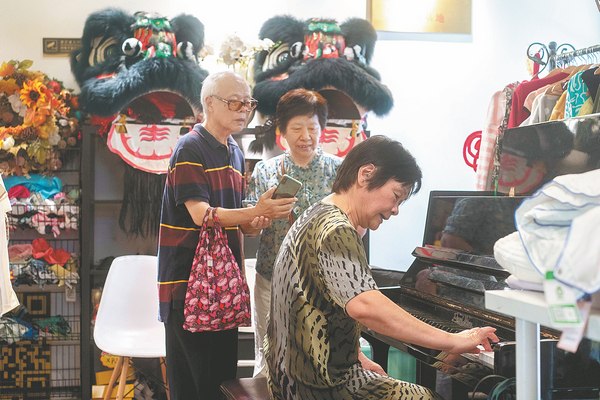 A look at the burgeoning charity store scene in a city where people are flocking to do good for others, Yu Ran reports.
Shanghai has over the past two decades witnessed significant development and changes to its charity sector, as evidenced by the growing number of charity stores that have been popping up across the city.
Charity stores are a relatively new concept in China. Shanghai's first charity store, the Zhenning Road Charity Store in Jing'an district, was opened only 20 years ago.
But in the last decade alone, more than 173 charity stores have been set up in the city. Now, there are 232 stores in total.
Over the years, Shanghai has been refining its regulatory and policy measures, and issuing documents, such as the selection and recommendation regulations for the city's charity awards, and the management measures for special funds for Shanghai foundations to provide support for the charity sector.
Local authorities have also said that they will continue to enhance regulatory policies in the field of charity and provide high-quality development support for Shanghai's charities.
Charity stores fall under two operational models. The first involves individuals from the neighborhood's administrative system working as store staff, who are managed by a neighborhood nongovernmental organization. The second involves using social organizations to manage and operate the stores.
The eight charity stores in the Pudong New Area that are run by the Shanghai Shanxing Public Welfare Service Center are an example of the first operational model.
"The model of a charity store is different from that of traditional retail stores. Our goal is to transform the atmosphere of the store into a place where everyone can come in. We want to use a retail approach with a focus on service to let more residents know that our products have more advantages and are of better quality," says Du Lei, who works at the Shanxing Public Welfare Service Center in Shanghai.
Not all stores managed by the center are run the same way. The Lujiazui Street Charity Store primarily focuses on retail and charitable activities, including setting up street stalls every month to sell affordable fruits and vegetables, and providing home delivery services for the elderly.
These efforts are aimed at making more residents in the vicinity aware of the operational model of the charity supermarket and to highlight the convenience it affords.
On the other hand, a charity store on Weifang West Road mainly provides discounted goods to underprivileged and elderly groups.
"We will adjust the product categories based on the varying needs of the surrounding community residents and collaborate with a variety of partners. Our primary focus will be on the community, and we will differentiate ourselves through the services," says Du.
Most Popular