The friendship between China and Arab nations
Share - WeChat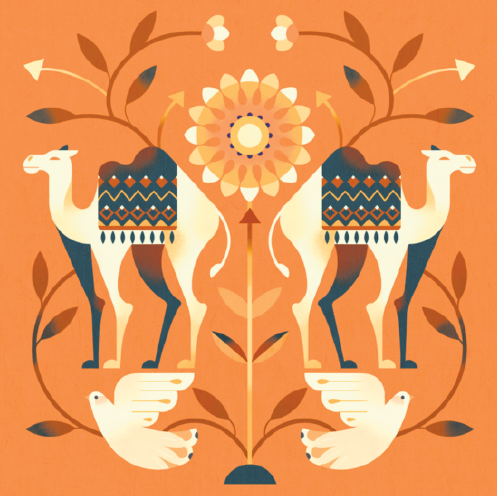 There is an old Chinese saying, "to get rich, build roads first." On roads there can be trade, mutual benefits, closer distances and more. They enable the booming of the transportation industry, thereby boosting the development of the economy.
China COSCO Shipping is the leader in maritime transport, leading Chinese maritime voyages forward and opening up international markets. The headquarters of the China COSCO Shipping Group is located in Dubai, United Arab Emirates. In the past decade, COSCO Shipping has laid roots in the West Asia region, witnessing the prosperity of "numerous ships crossing the sea" in Dubai and West Asia, contributing to the revitalization of the ancient Silk Road and continuously inheriting and carrying forward the Silk Road spirit.
Most countries in West Asia are vigorously promoting infrastructure construction in fields such as energy and transportation, and the demand for regional logistics is huge. Such a large emerging market undoubtedly provides a huge stage for the business expansion of the China COSCO Shipping Group. From setting up logistics companies to serve Chinese goods export, to signing the phase II container terminal concession agreement of Khalifa Port in the UAE; from continuously optimizing the layout of liner routes in the West Asia region, to providing cargo solicitation and agency services for professional companies within the group in shipping and logistics, professional and regional companies within the China COSCO Shipping Group are playing an important role in the West Asia region.
China-Arab railway cooperation in the field of transportation is progressing steadily and achieving fruitful results. China has accumulated rich experience in the field of transportation infrastructure construction, actively promoting practical cooperation in relevant fields between the two countries and achieving mutual benefit and win-win results. Among them, the China-Arab railway is one of the important cooperation projects under the Belt and Road Initiative. This railway will start from Urumqi, Northwest China's Xinjiang Uygur autonomous region, pass through countries such as Kazakhstan, Uzbekistan, Turkmenistan and Iran, and finally reach the port city of Dubai in the UAE. This railway will become an important logistics channel between China and Central and West Asia. The CEPC is Qatar's largest municipal infrastructure project and China's first infrastructure project in the Middle East. The project includes a sea-crossing bridge, two sea-crossing tunnels, two highways and a railway, with a total investment of up to 9 billion US dollars. The successful completion of this project will further promote Qatar's economic development and promote trade exchanges between China and Qatar.
China has established flight connections with many Arab countries in West Asia and North Africa. Airline cooperation between China and the UAE is continuously strengthening, and Emirates Airlines has become an important airline connecting China and the Middle East. Code-sharing and interconnection between airlines of the two countries are continuously expanding, providing more convenient transportation guarantees for personnel exchanges between the two countries. On August 4th of this year, with the smooth landing of a Saudi Airlines Boeing 787 at Beijing Daxing International Airport, the successful inaugural flight of the Saudi-Beijing direct flight route was marked, strongly promoting Saudi Arabia's economic diversification and helping to build it into a transportation hub connecting Europe, Asia and Africa.
China and Qatar are interconnected and cooperate for mutual benefit and win-win results. Infrastructure connectivity is an important foundation and priority direction for jointly building the Belt and Road. On one hand, infrastructure construction can promote the flow of domestic elements in various countries, optimize resource allocation and adjust industrial structure, thereby promoting economic growth; on the other hand, it can reduce the transaction costs of international trade, investment, information, technology, etc., between countries and regions, allowing countries to better integrate into the regional market and improve the efficiency of cross-regional resource allocation. At the same time, it can also promote the adjustment of comparative advantages and specialization division of labor in various countries through strengthening trade ties and attracting investment, thereby effectively promoting the regional integration construction between China and other countries, helping the regional economy to develop together.
Infrastructure connectivity provides a convenient prerequisite for cross-border cooperation such as tourism, e-commerce and logistics, and provides a material basis for deepening economic cooperation. To connect the infrastructure networks of countries along the route, it is necessary for various countries to reach cooperative consensus on political positions, technical standards, construction plans, etc., and integrate human, material and financial resources from both sides.
In recent years, the cooperation in various fields between China and Saudi Arabia has made good progress. China supports Saudi Arabia's series of major development initiatives such as "Vision 2030" and "Green Middle East", actively participates in Saudi Arabia's industrialization process and helps with Saudi Arabia's economic diversification.
Maritime transport, land transport, air transport and infrastructure connectivity work together to inject strong momentum into China-Arab economic development and cultural exchanges. In today's changing world, what remains unchanged is the belief and the friendship. It is believed that the friendship between China and Arab nations will stand the test and write a new chapter for the coexistence of multi-polarization and common development in the world. The Belt and Road Initiative will build a beautiful road of friendship, an open road of cooperation and a smooth road of development.
Liu Linzhi is a research assistant of Institute of West-Asian and African Studies,Chinese Academy of Social Sciences.
The views don't necessarily reflect those of China Daily.
If you have a specific expertise, or would like to share your thought about our stories, then send us your writings at opinion@chinadaily.com.cn or comment@chinadaily.com.cn.
Most Viewed in 24 Hours
China Views