Planning for a shared future
Share - WeChat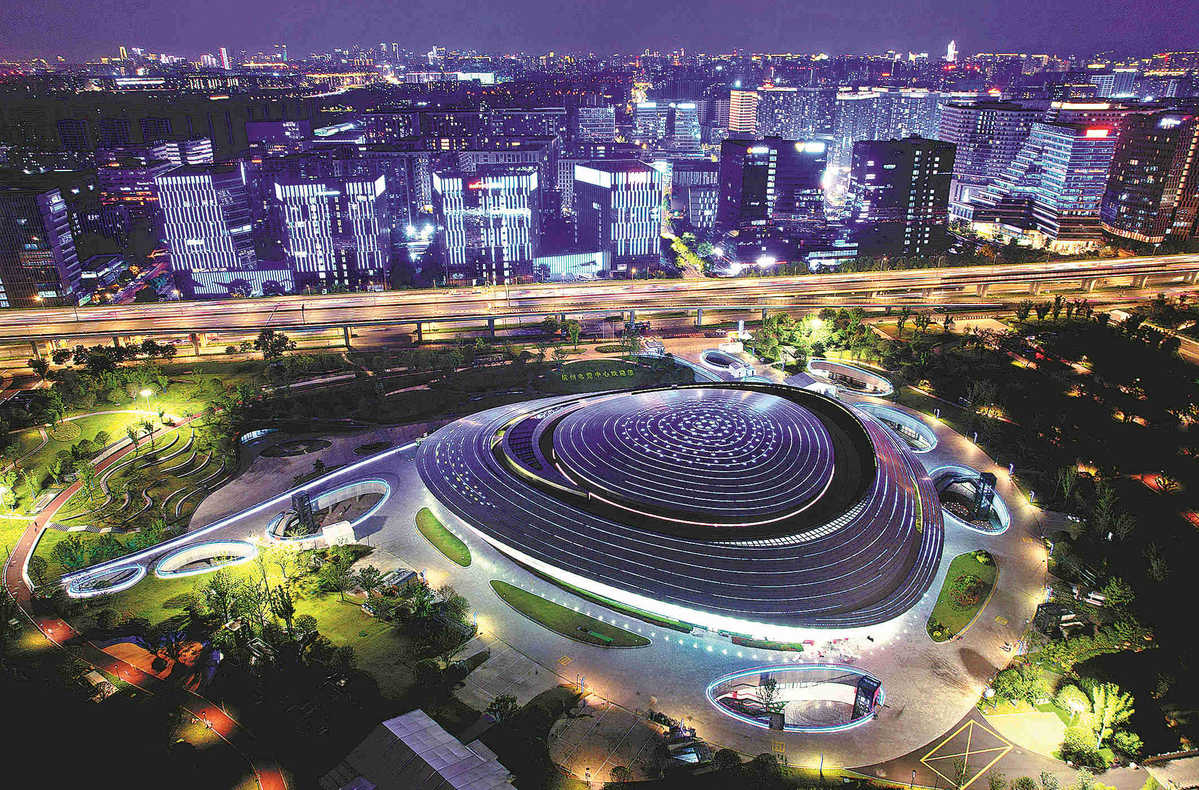 With renewable energy sources, and steps in place for their post-games use, competition venues stand as testament to the organizers' environmental mission
"Green Games" has become a calling card for the Hangzhou Asian Games.
To make the games the world's first waste-free large-scale sporting event, green energy sources have been implemented at all 56 competition venues.
Some of the renewable electricity used at the venues is photovoltaic energy, transmitted from areas such as the Qaidam Basin in Qinghai province, Jiayu Pass in Gansu province and northern-central China's Loess Plateau, while another source is wind power generated in areas including the Xinjiang Uygur autonomous region.
A digital-management platform was also launched to help achieve carbon neutrality during the Asian Games.
On the platform, digital technologies are used in the management of carbon emissions from venues in six cities — Hangzhou and the co-host cities of Ningbo, Wenzhou, Jinhua, Shaoxing and Huzhou — such as data collection, accounting, emissions reduction and evaluation.
Among all 56 competition venues, including 19 for the Asian Para Games, just 12 are newly built, while the rest are existing facilities that have been renovated and refurbished as part of the organizers' sustainable approach.
The Shangcheng Sports Centre Stadium, the venue for football events at the games, was built in 2019. During the renovation of the venue, its solar-film ceiling and spectator seating, which have been used for 14 years but remain in good condition, have been retained after being fully and scientifically assessed. It helped reduce construction costs by nearly 8 million yuan ($1.09 million).
The race track of the velodrome of the Chun'an Jieshou Sports Centre is covered with 374 interchangeable components, which will ensure its sustainable use after the competition.
While preparing for the games, Zhejiang also promoted public access to the venues and hosted sports events in them. Despite the one-year delay of the games due to the pandemic, the venues have not been left idle.
Since May 2022, all the available venues have received 10 million visits, enabling the public to experience their world-class facilities.
After the games, its venues will continue to be used for sports and public fitness.
Venue owners and operators have developed post-games plans for 51 venues, which are expected to host mass fitness activities, professional training programs for national and provincial teams, and additional international events.