Global event to promote Yangtze culture overseas
Share - WeChat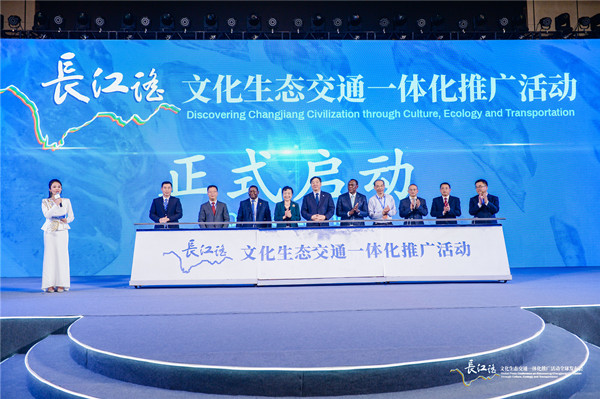 A global event titled "Changjiang Ballad", aiming to discover Changjiang civilization through culture, ecology and transportation, was launched in Hefei city, Anhui province on Wednesday.
The event plans to invite foreign diplomats, experts and scholars specializing in culture, transportation, ecology, technology and archaeology at home and abroad, as well as journalists, celebrities and foreign students to trace the cultural roots of the Yangtze River, and spotlight local highlights.
The event will showcase the accomplishments in transportation, technology and ecology along the Yangtze River Economic Belt since the 18th CPC National Congress, interpret the temporal connotation and humanistic sentiment of Yangtze culture, to better promote Chinese culture overseas.
At the launch ceremony, nine project plans were unveiled, including a large cultural variety show, panoramic image documentation, and a live shopping festival featuring unique products.
Zheng Mingwu, deputy head of the Propaganda Department of Anhui Provincial Party Committee said that Anhui province plays a significant role in the Yangtze River Economic Belt, and we aspire for this event to infuse new vitality into the high-quality development of the provinces situated along the Yangtze River.
Zhao Shaohua, former deputy head of the Ministry of Culture said that ballads from the Yangtze River gather wisdom and talents of the people living along its banks and narrate the emotions and beliefs of its residents. Nowadays, the Yangtze River waterway serves as a vital link connecting the world's water systems and its ballads resonate with a new melody. The "Changjiang Ballad" event serves as a means to facilitate a deeper understanding of the temporal significance of Yangtze culture while also fostering cultural exchanges among countries.
Spanning over 6,000 kilometers, the Yangtze River nurtures diverse and vibrant cultures. The Yangtze River Economic Belt covers 11 provinces and municipalities, stretching over the eastern, central and western regions of China, with the population size and economic aggregate occupying half of the country.
Most Popular