China, Russia, Mongolia eye regional stability
Share - WeChat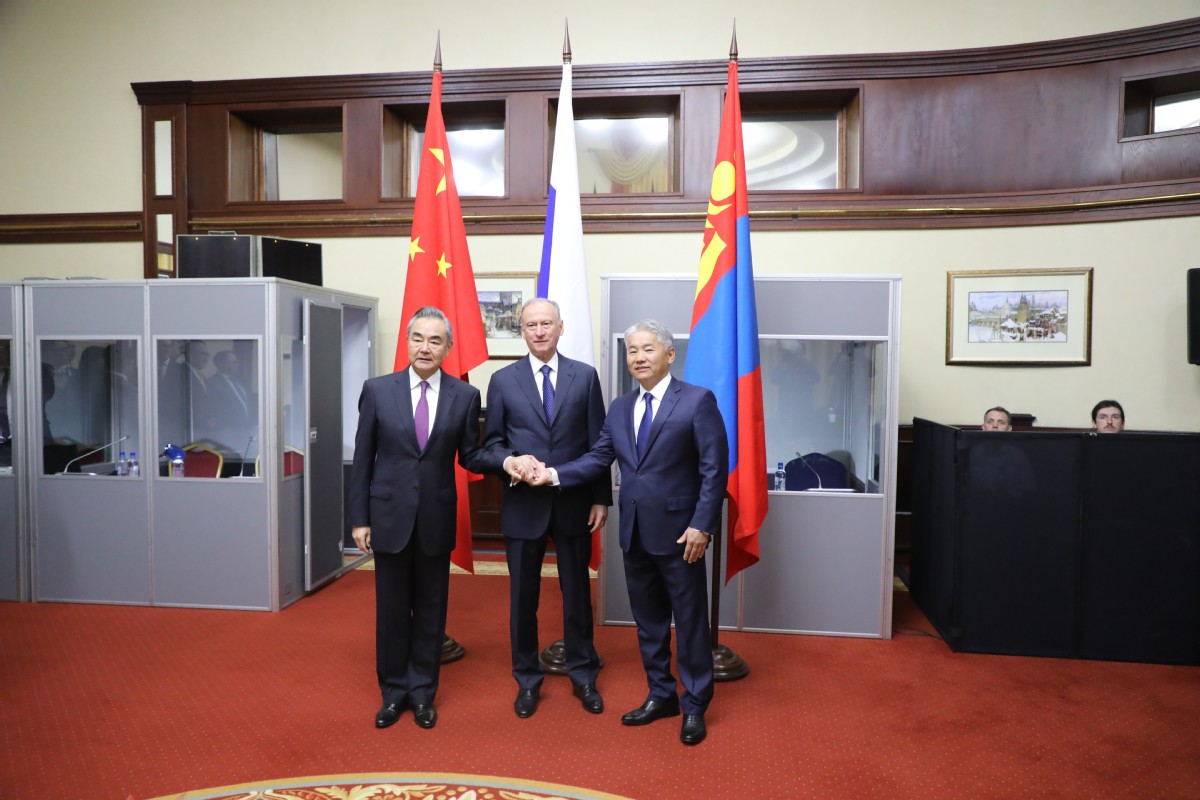 At the first-of-its-kind trilateral meeting of Chinese, Russian and Mongolian senior representatives, consensus was reached in key areas including security affairs, advancing stability and prosperity in Northeast Asia, building on multilateralism and boosting the synergy of development strategies.
"The three sides highly valued the results of their cooperation so far and agreed to further work closely together to jointly maintain regional security and stability," the Chinese Foreign Ministry said in a statement on Wednesday.
At the meeting, which was held in Moscow on Tuesday, the three sides discussed arrangements for regularly holding such meetings among the three nations, the ministry said.
Wang Yi, a member of the Political Bureau of the Communist Party of China Central Committee and director of the Office of the Foreign Affairs Commission of the CPC Central Committee, attended the meeting.
Also present were Nikolai Patrushev, secretary of the Security Council of the Russian Federation, and Jadamba Enkhbayar, secretary of the Mongolian National Security Council.
Analysts noted that the three countries are important players in Northeast Asia, an economically dynamic region that faces a number of hot spot issues and serious challenges.
Wang said that China, Russia and Mongolia are friendly neighbors and partners, and strengthening trilateral cooperation "serves the common interests of the three countries and also helps build on consensus for the region's development".
He emphasized the need to deepen political mutual trust, give full play to the three nations' complementary advantages, accelerate the construction of the China-Russia-Mongolia Economic Corridor, and bring more benefits to their peoples.
Patrushev said the three countries should work together to resist external interference, avert color revolutions, adhere to multilateralism and build a just and reasonable international order.
Enkhbayar said that building on the good-neighborly relations and cooperation with China and Russia is the primary direction of Mongolia's diplomacy, adding that his country opposes unilateralism and taking sides based on ideology.
At the meeting, the three nations also agreed that they will take the third Belt and Road Forum for International Cooperation, to be held next month in Beijing, as an opportunity to strengthen the synergy among the China-proposed Belt and Road Initiative, Russia's Eurasian Economic Union and Mongolia's Prairie Road vision.
Also on Tuesday, Wang and Patrushev co-chaired the 18th round of China-Russia strategic security consultations in Moscow.
The two sides agreed to hold China-Russia strategic stability consultations at an appropriate time to strengthen cooperation in law enforcement security, nonproliferation and global governance of emerging science and technology.
In a separate bilateral meeting with Enkhbayar on Tuesday, Wang said that China is willing to deepen security cooperation and "provide solid guarantees" for the common development of China and Mongolia and for regional peace and stability.
Enkhbayar said that Mongolia faithfully pursues a friendly policy with China and honors the one-China principle, and his country adheres to multilateralism and is willing to strengthen security cooperation with China, given the volatile international situation.