Love affair with China endures after four decades
Share - WeChat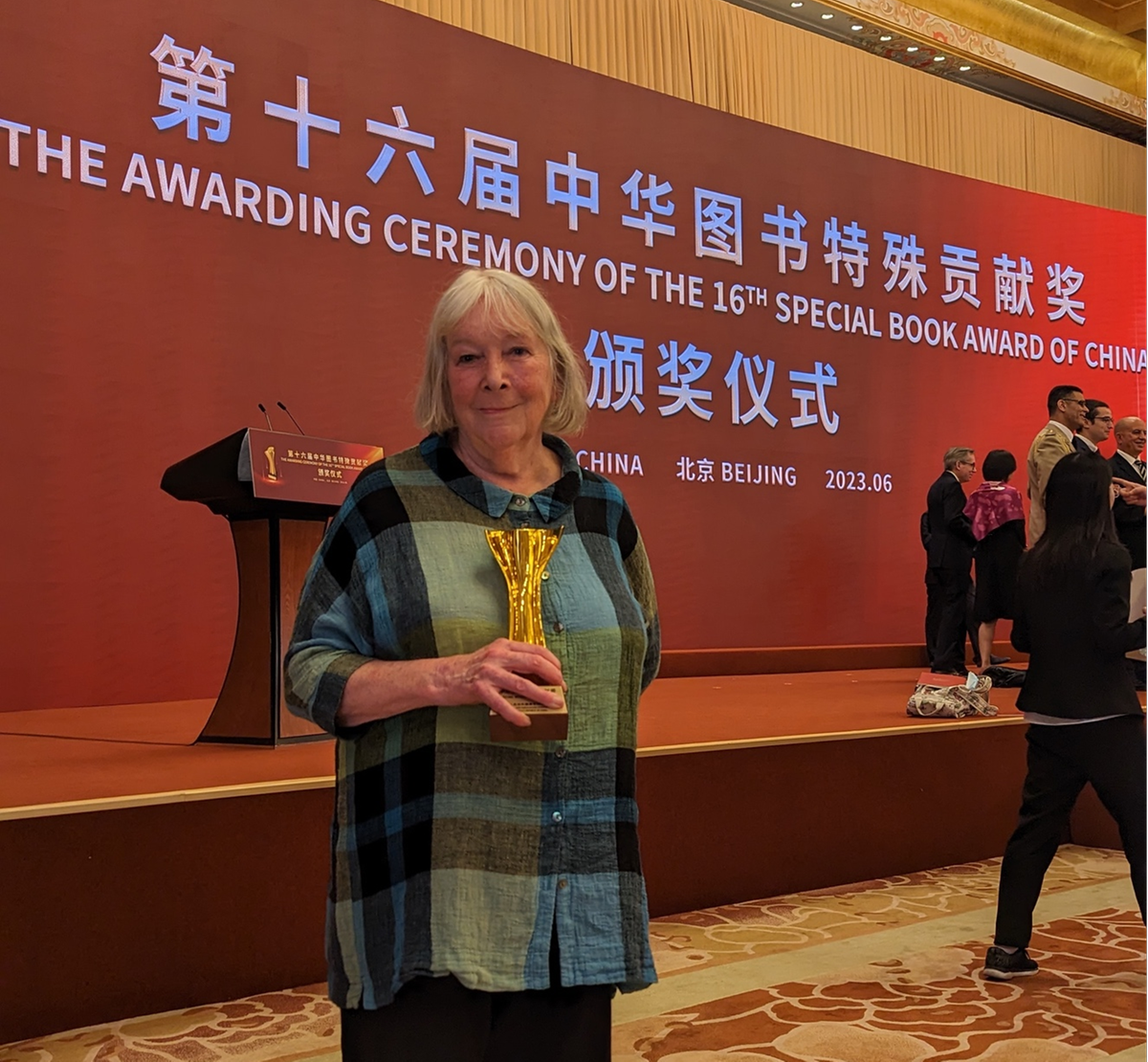 For 40 years, Frances Wood's working life has revolved around Chinese books. She has read books, looked after books, and written books about China.
Walking through the house of the former head of Chinese collections at the British Library in North London enveloped by the wavering shadow of bamboo plants, you can see pieces about China, including her writings, piled in every corner.
Among the rich work, her pieces on ancient China right through to today abound, covering topics such as Qin Shihuang, the first emperor, who unified China in 221 BC, the Forbidden City, China in the World War I, or even tourism in China — her interests are so varied.
This year, Wood's achievements have earned her a place in the 16th Special Book Award of China, the top publication prize in China that honors overseas writers who have promoted China to the world.
For more than 30 of the 40 years of her work, Wood's major focus as head of Chinese collections at the British Library has been consistent. She handled manuscripts which were brought back by Aurel Stein after the Hungarian-British archeologist's second Central Asia expedition, which included the Mogao Caves in Northwest China.
She has witnessed the eventful life of the Dunhuang relics in London; seen how the Chinese treasures were treated inappropriately at first, though with the best of intentions. And then, how their restoration was carried on through the tireless efforts of conservators. And she has seen how more than 14,000 items were eventually added to the collection in beautiful condition.
Interestingly, the woman who is deeply connected to China did not know much about the country at first. When she enrolled at Cambridge University, where she studied Chinese, learning a new language that was different as well as difficult was her only motivation.
As a daughter of two linguists, she thinks she inherited a talent for languages and had, back then, already developed a good command of French and Spanish.
Although her choice to study Chinese was, at first, not very "well-informed", Wood says she is glad she was able to kick off her professional journey surrounded by what, later, came to amaze her.
"I just can't get over the fascination of Chinese history and culture, and I always want to tell people about it," she says.
Dunhuang manuscripts
When Stein arrived at the Mogao Caves in 1907, the old manuscripts were of particular interest to him, and he persuaded Wang Yuanlu, a self-appointed caretaker of the Buddhist caves to make a deal. The deal triggered a race among treasure hunters, which led to the dispersal of the Dunhuang antiquities all over the world, including to London.
Wood encountered the valuables that ended up in London during her first year at the British Library, where some 7,000 complete manuscripts and 6,000 fragments were piled up in a row of dark blue boxes.
After she spent an entire summer cataloging the pieces, it became immediately apparent that something should be done to protect the crumbled paper. By the time Wood was in charge, she had begun looking for money and help with the work.
One of her top priorities had been to bring over Chinese conservators, but back in the late 1970s, the library was not used to sourcing outside support.
"It was quite complicated," says Wood. "But we had to do it in a certain way because of China. British conservators could have done it, but it was no fun for them. They don't even know which way up it went. Whereas for the Chinese, to open something up and then say: 'Oh my goodness, this is a proclamation from the emperor, and that is done by someone in Chang'an and sent out to Dunhuang.' It was a bonus for them to see."
But it was also a sacrifice for the Chinese scholars because they felt like fish out of water in England, says Wood. She and other local employees took on the job of looking after the people who came over to look after the Dunhuang fragments.
"It was quite fun for us because we had to do everything. We had to be landlord, and cook, and deal with all sorts of practical problems. But I have great admiration for the people who came. You just realized how strongly they felt about Dunhuang and how fascinating the corpus of material is."
The conservation of the Dunhuang scrolls has been a long and winding journey. One of the most obvious projects was to restore the Diamond Sutra to as close as possible to its original condition.
"It was in pretty poor condition by the time I saw it," Wood recalls. Looking at the frontispiece, people could catch a severe water stain running along the sheet, whose edges were cracked. But the back of the copy was even more troublesome. Conservators used to keep lining the fragile sutra as if it was a precious painting that should be treated with respect. However, that inadvertently created a problem; the layer-upon-layer backings created vertical creasing and only worsened the condition.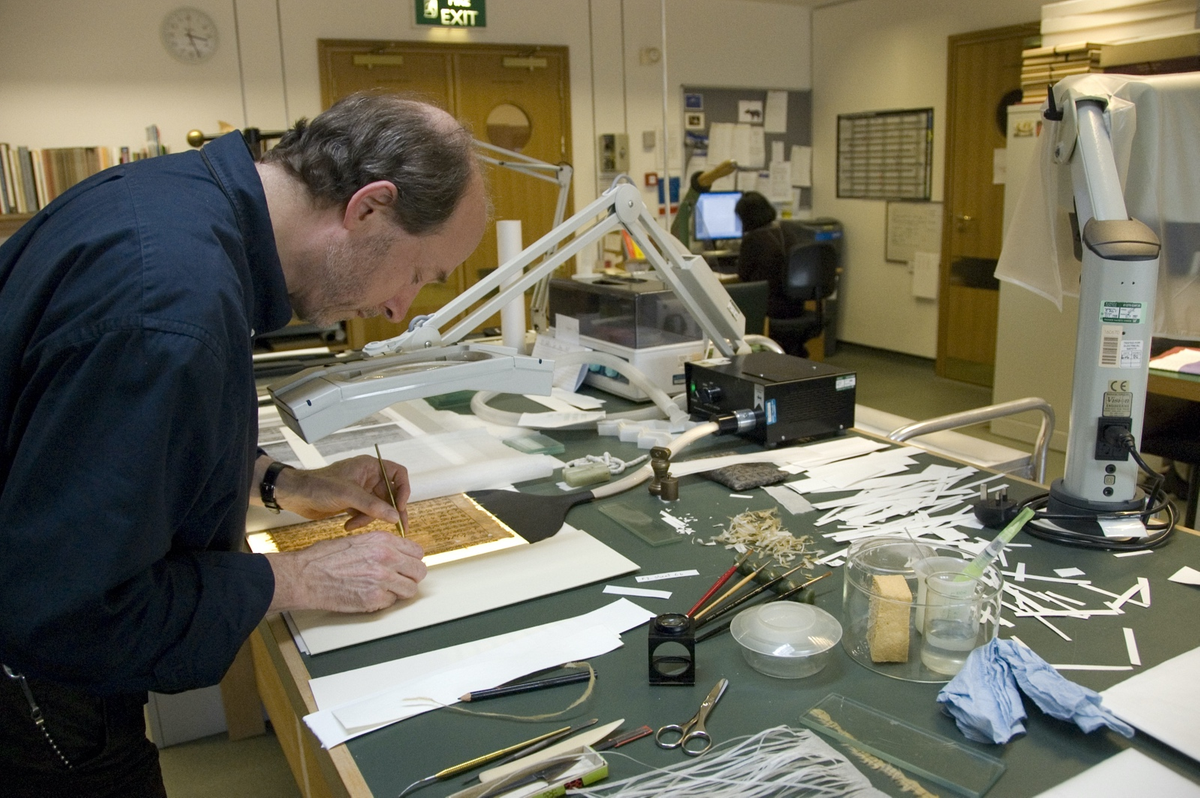 Wood's then colleague Mark Barnard spent years removing up to seven backings.
"He worked very slowly, used to work often at weekends," she remembers. "He would just moisten a little part of the sutra, not too wet because then the paper would tear, not too dry, would tear."
The hard work paid off and after the removal of the linings, infilling and realignment work followed.
The Dimond Sutra can now be seen the way it was intended.
"You do remember it is the first printed book, and it is China's contribution to the world as the whole history of communication depends upon paper and printing, which were both invented in China."
For China, the value of Dunhuang speaks for itself.
"Chinese people have the right to see their own patrimony," says Wood, but unfortunately, not everyone is privileged enough to seek out the treasures in a place thousands of kilometers away.
For the next couple of decades, Wood was committed to making the Dunhuang collections accessible to more Chinese people.
A printing project was embarked upon, with the documents photographed and reproduced in facsimile. Some 15 volumes were published exclusively in China for Chinese scholars. "If we published it in England, the Chinese universities, at that time, which were very poor and did not have access to foreign currencies, could not afford to buy it," she says.
The digitization of the archives soon followed.
In 1994, led by Wood, The International Dunhuang Project: The Silk Road Online was set up, with the aim of making information and images of the Dunhuang relics available online for all.
To date, 22 institutions in 12 countries, including China, the UK, Russia, France and Germany are involved in the project, with more than 584,000 images having been uploaded to the IDP database as of Sept 1.
The presence of the Dunhuang collections in foreign lands is considered a tragedy in China, but thankfully, they met a person in the UK who knows their value.
"These antiquities are doubly precious because they are Chinese national treasures," says Wood. "So, you felt you don't just have people looking over your shoulder from England, but the whole of China could be watching and saying: 'Hey, what are you doing to that?' But it all worked out. I feel really proud of it."
Endless inspiration
After retiring from the library in 2013, Wood started writing books about China. Many Chinese people enjoy her writing and are surprised by her insights.
One question that has sparked wide discussion has been whether Marco Polo did indeed visit China. In her book on the subject, Wood argues that the Italian adventurer never visited China because he failed to mention the Great Wall, chopsticks, tea, or several other significant features that might have proved he did. Up until now, controversy still exists, but Wood insists Polo's text was a sort of medieval database of European knowledge about the Far East and was not an individual's work.
Putting aside the dispute, other books shed light on research gaps in Chinese history. Betrayed Ally: China in the Great War is an example of one that has attracted a lot of attention. Published in 2016, 100 years after the mid-point of World War I, the book highlights China's role in the war and indirectly questions the Eurocentric attitude of only marking the sacrifice of Europeans.
Sitting among stacks of books that are both well-loved and well-used, Wood says she feels constantly encouraged to write.
"People are always interested, I knew that very young," says Wood. "When my brother and I were students, we would go to the parties of parents. People would ask: 'What are you doing?' He would say I am doing law, and I'd say I am doing Chinese. Then people would just ignore my brother completely, never say another word to him because people were just fascinated by China."
And Wood thinks that people from the West need to understand more about China, remembering being in a taxi in Shanghai with the driver having a well-thumbed copy of a book about the fictional English detective Sherlock Holmes, in Chinese, next to his seat.
"Drivers here would never read classical Chinese stories," she laments.
Yet what really feeds her endless inspiration to inform them must be her enduring fascination with China.
"I think whenever I have done something, there is always a kind of another topic," she says. "There are just so many ways that you can introduce China to the people outside."
Fifty years seems to go by in the blink of an eye. When Wood was in Beijing this year, the steel-and-glass skyscrapers everywhere made her think about old times. In her 20s, she had visited the capital twice, as an exchange student.
"It was a low city," she says. Bicycling through the hutong, or alleyways, one could only see a series of low buildings with grey-brick outer walls.
"And people used to park their mules outside the restaurants," Wood recalls.
She saw such a scene on her first night in the city, when the noise outside kept her tossing and turning in bed. Pushing the window open, she looked down to see flocks of sheep being driven along Chang'an Avenue in central Beijing.
Life used to be tough there at the time. When great changes have taken place, which brought millions of people out of poverty, she has applauded the developments.
The rich pieces of literature and the diverse culture developed throughout 5,000 years of Chinese civilization always amaze her. From the age of 23 to 75, she has never stopped watching China.
"I guess if you fall in love with a country, it does tend to stay with you," she says.