Celebration of Mid-Autumn Festival starts at Yuyuan Garden
Share - WeChat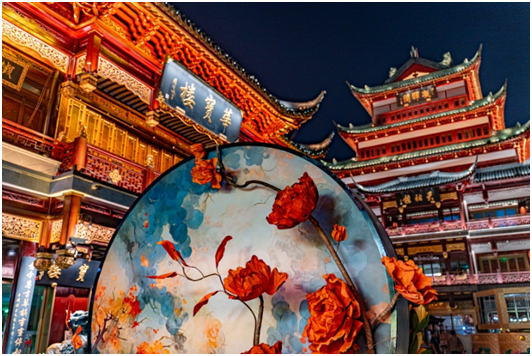 A series of cultural activities celebrating the upcoming Mid-Autumn Festival kicked off on Sunday in Shanghai's Yuyuan Garden Malls.
The activities, which are part of the ongoing 2023 Shanghai Tourism Festival, feature various decorative installations and a slew of special performances highlighting traditional cultural elements.
The activities will run till Sept 28.
A giant moon installation has been set up at Central Plaza to honor the full moon, a symbol of family reunion during the Mid-Autumn Festival. Performers dressed in traditional costumes will also present dance performances.
At the Jiuquqiao, or"zigzag bridge", in Yuyuan Garden, visitors can release limited-edition lotus lanterns, which used to be a way of expressing longing and affection during ancient times.
Meanwhile, a vibrant grain field symbolizing the autumn harvest has been set up at the Gold Plaza, where performers will put on dance shows to celebrate the harvest.
Interactive activities have also been scheduled to take place at Yuyuan Garden. For instance, performers playing the role of Li Bai and Du Fu, two prominent ancient Chinese poets, will invite visitors to take part in riddle-guessing games that showcase the charm of ancient poetry.
Several markets featuring traditional customs have also been set up to allow visitors to dress up in traditional Chinese clothing.
Most Popular