Profits show warming consumption trend
Share - WeChat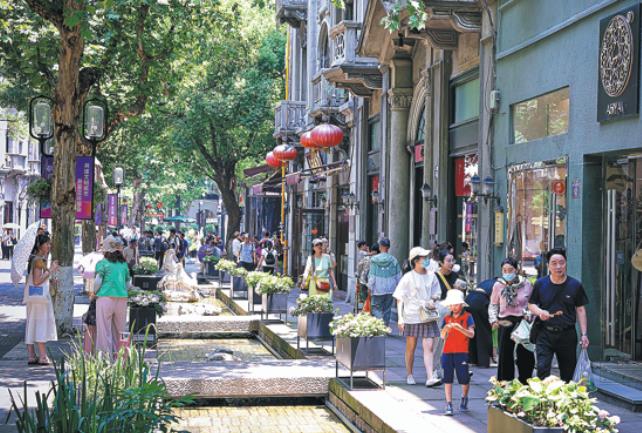 BEIJING — A bevy of China's listed firms in catering, retail, entertainment and other sectors have reported recent earnings and profit growth, reflecting increasing demand and stronger recovery in consumer spending.
The net profits of companies in hospitality, catering, tourism and motion picture industries have reversed their losses and made profits on par with those of the first half of 2019 as offline activities recovered across China, said the Shanghai Stock Exchange, citing analysis of financial reports of all of its listed firms.
Tourism-related companies received a boost as Chinese residents flocked to lively urban streets and picturesque rural areas on weekends and holidays.
Online travel agency Trip.com Group said its net operating revenue in the second quarter surged 180 percent year-on-year with record-breaking overall hotel and flight ticket bookings. Industry data showed that over 2 billion tourist trips were made in the first half, up 63.9 percent over last year.
Spring Airlines said it returned to profit in the first six month buoyed by the increase in international flights and resumed group tours in over 100 countries and regions. The trend is likely to continue in the second half with heftier bookings for the National Day holiday in October, said company spokesperson Zhang Wu'an.
Official data showed that the number of passenger trips operated by China's railways soared 124.9 percent year-on-year during the first half, while daily flights in China rebounded to 89 percent of the 2019 level in the first half.
The catering sector has also been recovering as pro-consumption policies have paid off. China has adopted several measures to unleash consumption potential in the sector, such as launching gourmet festivals, developing special food streets and promoting the establishment of semi-finished cuisine hubs.
Guangzhou Restaurant, a time-honored Cantonese cuisine brand, opened a new eatery — its first in Shanghai — in May. "Business has been brisk, which has enabled more ventures," said Chen Yang, the company's secretary.
The firm said its first half revenue and net profit climbed 22.57 percent and 39.86 percent year-on-year, respectively, joining the ranks of other time-honored brands with double-digit or triple-digit profit hikes, such as Tongqinglou and Quanjude.
Younger companies didn't underperform. Hotpot chain Haidilao saw profits soar from 73 million yuan ($10 million) in the first half of 2022 to around 2.2 billion yuan in the first half of this year, while Luckin Coffee overtook Starbucks with a quarterly revenue of 6.2 billion yuan.
Consumer shopping both online and offline continued to expand in the first six months. Shanghai-listed offline supermarket and department store operators saw a 46 percent net profit hike year-on-year, said the stock exchange.
Profit increases were especially evident in companies in the automobile and home appliances sectors with the help of robust exports, while emerging consumption hot spots like novelty home appliances, cosmetics and designer toys saw a faster-than-average sales uptick, said Li Qiusuo, an analyst in the research department of China International Capital Corp Ltd.
Analysts and market watchers are upbeat about current consumption trends continuing in the months to come, citing record movie theater attendance and domestic tourist trips during the June-August period hitting five-year highs.
New government policies are expected to play supportive roles. Group tours to dozens of overseas destinations resumed on Aug 10, including Japan, the United Kingdom, the United States and Australia. The authorities also announced on Sept 1 that China aims to bring this year's annual auto sales to about 27 million vehicles, an increase of 3 percent from 2022.
Xinhua