Survivors recall darkest hours in Libya's floods-hit Derna
Share - WeChat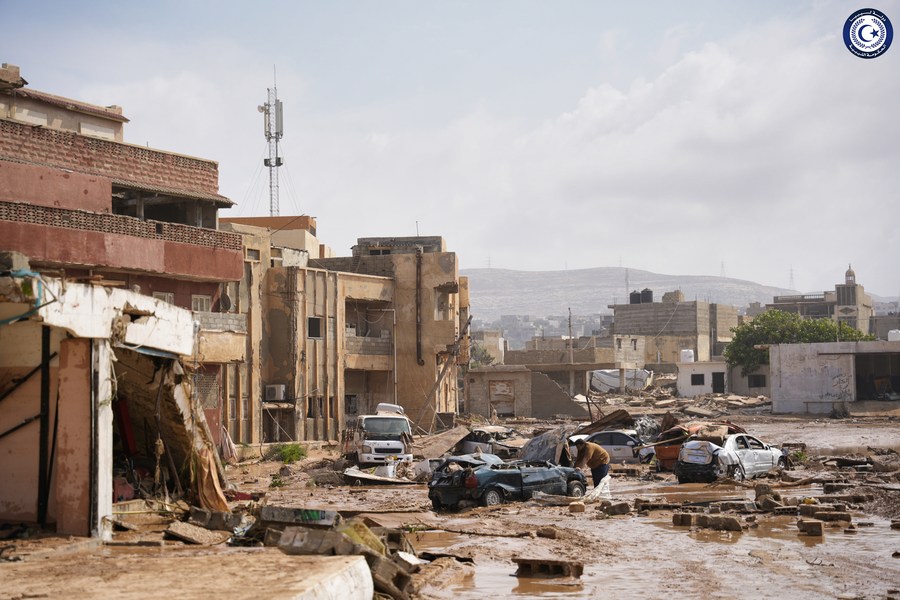 TRIPOLI - It's been five days since the floods struck, a time almost impossible to find more survivors. A miracle survivor Meed Abdul-Qaser, a 40-year-old resident in Libya's worst-hit Derna, revisited his darkest hours in the nightmare.
"My family was completely surrounded by water. I lost contact with them. I was at the top of the stairs in the house before I could escape and save myself," Abdul-Qaser told Xinhua.
Abdul-Qaser said that the floods began around 03:00 a.m. local time on Sunday morning (0100 GMT), hitting the outer walls of his house forcefully after two dams collapsed and the water swept away everything in its path and swallowed buildings.
The deadly floods, triggered by Mediterranean storm Daniel, have claimed the lives of at least 5,500 and injured over 7,000 others, Osama Ali, spokesman of the Emergency Department of Libya's Ministry of Health told Xinhua Wednesday, adding that more than 10,000 people remain missing in the floods, mostly in Derna.
Ali confirmed that the death toll is likely to be much higher, as rescue teams continue efforts to recover bodies.
According to Xinhua correspondent in Derna, the floods destroyed more than a quarter of the city. In the densely populated central area, buildings were submerged or even completely removed from their original locations.
Nizar Al-Hunaid, an actor from Derna, said that he is suffering from enormous physical and emotional pain as he lost his wife and two children in the floods.
"The moment the dam exploded, water poured onto the roof of where I was. In an instant, I lost my family and found myself on the roof of a house four streets away from my own. Next to me were an Egyptian and a child who survived on a fraction of an air conditioner with shocked faces," Al-Hunaid said.
"In a few seconds, this disaster destroyed everything," he added.
Khalil Bushiha, a 30-year-old resident of Derna, described the situation in the city as catastrophic.
"I cannot describe what happened. My family and I somehow survived in our three-storey house, which was completely submerged in water before we were able to escape," Bushiha told Xinhua in his hospital bed.
"Water started to drown the house. My mother and I went out to the street and the neighbors were screaming. Then, the floods threw us into an abandoned house about 200 meters away from our house. I carried my mother, who has leg problems, to the fourth floor until the water dissipated," Bushiha recalled.
"I left her in that place and returned amid water rising to my shoulders. I passed by the body of a child and placed it on a nearby car. I went to the house of our only neighbor and found her body floating in the water," he said.
"It's a miracle that my family and I survived, but we lost many family and friends. We ask everyone to stand with Derna in this ordeal that the country has not experienced since the earthquake in the city of Al-Marj in the 1960s," Bushiha added.