China-EU synergy can meet global challenges
Share - WeChat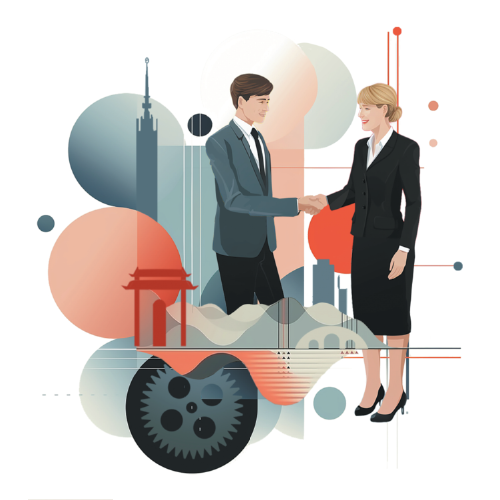 In an era marked by exceptional international challenges, the development of the global economy, fighting climate change, and rapid technological innovations have emerged as focal points of our collective future. As countries struggle to deal with these interconnected issues, which they cannot tackle alone, the potential for collaboration between China and the European Union, particularly Germany, is high. Such collaboration can also guide us through the tumultuous times ahead.
The world is now at a crossroad. The COVID-19 pandemic exposed the weaknesses of the global supply chain links, highlighting the dangers of economic disparity and the pressing need for global collaboration. Climate change, which poses a threat to all countries, continues to unleash destructions across the world, necessitating prompt measures to alleviate its catastrophic impacts. Simultaneously, the continuing technological transformation is altering industries, the workforce and communities, creating both opportunities and challenges.
Relations between China and the EU, in particular Germany, are not stable. In fact, China-EU ties have worsened because of Western economic sanctions, allegations of human rights violations, and rising military tensions between the West and China. However, China's crucial role in addressing global and regional socioeconomic problems makes it a natural partner for mitigating and adapting to climate change.
Therefore, the EU, even after recognizing the systemic rivalry, strong competition, and rising tensions between the two sides, seeks China's partnership. In particular, the Sino-German partnership can serve as a role model for overall China-EU collaboration since China and Germany have many common interests and goals, and are collaborating in various areas.
One issue China and Germany have in common is their dependence on exports and focus on industrial production. Their economic growth rates rest largely on functional supply chains and prospering trade relationships. And both countries face significant growth problems, which could turn out to be structural. For example Germany's economy is expected to stagnate in 2023 while China's economic growth has slowed down. In such circumstances, it is natural for the two countries to strengthen collaboration, so as to stabilize the global supply chains and take measures to boost global economic recovery and help improve global economic governance.
Another issue which Germany stands at the forefront of the EU is the battle against climate change. The German government has set ambitious targets to reduce greenhouse gas emissions by more than half by 2030 compared to the 1990 levels, with the ultimate goal of achieving carbon neutrality by 2045. The initiatives to achieve the climate goals include enhancing energy efficiency, promoting renewable energy, and implementing measures such as carbon pricing, tax incentives, public investment, and funding programs for private enterprises.
China has taken the widest range of measures to cope with the climate crisis. Since China is one of the two biggest carbon emitters in the world, all global policies aimed at dealing with the climate crisis should take into account China's climate actions. China has made good progress in reducing its carbon emissions and, like Germany, invests strongly in renewable energy and clean energy technologies.
Sino-German collaboration on climate change can be fostered through the existing inter-governmental consultation mechanism. In fact, Chinese Premier Li Qiang has suggested that the two sides establish a partnership in fields such as green energy development, green finance and green cars.
Technological advancement is another important and challenging area for collaboration between China and the EU. The ongoing developments in the high-tech field can indeed be called a "high-tech revolution", which is transforming industries and societies. Substantial developments in artificial intelligence (AI), quantum computing and 5G have revolutionized sectors as varied as healthcare and manufacturing.
China and the EU have complementary strengths in these areas: China is known for making advancements in AI technology and manufacturing, while the EU is recognized for its expertise on ethical issues, which will be helpful in regulating the AI and quantum computing sectors, and strengthening data privacy regulations. By establishing collaboration, China and the EU can ensure high-tech advancement is not only about leading the technological revolution but also about ethics, data privacy and security. Germany, with its strong focus on research and innovation, is well-positioned to play a key role in shaping such collaboration.
While the systemic competition between the two is a challenge, the collaboration between the EU and China could be beneficial for both sides. Through joint research, they could achieve major breakthroughs in AI, biotechnology and advanced manufacturing. Agreements on technology transfer and setting common standards for emerging technologies could allow businesses to access new markets, further promote innovations and reduce trade barriers. However, given the current level of mistrust between the two sides, they need to first develop mutual understanding and draft effective regulations to make such collaboration successful.
To master the future, we must acknowledge and embrace the importance of international collaboration. The global economy, climate change and technological advancement present big challenges for any country alone to handle. By working together, China and the EU can set an example for others to follow. With global tensions and conflicts on the rise, the need for collaboration is more urgent than ever before.
The author is a professor at the Free University of Berlin and the president of the Global Labor Organization, a Germany-based worldwide network of researchers investigating the path of globalization. The views don't necessarily represent those of China Daily.
If you have a specific expertise, or would like to share your thought about our stories, then send us your writings at opinion@chinadaily.com.cn or comment@chinadaily.com.cn.
Most Viewed in 24 Hours
China Views