Chinese composer celebrates legendary Japanese monk
Share - WeChat Composer Zou Ye hesitated when he was commissioned by the China Philharmonic Orchestra to write a piece about Kukai's legendary life.
Zou, who is known for writing symphonic works, operas and soundtracks for movies and TV dramas, had never composed any religious-themed music.
"The more I learned about Kukai, the more hesitant I felt. Buddhism is so deep and profound. It is closely associated with traditional Chinese culture. It was a great challenge for me, a Chinese composer, to write music about a Japanese monk, who had a close relationship with ancient China," says Zou.
Kukai, whose original name was Saeki Mao, is one of the best-known and most beloved Buddhist monks from Japan. He came to China in 804, during the Tang Dynasty (618-907), hoping to learn more about Buddhism. After arriving in the Tang Dynasty capital, Chang'an — today's Xi'an in Shaanxi province — he met the great master of Buddhism, Huiguo, and became his favorite student.
Kukai finished his studies in China and returned to Japan in 806.A year later, he began building a monastery on Mount Koya — a sacred mountain in west-central Honshu, which was inscribed as a UNESCO World Heritage Site in 2004.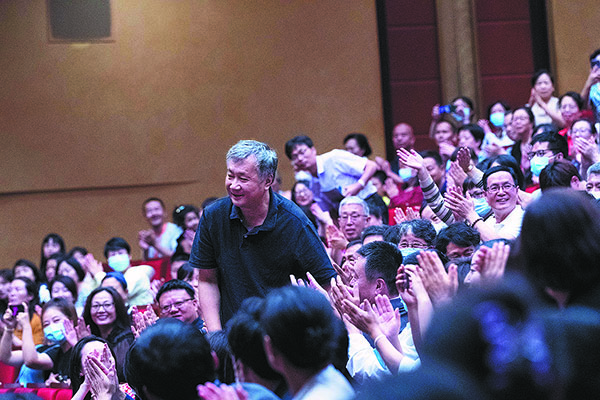 However, Zou was tempted by the idea of writing the piece, not only hoping to challenge himself but also because he found that Kukai's legacy still has an impact on bonds between China and Japan.
Then, he spent over a year working on the piece, which features six chapters, recounting the life of Kukai and his contribution to communication between China and Japan more than a thousand years ago.
On Aug 1, under the baton of conductor Yu Long, the China Philharmonic Orchestra premiered the piece at the Lanzhou Grand Theater in the provincial capital of Gansu, working with the chorus of the Lanzhou Concert Hall.
Marking the 45th anniversary of the signing of the Sino-Japanese Treaty of Peace and Friendship, the China Philharmonic Orchestra performed in Japan from Tuesday to Saturday. Led by Yu, the orchestra played at the Kyoto Concert Hall and the Tokyo Opera City Concert Hall, featuring Zou's composition.
"In addition to his role as a religious leader, Kukai was also a poet, an artist, and a calligrapher. During his stay in China, he was heavily influenced by Chinese arts and culture. For example, he studied Chinese calligraphy, painting, poems and architecture. All of those influences were taken back to Japan by Kukai," says Zou, who conducted deep research into the monk.
"There were many things I wanted to portray through the piece about Kukai, from his birth and study of Buddhism, to his life in China and how he promoted Buddhism in Japan," Zou adds.
"I wrote the music by referring to the form of the requiem, writing the choral parts as a restless fugue. I also borrowed musical elements from Japanese music and used Western musical instruments to imitate the sounds of traditional Japanese musical instruments, such as the shakuhachi (Japanese bamboo flute) and the taiko (Japanese drum)," Zou says.
According to Yu, the composition celebrates the 1,250th anniversary of Kukai's birth, as well as the Sino-Japanese friendship.
"The last time we toured Japan was four years ago. The long gap made this tour valuable," says Yu. "Cultural exchange between China and Japan has a long and profound history. This new piece made this tour even more meaningful."