Xi, Kissinger meet at historic site
Share - WeChat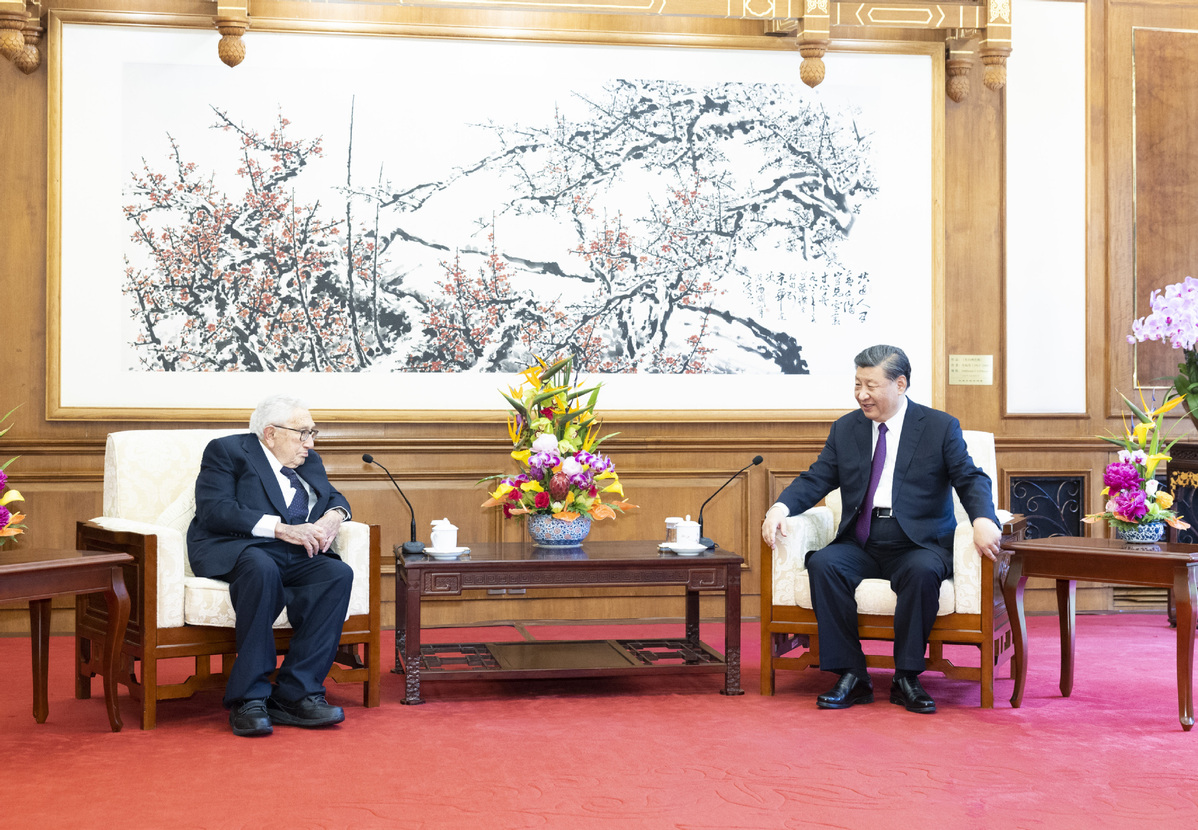 President Xi Jinping met with former US secretary of state Henry Kissinger in Beijing on Thursday.
Kissinger, who just celebrated his 100th birthday, has visited China more than 100 times since his first secret trip to the country in 1971, which commenced the normalization of China-US relations.
During the meeting, Xi said 52 years ago, China and the US were at a crucial turning point.
"It was also in July in the same place - Villa No. 5 of Diaoyutai State Guesthouse - you and Premier Zhou Enlai had a meeting to start the normalization process," Xi said, adding the meeting was of historic significance.
He said the Chinese people value friendship and are grateful to old friends like Kissinger. "We will not forget the historical contributions you have made to the development of China-US relations and the friendship between the Chinese and American people."
The world is undergoing major changes unseen in a century, he added, and the international landscape is experiencing significant shifts. "Once again, China and the US find themselves at a crossroads and need to make choices."
Noting China and the US can achieve mutual success and common prosperity, Xi said "the key is to follow the principles of mutual respect, peaceful coexistence and win-win cooperation."
Based on these principles, China is willing to explore the right way for both countries to coexist and push forward steady progress in relations, he said, adding this will benefit both sides and the world as a whole.
"It is hoped you and wise individuals in the United States will continue to play a constructive role in steering China-US relations back onto the right track,", Xi said.
Kissinger thanked his hosts for arranging the meeting at the place where he met Chinese leaders for the first time. "The relationship between our two countries is crucial to world peace and the progress of our society," he said.
In the current situation, Kissinger said it is important to abide by the principles set out in the Shanghai Communiqué and understand the utmost importance of the one-China principle.
Efforts should be made to advance US-China relations in a positive direction, he said.
[Video/CCTV]