New Zealand PM calls for deepening economic, environmental cooperation with China
Share - WeChat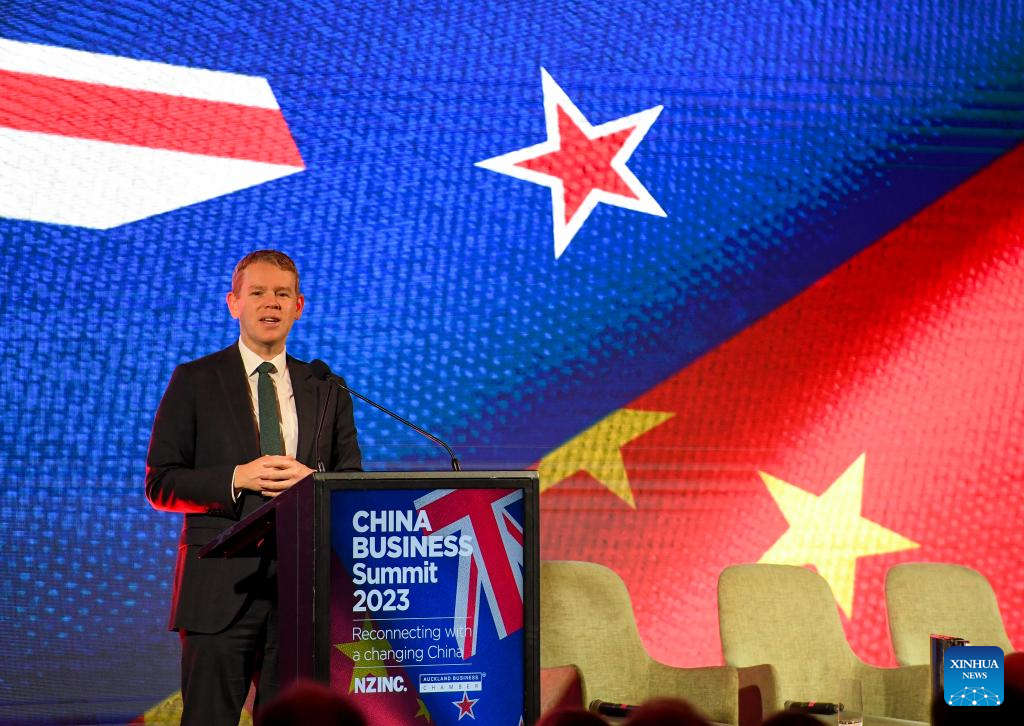 WELLINGTON - New Zealand Prime Minister Chris Hipkins called for deepening economic, trade and environmental cooperation with China at the 9th Annual China Business Summit held on Monday in Auckland.
In a keynote speech, Hipkins recalled his China visit at the end of last month, leading a delegation of New Zealand's top businesses and exporters and representatives from its tourism, technology and education sectors.
"The New Zealand export story to China is well-known. It's a phenomenal success story propelled by our 2008 Free Trade Agreement that took two-way trade from 8 billion NZ dollars ($5.08 billion) that year, to more than 40 billion NZ dollars ($25.4 billion) today," Hipkins said.
New Zealand's top three exports to China are dairy, meat, and forestry, he said, adding that New Zealand has built up sizeable economic interests in China, its largest offshore market and one of the world's largest consumer markets.
New Zealand will place a high value on engagement and dialogue with China, the prime minister told the audience at the summit.
New Zealand looks to work together with China to tackle critical global issues such as climate change and environmental protection, Hipkins said, adding that it is in New Zealand's interests to do so.
Hipkins said one outcome from his China visit was an agreement to step up policy engagement on e-vehicles, with China an important supply market for Kiwi consumers as New Zealand looks to make the transition to a low carbon economy.
He said China and New Zealand will have a range of dialogues, including on green finance and forestry and emissions trading schemes, as well as a regular ministerial dialogue.
New Zealand also valued China's leadership in presiding over the adoption of the Kunming-Montreal Global Biodiversity Framework, which sets new global goals and targets to halt and reverse biodiversity loss by 2030, he said.
Hipkins touched upon many aspects of China-New Zealand relations in his 30-minutes speech. This is also the first time he has attended a China-themed political and business event in New Zealand since taking office as New Zealand prime minister in January.
CHINA'S KEY ROLE
Chinese Ambassador to New Zealand Wang Xiaolong told the summit that Prime Minister Hipkins' China visit was productive and fruitful as a new milestone in China-New Zealand relations.
The visit has again showcased the broad consensus reached by the two countries at the highest level on the continued development of the bilateral relationship, Wang said.
The Comprehensive Strategic Partnership keeps evolving and brings tangible benefits to the two countries, particularly two peoples, he said, adding that the partnership has great potential and vast room for further growth.
The Auckland Airport has witnessed a remarkable recovery in the connectivity between the two countries since China's reopening and New Zealand being selected as one of the first 20 countries for Chinese tour groups to visit, said Carrie Hurihanganui, chief executive officer (CEO) of the Auckland Airport.
Right now, the Auckland airport has five airlines operating 27 weekly flights to and from China's four cities, representing an 86 percent recovery and capacity.
Filmmaker Richard Taylor, co-founder and creative director of Weta Workshop, well known for his work on the film trilogy "The Lord of the Rings," said that he has benefited from the skills of China in this changing industry for the past 25 years.
Monday's Annual China Business Summit, held by the Auckland Business Chamber and business intelligence firm NZINC, was attended by about 500 people from the political and business circles of both New Zealand and China.