WIC holds symposium for member representatives in Nishan
Share - WeChat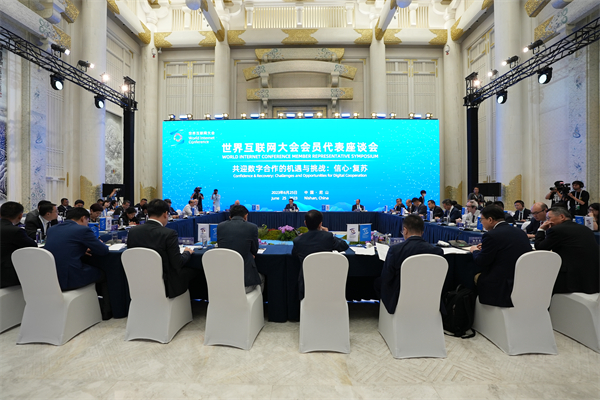 A symposium for the World Internet Conference (WIC) member representatives was held during the World Internet Conference Nishan Dialogue on Digital Civilization in Nishan, Qufu, East China's Shandong province, on June 25.
The symposium has as its theme "Embracing the Opportunities and Challenges of Digital Cooperation: Confidence and Recovery".
The Nishan Dialogue is the first thematic event held by the WIC as an international organization, said Ren Xianliang, secretary-general of the WIC.
He said the event is also an important symbol of the continuous expansion of the WIC business.
Ren stressed the principles of jointly building a community with a shared future in cyberspace, and deepening exchanges and cooperation, in a bid to provide new momentum for the social and economic development of the world.
He added that people should build consensus on governance to make the internet development more sustainable; boost digital economy to promote the building of an open world economy; deepen scientific and technological exchanges to facilitate the sharing of internet innovations worldwide; and insist on communication and mutual learning to inject impetus into civilization progress.
Around 40 member representatives of international organizations, world-leading internet companies and industrial institutions, attended the symposium.
12 member representatives, namely John Hoffman, CEO of the Global System for Mobile Communications Association Ltd; Mohamed Ben Amor, director general of the Arab Information and Communication Technologies Organization; Robin Li, founder and CEO of Baidu Inc; Daniel Zhang, chairman and CEO of Alibaba Group as well as president and CEO of Alibaba Cloud Intelligence; Zhang Zhiyong, executive director and chairman of the board of the China Tower; Zhou Hongyi, founder of the 360 Security Group; Zhao Jiazhen, co-chief executive of Shanghai Xunmeng Information Technology Co, Ltd; Cheng Wei, chairman of the board and CEO of DiDi Global Inc; Chen Xudong, chairman and general manager of IBM Greater China Group; Hou Shengli, vice-president of Cisco Greater China; Qian Kun, global senior vice- president of Qualcomm; and Jiang Tao, vice-president of Intel Corporation, held in-depth exchanges.
They said that through digital cooperation and technological innovation, as well as technology empowering industries, numerous opportunities could be created for business departments of different countries.
The representatives urged actions to bridge the digital divide, establish and improve an international digital cooperation mechanism, and enhance regulations on moral principles, so as to promote digital cooperation.
They also called on all parties to work together to realize sustainable development goals.