Schools foster inclusive education
Share - WeChat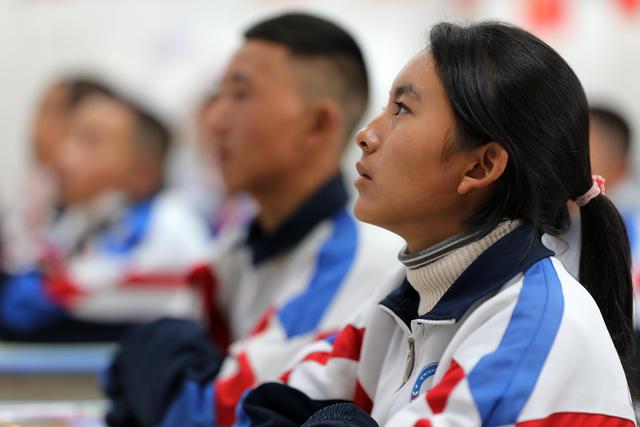 Boarding schools in China have been helping the government promote inclusive education and have made a significant contribution to the global poverty reduction goals outlined in the United Nations' 2030 Sustainable Development Agenda, while providing a valuable reference for the world, particularly developing countries, to ensure children enjoy the right to education.
The right to education is a basic constitutional right in China. According to the Law on Compulsory Education, county-level governments are required to establish boarding schools to ensure that school-age children in all residential areas receive nine years of compulsory education. And according to the Law on Regional Ethnic Autonomy, the organs of government in ethnic autonomous areas may establish public primary and secondary schools, mainly boarding schools and schools providing subsidies, in pastoral areas and less-developed, sparsely populated mountainous areas inhabited by minority ethnic groups to ensure that students complete compulsory education.
Boarding schools offering nine-year compulsory education help ease the financial difficulties faced by the families of children in rural, ethnic autonomous and remote areas, and promote the right to education for all children.
In 2018, the General Office of the State Council, China's Cabinet, outlined the requirements for establishing boarding schools nationwide, creating unified school conditions, recruiting staff and providing financial support. Boarding schools have not only provided quality compulsory education but also met the diversified needs of compulsory education in different regions.
As part of the rural vitalization policy, boarding schools have been established taking into consideration the changing trends among school-age children in different areas and to meet their diverse needs. They also take into account the geographical, transportation, environmental and safety factors.
Students are admitted to boarding schools based on their and their parents' choice, and without any differential treatment. Also, boarding students can communicate with their parents freely throughout their education term. Such schools are also equipped with a security system in accordance with the Education Law and the Compulsory Education Law, in order to better protect the life and health of children from all ethnic groups.
According to the Report on Rural Education Development in China 2020-22, in 2021, there were 11.99 million left-behind children in rural areas, accounting for 7.59 percent of the total number of students receiving compulsory education. And to improve the teaching standard and living conditions in rural schools, the Ministry of Education has taken many measures, giving priority to efforts to ensure left-behind children and children from disadvantaged families attend boarding schools. As such, boarding schools have significantly reduced the financial burden on families of left-behind children in terms of education expenses.
According to the Compulsory Education Law, governments at all levels are required to provide free textbooks and living allowances for boarding students from economically disadvantaged families. This has prompted local authorities to provide subsidies and implement support policies for boarding schools.
While Jiangsu province has mandated that rural compulsory education schools waive boarding fees for students from low-income families, and local governments bear the other expenses, Sichuan province has implemented a pioneering policy which exempts students' families from paying miscellaneous fees, textbook and workbook costs, and provides living allowances for boarding students from low-income families. About 55 percent of the boarding students benefit from this policy, with the subsidy being raised to 1,700 yuan ($239) and living allowance covering all students in 31 counties of the Garze Tibetan autonomous prefecture and Aba Tibetan and Qiang autonomous prefecture, and 10 counties of the Liangshan Yi autonomous prefecture.
Boarding school education has released a significant amount of human and material resources, which have made a valuable contribution to poverty reduction. Boarding schools have also made significant progress in various aspects, including teaching quality, and teacher training and development, partly due to government initiatives such as the Excellent Teacher Project, Strong Teacher Program and Coordinated Improvement Plan for Normal Teacher Education, which are aimed at improving the quality of rural teachers.
In 28 provincial-level regions, local teachers' training institutions provide free education for pre-service teachers, and about 50,000 college graduates are recruited every year to teach in rural primary and secondary schools. Under the Special Post Plan, about 1.03 million teachers have been recruited in 22 provincial-level regions in the central and western regions across more than 1,000 counties and over 30,000 rural schools, boosting the development of boarding schools in rural areas.
In terms of teaching quality, boarding schools fully implement the top leadership's directive to let school-age children study and live in school. These schools not only offer comprehensive basic courses but also provide courses that cater to the students' specific needs, thus promoting their holistic development.
In terms of caring and nurturing students, boarding schools create a family-like environment so left-behind children can study and grow up in a home-like atmosphere. They try to make up for the absence of parental care by helping build an amiable teacher-student relationship, promoting peer interactions, and fostering students' interpersonal skills. Boarding schools also have a complete set of staff to provide hostel services, and dedicated or part-time counselors to ensure students' mental health.
Besides, the Rural Compulsory Education Student Nutrition Improvement Program has raised the nutritional meal subsidies for students receiving rural compulsory education twice since the 18th National Congress of the Communist Party of China, benefiting about 350 million students by the end of 2021.
Realizing the goal of universal high-quality and balanced compulsory education is key to building an educationally strong nation. Keeping this in mind, the 2023 Government Work Report has emphasized the importance of continuously increasing the supply of high-quality educational resources, raising education standards, improving basic education levels, and promoting high-quality compulsory education at the county level.
In short, boarding schools in China have been playing a major role in advancing high-quality and inclusive compulsory education, promoting rural-urban integration, and helping build an educationally strong nation.
Wang Yunlong is the executive director of and a professor at the Institute for World Educational Nomocracy of Northeast Normal University; and Shen Zhuocheng is a lecturer at the School of Foreign Languages of the same university.
The views don't necessarily reflect those of China Daily.
If you have a specific expertise, or would like to share your thought about our stories, then send us your writings at opinion@chinadaily.com.cn, and comment@chinadaily.com.cn.
Most Viewed in 24 Hours
China Views