Zibo barbecue a success of urban management
Share - WeChat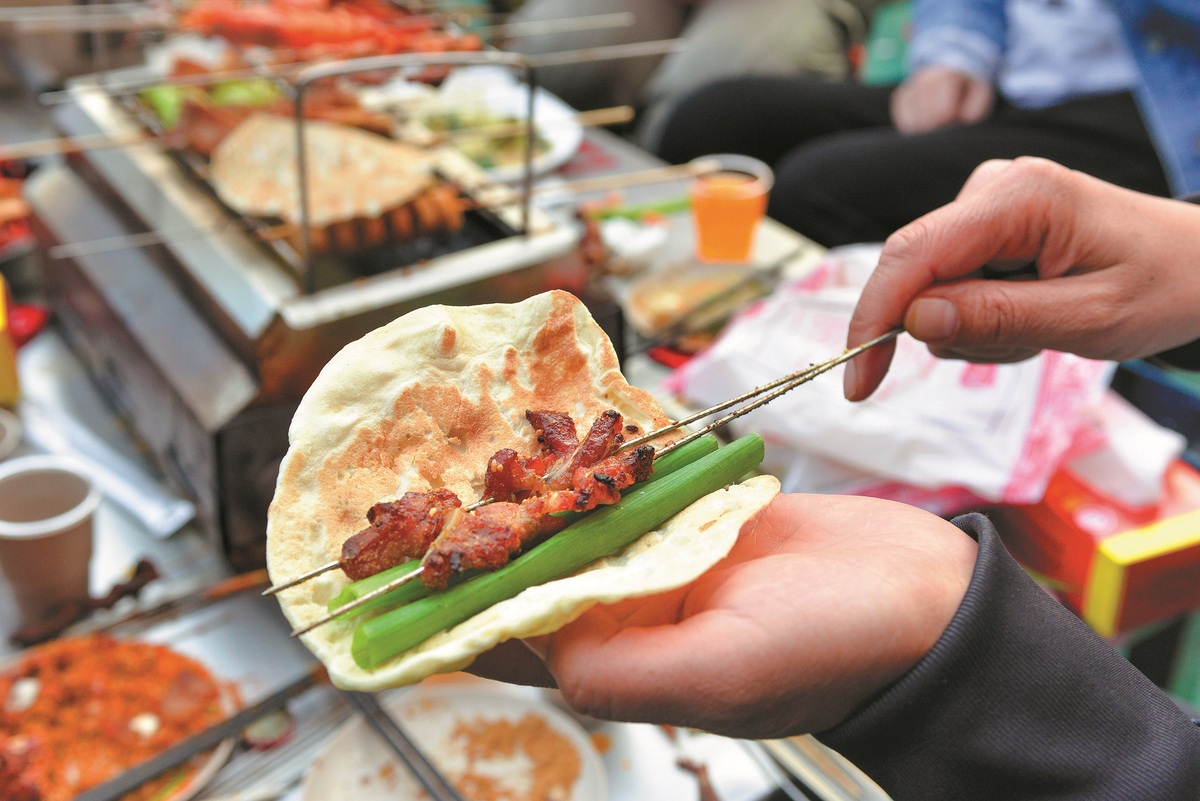 Zibo, an industrial city in Shandong province, has attained fame for something unusual, if not unique: its barbecue outlets. The GDP of Zibo in the first quarter of this year was 105.77 billion yuan ($15.29 billion), up 4.7 percent year-on-year, laying the ground for further growth as the consumption craze continues.
Zibo has long sought to popularize its unique barbecued skewers of meat, vegetables, seafood and other foodstuff in the hope of attracting more business. But it was not until March that the city became a hit on social media, attracting on average 135,800 customers a day thanks to the local government's determination and creative methods to boost consumption, and the post-pandemic tourism revival in China.
One reason for the success of Zibo is that the local government encourages street vending, which is considered an eyesore in many other cities due to concerns about hygiene, sanitation and public convenience. The supervision of "irregular" businesses is a gray zone in many cities, but Zibo responds to the challenge in its own way.
First, Zibo balances urban management and consumption stimulation. The city's urban management systems in most areas are alike and standardized. For example, prohibiting street vending is part of many cities' urban management policy, but that is not conducive to stimulating consumption or promoting employment.
In contrast, the Zibo local government's goal is to integrate urban management with consumption and culture to meet people's demands. The city has rolled out a series of policies to attract visitors and ensure they have a safe and enjoyable experience. Police officers have been posted at vantage points to maintain order, especially in places where people gather in huge numbers to enjoy the barbecues, while food inspectors carry out regular food safety inspections to guarantee the quality and safety of the ingredients used.
Second, the Zibo local government realized the huge opportunity the craze for barbecue had created, and changed the role of the traditional regulator. As a result, it is also providing services to meet people's expectations, setting an example of how government functions can be transformed to boost consumption and therefore economic growth.
Third, the local authorities have set development goals and use modern means to publicize the city and its unique features. In the past, most cities, especially the small and medium-sized ones, didn't advertize their novel features to attract tourists, because traditionally only cities with strong economies, a thriving cultural scene and ample resources drew tourists.
But the Zibo local government has set an example of how to transform an industrial hub into a consumption-driven city by promoting organized and orderly street vending. Zibo, in fact, offers new ideas for urban development, image branding and attracting tourists, and thus boosting economic recovery in the post-pandemic period.
To be sure, the Zibo authorities have transformed the city's online fame into successful real-life business by attracting swarms of tourists. The media, including social media, can highlight the flaws of a city, prompting potential visitors to think twice before visiting them. But not in the case of Zibo, because the local authorities follow the people-centered principle by allowing street vendors to sell their products, providing good transportation and accommodation facilities for visitors, and guaranteeing public security in order to meet the demand of consumers, including tourists.
The healthy market environment and local hospitality have enhanced tourists' sense of safety, increasing the popularity of Zibo as a tourist destination. Only good services and facilities can attract visitors to a city and unleash their purchasing power.
To make a city attractive to tourists, the urban authorities need to realize the importance of coordination. Traditionally, it was assumed that only the local government or the market had the power to maintain market order. Vending, for example, used to be regulated by the government in a bid to prevent vendors from occupying most of the open spaces, particularly pavements, inconveniencing the residents of a city.
However, the growing barbecue business in Zibo reflects the importance of coordination among the local government, the market and the people. The success of the barbecue business is owed to the guidance of the local government and cooperation of the vendors and the public.
Local governments should adopt an open, diversified and inclusive attitude to improve their administrative capabilities. For instance, they should not try to supervise "irregular" businesses using "regular" policies. Instead, they need to establish new management systems and consult interested entities to break barriers and meet people's demands.
Yuan Xiaoping is deputy director of the School of Public Administration at Nanchang University; and Lyu Jiaqi is a postgraduate student at the same school.
The views don't necessarily reflect those of China Daily.
If you have a specific expertise, or would like to share your thought about our stories, then send us your writings at opinion@chinadaily.com.cn, and comment@chinadaily.com.cn.
Most Viewed in 24 Hours
China Views