Graduates seek relaxing breaks following exams
Share - WeChat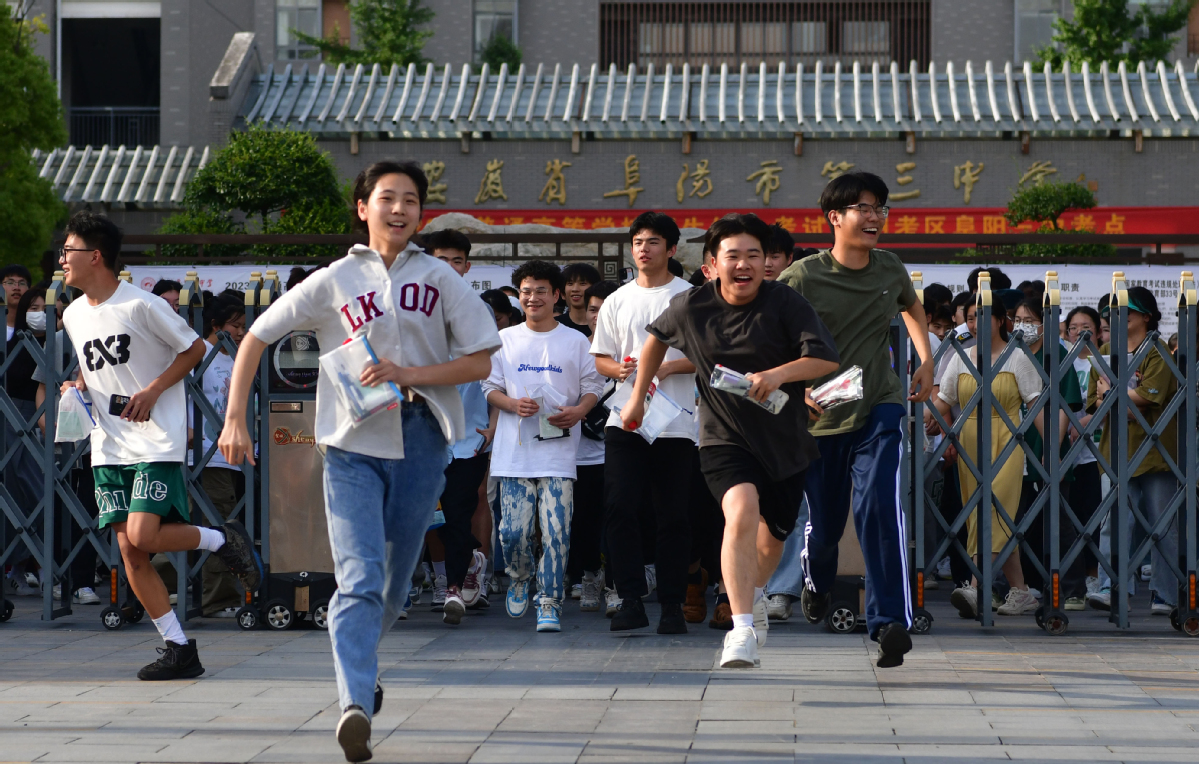 Tourism market set to experience a peak as some travel agencies report robust trade in bookings ahead of gaokao
As the graduation exam season gets underway, many students are starting to plan their post-exam getaways. Industry experts predict that China's tourism market will experience a peak after the annual college and high school entrance exams conclude. In response, the tourism industry is introducing special offers for fresh graduates, including fun activities, discounts and even free admission, as reported by local media.
From Saturday to Aug 31, the Yandang Mountain Scenic Area in Wenzhou of Zhejiang province is offering free entry to this year's exam takers. Also offering free entry are the Shenyang Palace Museum in Liaoning province and the Wuhan Garden Expo Park in Hubei province, among other tourist sites.
Some scenic areas have planned exclusive events for these youngsters. Baofu town in Huzhou of Zhejiang, for example, will organize a camping and barbecue carnival, where graduates can participate in free activities like rafting and enjoy hotel discounts, local news site zj.zjol.com.cn reported.
Known for its immersive performances, the Zhiyin cruise in Wuhan of Hubei province is offering discounts to this year's examinees. Eligible students can purchase an entry ticket for 128 yuan ($18) or a package ticket for 188 yuan, which includes costume services. The regular prices for an adult ticket are 248 yuan on weekdays and around 290 yuan on weekends.
Many college entrance exam takers opt to travel straight after the exam, which runs from Wednesday to Saturday, with some regional variations. Sales consultants at an outlet of a well-known travel agency located in Shenhe district of Shenyang have been busy fielding customer inquiries lately. The majority of these inquiries have been regarding travel plans following the college entrance exam, with a focus on routes from Saturday to June 20, as reported by Shenyang Evening News.
A sales consultant at the store surnamed Li told the newspaper: "Choosing to travel during this period not only avoids the travel peak during the Dragon Boat Festival holiday and the summer break, but also ensures that students do not face any delays in filling out their college applications. That's why many college entrance exam takers choose to begin their travels on Saturday."
According to data from online travel platforms cited by Shenyang Evening News, the majority of graduation trips have a budget of approximately 3,000 yuan. To cater to students' busy schedules, some travel agencies have introduced policies where customers can pay a deposit to reserve a spot and then pay the full amount after the exam is completed.
Roughly 10 percent of this year's college entrance exam takers in Shenyang have chosen to travel abroad for their post-exam trips. However, these niche products have limited availability and spots fill up quickly, with some routes sold out, according to Shenyang Evening News.
Along with the national college entrance exam, there has been an increasing number of social media posts promoting graduation trips. The tourism bureau of Garze county in Sichuan province has created the hashtag "The wind of graduation trips has arrived in Garze" on Sina Weibo, China's answer to Twitter.
Liu Hong, the bureau's director who gained internet fame for appearing in creative videos promoting local tourism resources, has posted a poll under this hashtag inviting netizens to vote for their favorite Garze attraction. The options include destinations such as Daocheng Yading, Kangding and Moshi Park.