Wildfire smoke blankets East Coast
Share - WeChat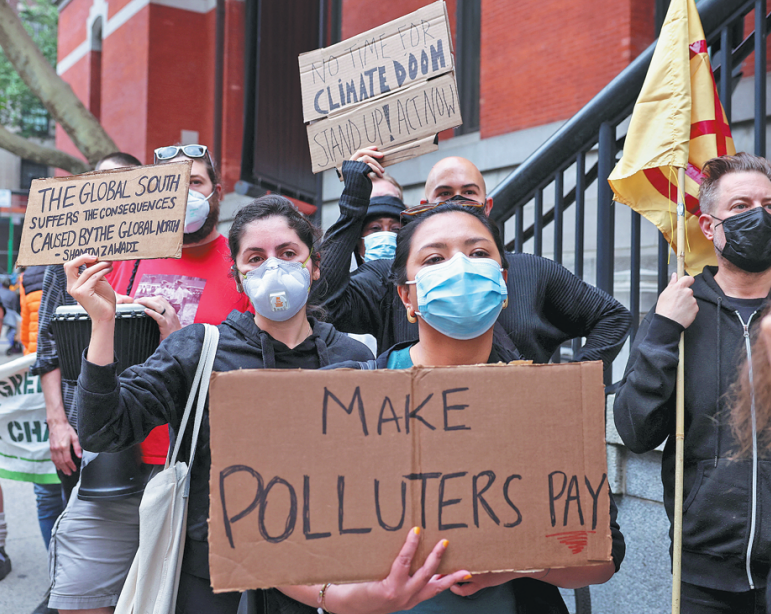 Smoke from Canadian wildfires shrouded cities in the United States in a noxious haze again on Thursday, delaying flights and disrupting outdoor events in what US President Joe Biden called a "stark reminder" of climate change.
Thick skies and an acrid campfire smell hung over the capital Washington, with parts of the mid-Atlantic region reaching "Code Maroon", the highest category of the Air Quality Index, or AQI, signaling hazardous conditions.
This exceeded some of the most polluted cities in the world, leading many residents to wear masks to protect their health. Though there has been some improvement, conditions are not expected to return to normal until the weekend, forecasters said.
More than 111 million people in the US were living under air quality alerts due to the fires, the Environmental Protection Agency said on Thursday.
"Millions of Americans are experiencing the effects of smoke resulting from devastating wildfires burning in Canada, another stark reminder of the impacts of climate change," Biden said in a statement.
He added that he was sending extra resources to Canada, including "additional firefighters and fire suppression assets such as air tankers", on top of 600 US personnel sent in May.
The smoke-filled skies also prompted a call from United Nations Secretary-General Antonio Guterres to tackle climate change. The world needs to urgently reduce wildfire risk and make peace with nature, he said.
The smoke blanketing the nation's capital was not immune to the city's usual political machinations.
White House spokesman Andrew Bates hit out at congressional Republicans, saying the majority "subscribes to debunked conspiracy theories that deny the existence and nature of climate change", even amid worsening weather events.
The White House postponed an outdoor event, although a parade and festival this weekend remain on course for now. The National Zoo was also closed, with its animals, including three giant pandas, taken indoors to shelter.
Hemadri Vora, a 42-year-old tourist from Mumbai, was spending the day with her family in Washington after a visit to New York.
"It's a little disappointing," she told Agence France-Presse at the Washington Monument, but added she was used to similar pollution levels back home. "Obviously, the pictures are not going to be very clear."
Public schools in the capital canceled all outdoor activities including recess, physical education, athletic practices and competitions.
The Federal Aviation Administration meanwhile said low visibility had forced it to take steps to "manage the flow of traffic safely into New York City, DC, Philadelphia and Charlotte".
Skies were noticeably clearer in New York compared to Wednesday, even as the AQI remained high.
The smoke also slipped through the doors of some Broadway theaters, forcing several high-profile performances to cancel.
A lot like 9/11
A Wednesday night performance of the Broadway musical Hamilton at the Richard Rodgers Theatre was canceled because of the poor air quality conditions in the city. Many cast members had called in sick.
"We are seeing higher than usual asthma-related visits to the Emergency Department," said a spokesperson for the city's health department, adding that visits and calls were in the "low hundreds".
Officials handed out face masks at train stations, bus depots and parks, and declared public schools would switch to remote learning on Friday.
Linda Juliano, a 65-year-old secretary, gladly accepted a mask at Grand Central Station in Midtown Manhattan.
"I've never seen anything like it," she said, describing the sepia-tinged smog that engulfed New York on Wednesday as scary. "It reminded me a lot of 9/11, seeing the sky all smoky and everything."
Agencies contributed to this story.
aiheping@chinadilyusa.com