Russia: Floods caused by dam burst kill 5
Share - WeChat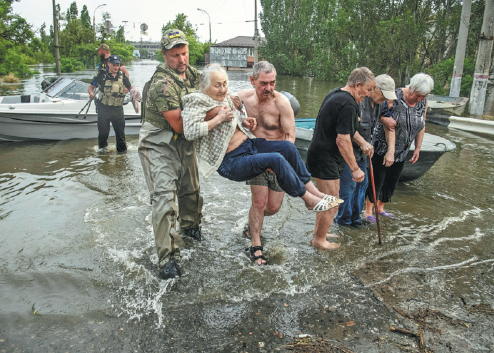 At least 600 square kilometers of the Kherson region have been flooded following a major dam collapse as Russia reports five dead in the flooding.
Floodwaters have risen to an average level of 5.61 meters and roughly 600 square kilometers were submerged, Oleksandr Prokudin, head of the Kherson regional military administration, said in a statement on Telegram.
The collapse of the Kakhovka dam and hydroelectric plant sent torrents of water gushing down the Dnipro River. Meanwhile, the east bank, which sits lower than the west, suffered the worst of the flooding.
Five residents live next to the dam have died in massive flooding triggered by the catastrophe, Vladimir Leontyev, mayor of Nova Kakhovka, said on Thursday, the first official report of deaths from one of the largest environmental crises since the conflict began.
He told Russian state TV that evacuation efforts were underway.
Almost 6,000 people have been evacuated on both sides.
The Izvestia newspaper quoted academician Vladimir Tetelmin as saying that a month ago, Ukraine had begun dumping large volumes of water from the upstream reservoir. That said, water supplies to Crimea should not be affected. However, Tetelmin thinks that a security threat may emerge at the Zaporizhzhia nuclear power plant.
"Water taps that supply the nuclear plant with water from the reservoir may dry up on the shore. Then, some other reserve source of water will have to be used for cooling the nuclear reactors," Tetelmin said.
Unpredictable impact
Albina Dudareva, head of the Russian Civic Chamber's committee on ecology and environment, said if the dam is completely destroyed, the consequences will be unpredictable and it would take years for local agriculture to recover.
The water will most likely reach the left bank of Dnipro, military expert Alexey Leonkov said. "This will affect the ability to suppress Ukrainian artillery systems and MLRS (multiple launch rocket system) on the right bank," he said.
Russian President Vladimir Putin called the destruction an "environmental and humanitarian catastrophe" during a phone call with Turkish counterpart Recep Tayyip Erdogan, the Kremlin cited him as saying on Wednesday.
Also on Wednesday, Ukrainian President Volodymyr Zelensky said he spoke to Erdogan over the phone about the "humanitarian and environmental consequences" of the destruction.
In another development, a pipeline used to transport ammonia fertilizer from Russia via Ukraine that may be central to the future of the Black Sea grain deal has been damaged, according to both Kyiv and Moscow, potentially complicating talks around the accord.
Russia's Defense Ministry said a "Ukrainian sabotage group" had blown up a section of the pipeline on Monday night near the village of Masyutivka in Kharkiv region.
Agencies contributed to this story.