Sunak set to pitch for stronger US relations
Share - WeChat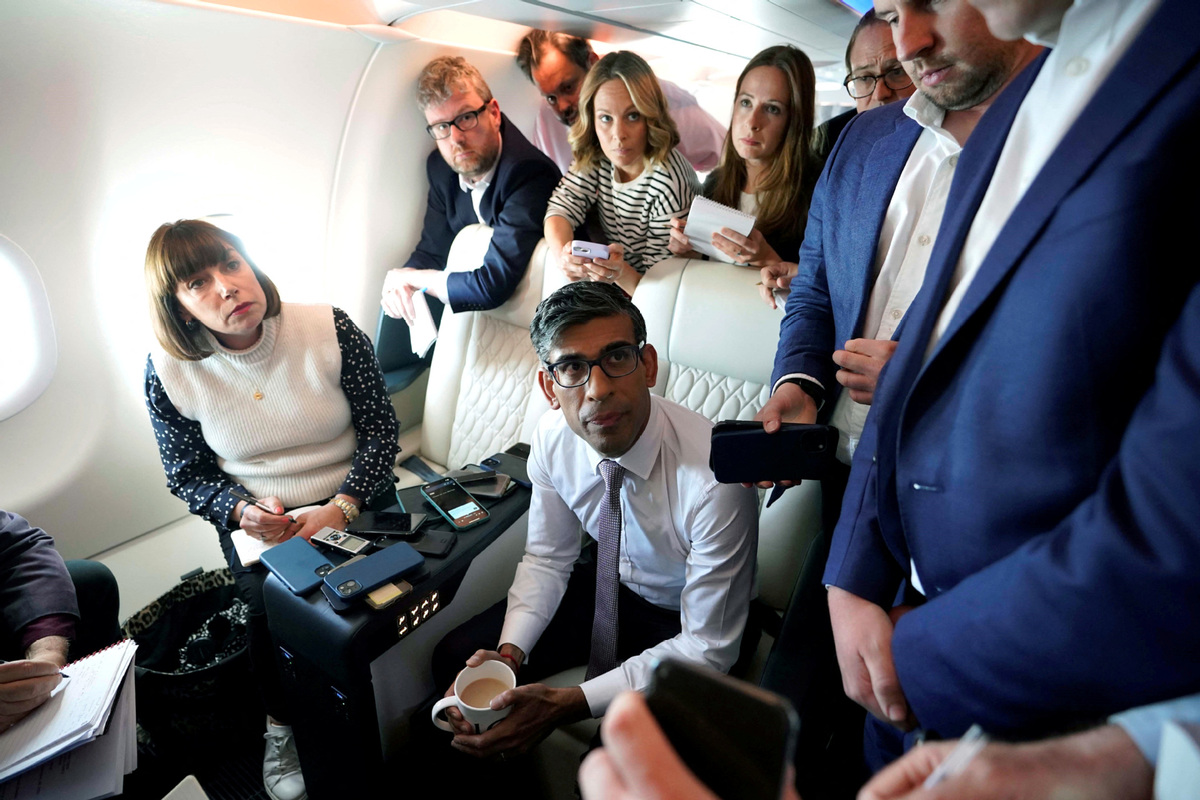 NATO chief successor, AI regulation among priorities at White House meet
The United Kingdom's Prime Minister Rishi Sunak brings with him for discussion with US President Joe Biden a range of issues that will reportedly include the management of artificial intelligence, the new NATO secretary-general and bilateral ties when he flies to Washington on Wednesday.
The Telegraph newspaper said Sunak will use his trip to Washington to encourage Biden to back UK Defense Secretary Ben Wallace to take over the top job of NATO.
The term of the current head of the military alliance, Jens Stoltenberg, was meant to expire last year but was extended to September because of the ongoing Russia-Ukraine conflict.
Sunak will meet Biden on Thursday for a White House summit, pledging support for Ukraine.
Sunak is also expected to talk about the management of AI when he meets Biden in the White House on Thursday, the Financial Times newspaper reported.
Because the world is concerned about losing control of the fast development of AI, Sunak said the UK could "play a leadership role" in the sector, and he said he has discussed opportunities for global collaboration around the safe development of AI with the CEOs of Google and OpenAI.
Insiders in Downing Street told FT that "the prime minister is very alive to the need for international alignment on approach to AI", and suggested Britain could be a host for any new international regulatory body.
Sunak is expected to also meet US business leaders and members of Congress, arguing that the existing ties between the two countries mean they are better placed to take on the new challenges together. He will arrive in Washington on Wednesday.
"Just as interoperability between our militaries has given us a battlefield advantage over our adversaries, greater economic interoperability will give us a crucial edge in the decades ahead," Sunak said in a statement.
Economic issues
Economic cooperation will also likely be high on the agenda of Sunak's visit, and White House Press Secretary Karine Jean-Pierre said the two heads will discuss efforts to continue strengthening their economic relationship and also review developments in Northern Ireland as part of their shared commitment to preserving the gains of the Good Friday Agreement.
But a free-trade agreement, or FTA, between the US and the UK, which had been promoted as one of the prizes for the UK leaving the European Union, will not be on the table, according to the FT.
"We are not seeking to pursue a free-trade deal with the US," a spokesperson for Number 10 said last week. "It's worth remembering the trade relationship, as it currently stands, is worth 279 billion pounds ($346 billion) already. We have achieved all of that without an FTA."
Former BBC presenter Nicholas Owen said on GB News: "All British prime ministers get seduced by the White House … We are always told that so much will come out of it. Warm words will be said, but so little ever seems to come out."
Sunak's government has also been under pressure to respond after Biden launched $369 billion of subsidies to drive the development of electric vehicles and other clean technologies, a policy that prompted Brussels to set out its own industrial plan, Reuters reported.
Sunak is pushing for US relief to UK carmakers, via greater access to critical minerals used in electric batteries, after Biden's Inflation Reduction Act offered vast subsidies to US companies.
The upcoming meeting between Sunak and Biden will be their fourth this year. The two met during the AUKUS defense summit in San Diego, United States, in March; on the 20th anniversary of the Good Friday Agreement in Belfast in April; and at the G7 Summit in Hiroshima, Japan, last month.
Agencies contributed to this story.
xingyi@chinadaily.com.cn