Leisurely pastime's trendiness in virtual world becoming the rage
Share - WeChat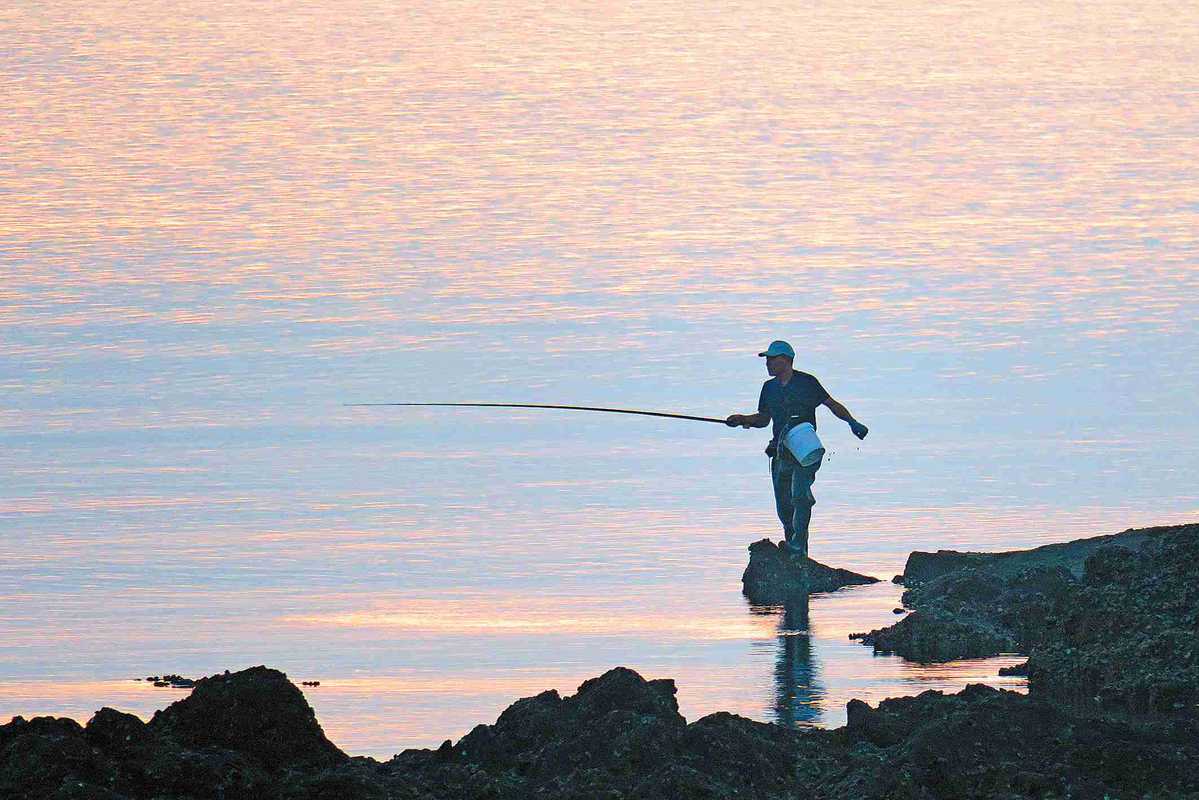 The fishing world has expanded beyond the activity itself.
From fishing-themed livestreaming to camping, fishing has sparked diverse and lucrative offshoots that have captivated enthusiasts and entrepreneurs alike.
With the rise of short-video platforms and livestreaming services, people can immerse themselves in the art of fishing without wetting their toes.
On short-video platform Douyin, videos with the fishing hashtag have received 189.84 billion displays as of early June. On lifestyle-sharing platform Xiaohongshu, fishing-related posts reached more than 1.35 million by early June.
"I find it particularly relaxing to watch fishing-themed livestreaming or some of the best catches," said Li Ming, a 32-year-old Beijing resident. "Whenever I see them reeling in fish one after another, it gives me a sense of excitement. I even want to try casting a few lines myself."
Li said he accidentally came across fishing videos on Douyin one Saturday afternoon. Within an hour, he was captivated by the leisurely and slow-paced nature of the activity. "My mood started to fluctuate with the catches made by fishermen. It feels addictive. Now, I watch it every day."
Deng Gang, a coach at the China Angling Association, runs a Douyin account that posts videos about highlights in his fishing life.
The account has over 35.4 million fans and a top-ranked video gained nearly 3.19 million likes from netizens.
More than 6.75 million people watched Deng's livestreaming section, depicting him fishing at a pond, on Monday.
Many of Deng's videos show him going to fishing ponds that charge a fee, negotiating prices with owners without revealing his true identity and using his exceptional skills to catch fish that are worth far more than what he pays.
In the comments section below the videos, viewers say they are entertained by watching Deng pretending to be a beginner, surprising them with his fishing skills, and making the pond owners regret the deal.
Fishing influencers like Deng are not only showcasing their skills but also recommending relevant products on their home page on Douyin, in virtual carts on their homepages.
Deng's store, for instance, has a total of 101 products for sale, ranging from fishing rods to bait and more. The bestselling item is a fishing line set worth 6.8 yuan (95 US cents), with sales reaching nearly 1 million units. According to a recent report by Beijing News, sales revenue from his livestreamed product promotions in 30 days is estimated to be around 2.95 million yuan.
"For beginners who are not familiar with fishing equipment brands, endorsement from influencers in the industry is an important reference. Some of the influencers choose a brand to work with, and some even have their own brands," said Li.
Influencers and celebrities are not the only ones benefiting from the rising popularity of fishing on social media platforms. Regular fishing aficionados are also making money from it.
On Xiaohongshu, posts relevant to fishing attire exceeded 10,000 as of early June, attracting numerous people to share their views on the latest fashion. Hot posts include how to dress to maximize sun protection, cute couple dresses, and the most cost-effective outfits. Over 50,000 items under the column "fishing apparel" were for sale on Xiaohongshu across various accounts.
"Fishing, once a simple pastime, has evolved into a way of life, intertwining with camping, barbecuing, fashion and traveling. This trend has sparked numerous opportunities," said Huo Taixiang, marketing director of Japanese fishing tackle brand Daiwa's China branch in Guangdong province.
Huo said the company will launch a campaign next month that combines fishing with camping, two of the most popular outdoor activities.
The brand will also launch a series of new products such as tents, foldable carts and chairs, roll-up tables and titanium cups, featuring ultralight and foldable designs. Huo said the goal is to provide customers with a lightweight, hassle-free and chilled-out camping and fishing experience.
With the booming popularity of fishing, accommodation providers at fishing hot spots have also intensified their efforts.
According to data from Tujia, a property rental platform and homestay operator, the number of properties on the platform with tags or descriptions containing the term "fishing" has increased by 1.5 times as of mid-May, compared to the end of 2019. In the first five months of this year, bookings for fishing-related vacation rentals witnessed a growth of 3.1 times compared to the whole year of 2019.