Companies reel in young anglers
Share - WeChat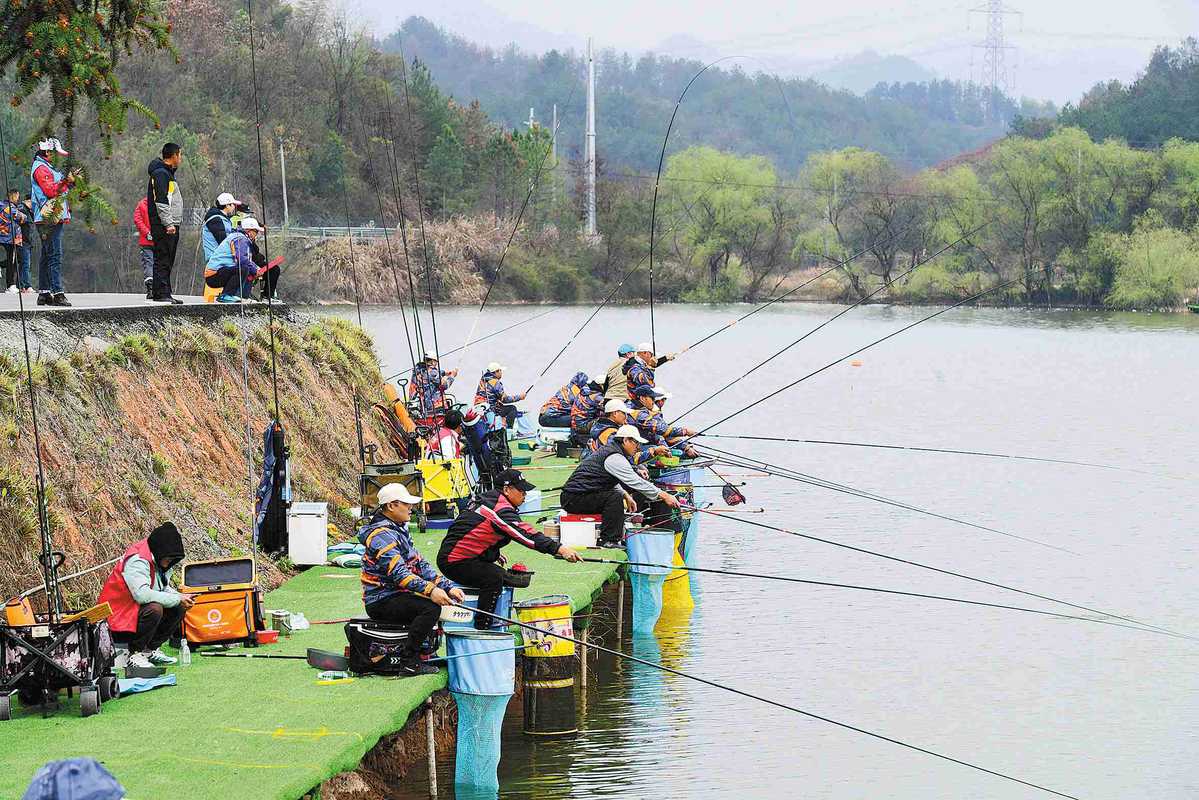 As fishing becomes trendy, market booms for gear, excursions, videos, even apparel
Young anglers are hooked and taking the fishing world by storm.
Thanks to them, gone are the days when fishing was considered the pastime of middle-aged and older people.
From urban rivers to remote lakes, younger fishing enthusiasts are packing up their gear, hitting the water and making the sport that's been around for centuries their own.
During the five-day May Day holiday, many young anglers spent their time by the water, casting a line in a local river or renting a seat on a boat for a deep-sea excursion. But it's not just about the real thing. Many young people, even those who are not fishers themselves, are flocking to short video platforms to watch other people fish, a trend that some call "cloud fishing".
Fishing has become the latest trend for millennials and Generation Z — mostly those from their teens to their 30s — to unwind and connect with nature. Although middle-aged people still make up a major share of anglers, fishing is gaining popularity among younger people who consider it a trendy and creative pursuit, according to the China Angling Association.
Fishing enthusiasts under 18 account for 12 percent and those between 18 and 24 make up 10 percent of the total 140 million fishers, the association said.
The number of anglers under 26 has increased fourfold in the past four years, according to a recent report by e-commerce platform JD's sports sector. As enthusiasts of a highly flexible sport, fishers can experience the joy of catching fish in a small river near their homes with an investment of just a hundred yuan ($14) or so. Those who have the means can rent a yacht for a hefty fee, grab a marine fishing rod and head to the ocean to "catch a big one".
"Young people are more willing than elders to spend big money on the hobby, which has given rise to a billion-dollar business covering everything from fishing tackle to apparel," said Wang Yu, owner of a Tianjin fishing tackle store.
"An increasing number of young fishing enthusiasts are turning to fishing with lures, which often involves lightweight tackle and is considered more eco-friendly than traditional fishing. Lure fishing involves artificial bait, which frees people from the trouble of using natural bait," Wang said.
The fishing rods used in lure fishing are typically lightweight and flexible. Lure fishing usually requires the angler to constantly move the bait and use various techniques such as twitching or quick retrieval to simulate the movements of natural fish and attract fish to bite.
"Lure fishing, a new addition to our business in 2019, now accounts for over 60 percent of our total sales thanks to young anglers' passion," Wang said, adding that it's not so unusual to see someone in their 20s or 30s spend millions of yuan on equipment for lure fishing.
"The majority of lure fishing enthusiasts are between the ages of 25 and 45. We have formed partnerships with five or six fishing locations in Tianjin and sponsored multiple lure fishing competitions to better tap the growing market. The fishing industry is constantly evolving, with changes in fishing styles and techniques and frequent product updates," he said.