UN investigator calls for domestic legal framework in Iraq to try IS crimes
Share - WeChat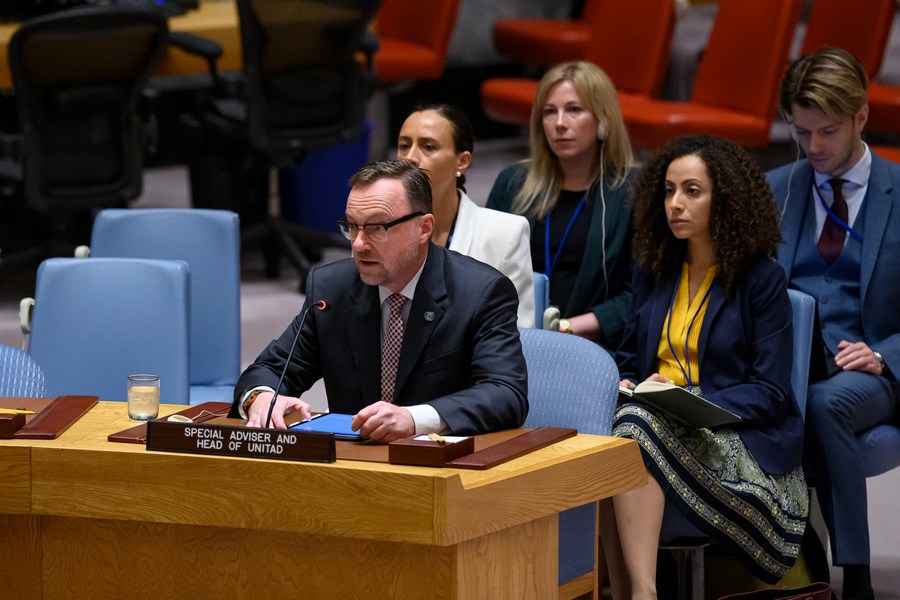 UNITED NATIONS - The head of a UN investigative team on crimes committed by the Islamic State (IS) in Iraq on Wednesday called for the adoption of an appropriate domestic legal framework in Iraq that allows for trials to happen.
Christian Ritscher, head of the UN Investigative Team to Promote Accountability for Crimes Committed by Da'esh/Islamic State (UNITAD), said such a domestic legal framework can be considered the main challenge that needs to be addressed to yield the desired results in Iraq.
His team remains committed to supporting the Iraq-led process for the implementation of a legal framework that enables the prosecution of IS criminal acts as international crimes -- war crimes, crimes against humanity and genocide -- before national courts, Ritscher told the UN Security Council in a briefing.
The establishment of a joint working group in March 2023 with the Office of the Prime Minister, the National Permanent Committee for International Humanitarian Law, the Iraqi State Council and senior members of the judiciary, as well as key parliamentarians, is an important step forward in this regard, he noted.
UNITAD remains at the disposal of the Iraqi authorities to provide technical support, leverage international expertise and share best practices, said Ritscher.
The other two elements for the success of UNITAD's work are competent courts and admissible and reliable evidence, he said.
The issue of competent courts is the easiest of the three. UNITAD already works closely with competent investigative judges in Iraq, and is enhancing their capacities and ensuring that Iraqi courts are ready to hold IS perpetrators accountable for their international crimes, he said.
On admissible and reliable evidence, Ritscher said there is no shortage of evidence on IS crimes in Iraq, and the main challenge is: what should be done with this evidence; how can the significant volumes of documents and the sheer amount of information be dealt with; and most importantly, how should the integral chain of custody for such evidence be maintained.
"What we aim to do is to ensure that this evidence is admissible before any competent court, whether in Iraq or in other states where prosecutions of IS members for international crimes are taking place," he said.
UNITAD is assisting the Iraqi judiciary to organize and access considerable volumes of IS records and battlefield evidence notably via a mega digitization project. Led by UNITAD, digitization operations have been launched at five courts in Iraq and two further courts will follow in the coming months. Some 8 million pages of IS documents from the holdings of the Iraqi authorities, including Kurdish authorities, have been digitized so far, he said.
As a next step, UNITAD is establishing a central archive that will be the unified repository of all digitized evidence against the IS, he said.
As a perspective for the future, this central repository will play a key role in supporting prosecutions of IS perpetrators for their international crimes in Iraq, and it could be a milestone in founding a comprehensive e-justice system in Iraq, according to Ritscher.
"ISIL's criminality constitutes some of the most gruesome acts we have seen in recent history. Individuals responsible for such acts must be identified, tried and convicted for their crimes," he said, using another acronym for the IS terrorist group.