Anti-desertification efforts to drive environmental security
Share - WeChat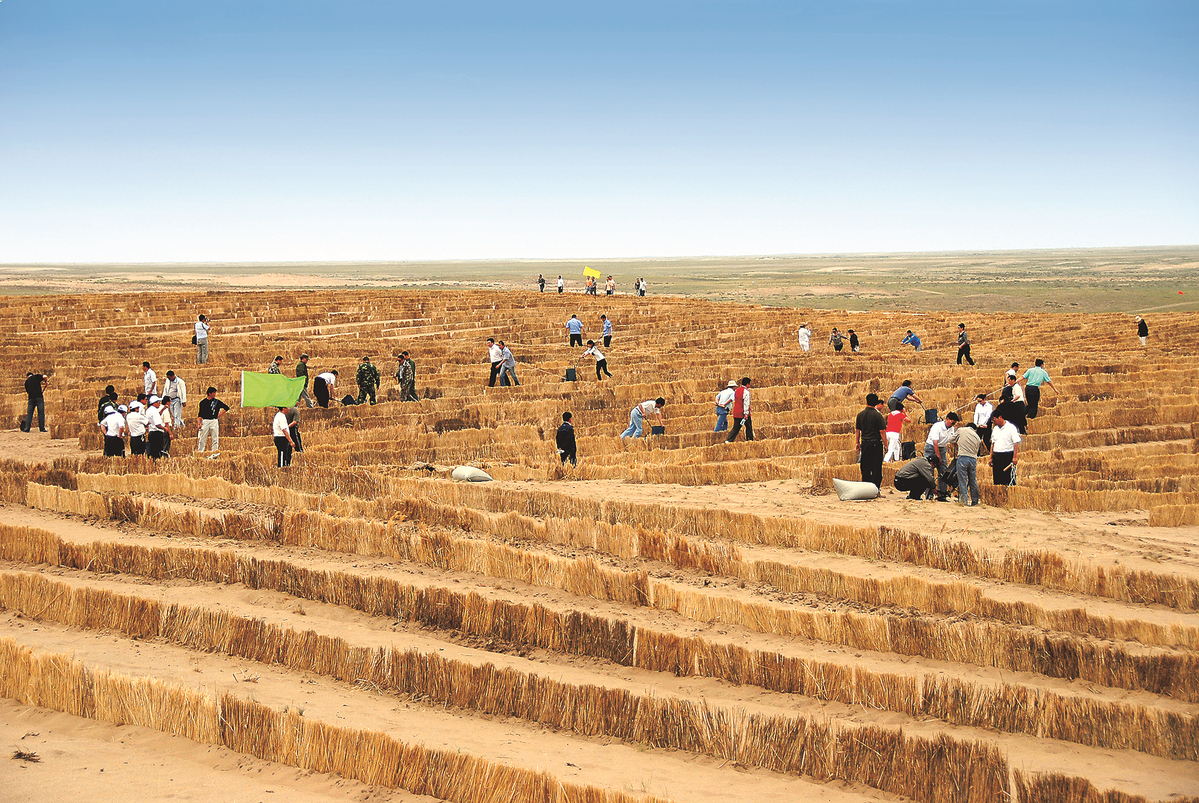 Systematic measures
At least 30 herding households are helping Liang Cunxin plant sweetvetch in the Tengger. They plan to cover about 66 sq km in the next three years, doubling the area currently under cultivation.
They are part of mass public participation in regional afforestation efforts to extend the vegetation cover.
Their home, Inner Mongolia, accounts for 23.7 percent of the national area of desertified land, making it one of China's most badly affected regions. As such, it has implemented significant measures, especially afforestation efforts.
"We have expanded forest coverage by over 6,666 sq km annually, and grassland by over 20,000 sq km," said Ma Qiang, deputy head of the regional forestry and grassland administration, adding that more than 2 billion trees have been planted via voluntary public afforestation initiatives. He noted that the efforts have seen the area of desertified land in the region fall for 15 consecutive years.
According to the regional forestry authority, along with extensive afforestation efforts, Inner Mongolia has implemented such measures as strict grazing controls and grassland conservation projects, explored new techniques, and established policies and regulations to guide sustainable land management practices. The measures are part of broader national initiatives to combat desertification and restore degraded ecosystems.
Moreover, China has taken a systematic and scientific approach to combating desertification in recent decades, encompassing mountains, bodies of water, forests, farmland, lakes, grassland and deserts. As one of the leading guidelines, the National Desertification Prevention and Control Plan (2021-30), lists coordinated measures among different regions, based on their situations, and outlines measures to reach various targets.
More than 6.67 million hectares of desertified land will be treated by 2025, rising to over 12.4 million hectares by 2030, according to the plan.
"Specific projects are being implemented, such as the Three-North Shelter Forest Program, protection and restoration of natural forests, control of sources of sand and dust storms in the Beijing-Tianjin region, and environmental restoration in mining areas. The goals are to improve ecosystem stability and mitigate desertification," said Sun, from the National Forestry and Grassland Administration's desertification monitoring center.
President Xi has set a goal of developing the Three-North program — launched in 1978 to retard expansion of the Gobi Desert — into an unbreakable "Great Green Wall" within 10 years. He highlighted 2021-30, the project's sixth phase, as the key period for consolidation and expanding achievements.