Nation's 1st home-built large cruise ship undocks
Share - WeChat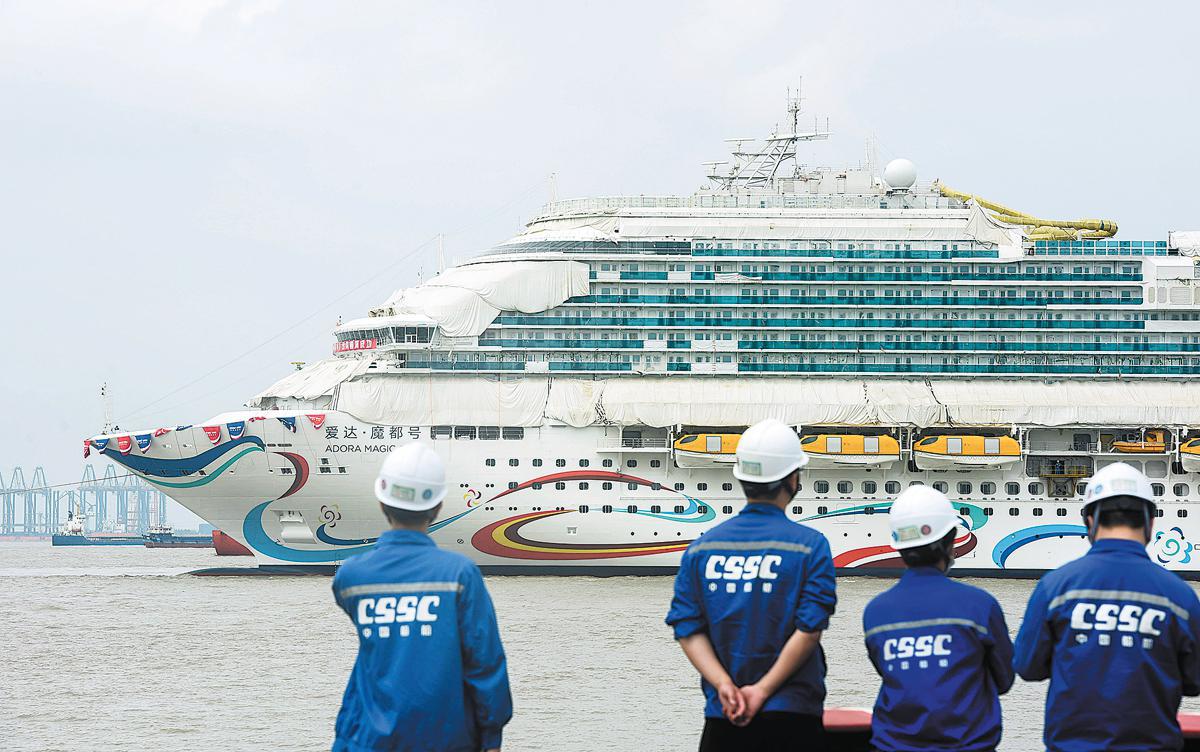 China's first domestically built large cruise ship, Adora Magic City, completed its undocking in Shanghai on Tuesday, bringing it a step closer to its long-awaited delivery by the end of 2023.
A ceremony was held on Tuesday to celebrate the vessel's complete transition to the dock mooring debugging stage. The cruise ship is scheduled to make its first trial voyage in July, and a second one will take place in August, according to its builder Shanghai Waigaoqiao Shipbuilding Co, a subsidiary of China State Shipbuilding Corporation.
"This is a new milestone in China's cruise ship manufacturing. Building large cruise ships is a symbolic accomplishment in China's shipbuilding industry, marking its transition from a large shipbuilding nation into a major shipbuilding power," said Chen Gang, general manager of Waigaoqiao Shipbuilding and the chief designer of the shipyard's large cruise ship project.
In what was a gigantic engineering project, the construction of the 323.6-meter-long and 37.2-meter-wide cruise ship required 12 million man-hours of labor. The mammoth cruise ship consists of 136 systems, more than 20,000 sets of equipment, 25 million components and parts, 4,200 kilometers of cable, 350 km of pipelines and 450 km of air pipes sourced from more than 500 global suppliers, according to CSSC.
"The first China-made cruise ship has overcome many challenges in its construction, and entered a new stage in accordance with the schedule," said Lin Guolong, director of Shanghai Maritime University's Logistics Research Center.
According to Lin, building large cruise vessels is seen in the shipbuilding industry as one of the most challenging tasks, equivalent to building aircraft carriers and liquefied natural gas carriers.
"During the past five years, Adora Magic City has overcome various challenges and become a vivid and colorful representative of China's cruise industry today," said Yang Guobing, chairman of CSSC Cruise Technology Development Co.
"In order to build this 'magic city' on the sea, we have cultivated project management capabilities to deal with huge and complex systems, established an independent cruise operation team, and promoted the localization of multiple core systems such as IT, interior decoration and cruise supply," Yang said.
Construction of the vessel, which has a gross tonnage of 135,500 tons, is 93 percent completed, and over 85 percent of the interior decoration has also been completed, according to the manufacturer.
"The successful delivery of the vessel will make China one of the few countries, including Italy, France, Germany and Finland, that can build a cruise ship on its own," said Zheng Weihang, executive vice-president and secretary-general of the China Cruise & Yacht Industry Association.
Since the launch of China's first home port cruise operation in 2006, it has been a long-awaited dream of the Chinese shipbuilding industry to have a domestically built cruise ship, and after 17 years, that dream is about to come true, said Zheng.
The jumbo ship can accommodate a maximum of 5,246 passengers with its 2,125 guest rooms ranging from standard rooms to presidential suites, and it will have a luxury hotel, cinemas and a water park on board.
In the meantime, it has the country's largest duty-free shopping center on board an oceangoing vessel, a 5G network, and the country's first live comedy theater at sea.
Aimed at offering a cruise experience blending Eastern and Western cultures, Adora Magic City has chosen Shanghai as its home port for its inaugural season. It plans to operate cruises by Adora Cruises to Southeast and Northeast Asian destinations before launching mid-to-long haul routes such as the "Maritime Silk Road".
Adora Cruises is a leading provider of premium cruise experiences under CSSC Carnival Cruise Shipping Ltd, a joint venture between China State Shipbuilding Corporation, the world's largest shipbuilding company, and Carnival Corp & plc, the world's largest leisure travel company.
"Building large cruise ships is a tremendous breakthrough in China's shipbuilding industry and a demonstration of the country's high-end equipment construction capabilities and comprehensive scientific and technological level," said Chen Rangfeng, managing director of CSSC Carnival, the ship's operator.
Construction of the country's second domestically built large cruise ship started in August 2022.