Balancing green with green
Share - WeChat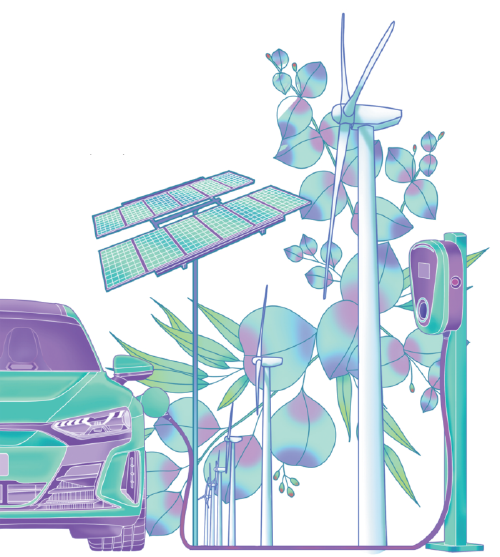 Optimizing travel demands, adjusting transportation structure and promoting the use of clean energy are the needs of the hour in a progressing Asia
As Asia experiences fast economic growth, cities in the region need to address environmental problems caused by transportation.
The past two decades has seen Asia rapidly growing into one of the most economically vibrant regions in the world. However, with economic prosperity comes surging demand for transport. Statistics released by the Asian Development Bank indicate that in the past half a century, Asia's carbon dioxide emissions from transportation increased 3.9 percent annually, nearly twice the global average of 1.9 percent. In 2018, the region's CO2 emissions from transport accounted for 27 percent of the global total.
The United Nations Intergovernmental Panel on Climate Change pointed out that the use of fossil fuels in energy, industry and transportation is the major contributor to climate change, with the carbon footprint from transport growing the fastest. If left unchecked, emissions from transport will continue to rise. The International Transport Forum estimated that by 2050, Asia's demand for passenger and freight transportation will nearly double from the level of 2015, with freight transport accounting for 46 percent of the global total.
It is imperative for Asian cities to build low-carbon, high-efficiency transport systems so as to balance economic development and environmental protection. According to statistics from the Partnership for Sustainable Low Carbon Transport, by Jan 10, 2022, a total of 25 Asian countries had renewed their Intended Nationally Determined Contributions. President Xi Jinping announced in 2020 that China will strive to achieve carbon neutrality before 2060, and the country has laid out its top-level design for the transition to comprehensive low-carbon development, including in the transport system.
Nevertheless, to achieve the low-carbon transition in transportation, there are multiple challenges to be overcome, such as improving the energy efficiency in transport systems and reducing dependence on high-carbon energy resources. The Institute for Transportation and Development Policy (ITDP) proposed three strategies for Asian cities to make the low-carbon transformation in transport.
First, optimize travel demand. Rapid urbanization has led to dramatic changes in urban layouts, and caused problems such as increasing commute time between home and workplace.
Urban planning should be aimed at reducing demand for unnecessary travel through measures such as building compact cities and optimizing the layout of public facilities so as to shorten people's travel time and cut carbon emissions. The COVID-19 pandemic caused disruptions to normal transportation, but also accelerated the shift to remote working and online education. Many regions in China, including Shanghai, have introduced "15-minute life circles" to shorten travel time and distance.
Second, adjust transportation structure. Asian cities should improve public transit systems, create an environment friendly to walking and cycling, and build multimodal transport hubs. It is also important to encourage the use of low-carbon transportation means and phase out high-emissions vehicles by increasing their costs of usage and promoting green transport services.
Most Asian cities are not large in size and thus are suitable for building flexible and low-cost public transit systems with small or medium capacity, such as Bus Rapid Transit and exclusive bus lanes. The ITDP has promoted the construction of BRT systems in some Asian cities, such as Guangzhou and Yichang in China and Jakarta in Indonesia, which has increased the efficiency of public transport and mitigated congestion, thus facilitating the transition to low-carbon transportation. These successful practices have set up examples for other Asian cities to build low-carbon public transport systems.
Third, promote the use of clean energy. This strategy is designed to boost the efficiency of energy in transportation to reduce carbon emissions. The implementation of the strategy requires multiple measures including promoting the use of clean energy, improving the management of public transit, and boosting operation efficiency in logistics. In promoting clean energy, public vehicles such as buses, taxis, shared cars, service cars, light-duty logistics vehicles and sanitation vehicles should be the first to stop using fossil fuel, and private cars, trucks and ships should then go electric.
It is worth noting that some traditional public utility vehicles with local features still play important roles in meeting people's travel needs in South and Southeast Asia, such as the Jeepney in the Philippines, the Tuk-Tuk in Thailand, and the Jumbo in Laos. According to Greater Jakarta's Commuter Statistics, in 2019, two-thirds of Jakarta's commuters used motorcycles for daily commuting because of the affordability and flexibility, giving rise to problems such as noise and exhaust pollution.
ITDP statistics indicate that in 2018, motorcycles accounted for 15.5 percent of Jakarta's greenhouse gas emissions. Therefore, it is a pressing task to phase out traditional fuel vehicles and embrace electric vehicles. Indonesia is vigorously promoting the use of electric vehicles, and the country is expected to have 13 million electric two-wheelers and 2 million electric four-wheelers on the roads by 2030, when all buses will be electrically powered.
China has made remarkable progress in electrification of transportation. In 2018, Shenzhen became the country's first city to have a fully electric bus fleet. China also leads Asia — in fact the world — in electric vehicles sales, construction of charging facilities, subsidy for electric vehicles, and popularization of electric two-wheelers, inspiring other Asian countries.
The Paris Agreement set the target of limiting global temperature rise to 1.5 C above the pre-industrial levels. To achieve the goal requires the comprehensive coordination of the global society, and entails sweeping transformation in areas such as policymaking, people's awareness and market mechanisms. As the continent with one of the largest clusters of developing economies, Asia is of immense significance for the world's low-carbon transition.
Therefore, China and other Asian countries' joint efforts are not only beneficial for their own environment and economic development, but also key to pushing the global low-carbon transition.
Deng Han is a senior transportation engineer at the Institute for Transportation and Development Policy. Liu Daizong is East Asia director at the Institute for Transportation and Development Policy. The authors contributed this article to China Watch, a think tank powered by China Daily. The views do not necessarily reflect those of China Daily.
Contact the editor at editor@chinawatch.cn.
Most Viewed in 24 Hours
China Views