Exhibition showcases Yi craftsmanship
Share - WeChat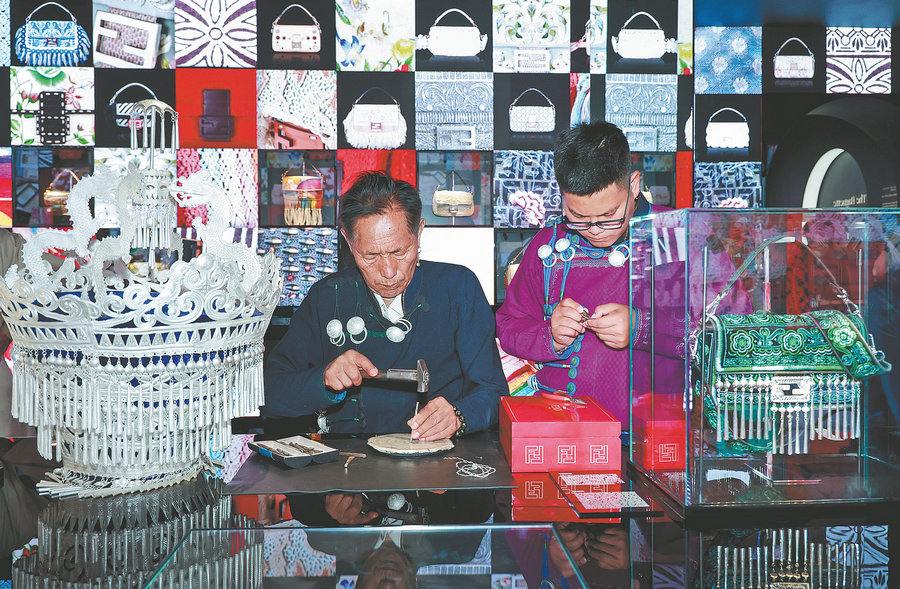 The first thing one notices about Legu Chenglong are the egg-shaped silver buttons on his clothes. Nine in total, the buttons were handmade by the young man himself.
The 24-year-old member of the Yi ethnic group from Xichang, a city in the mountainous Liangshan Yi autonomous prefecture, Southwest China's Sichuan province, says the buttons are his finest work, and took about two weeks to finish.
When he decided to sew the buttons onto his purple coat — a traditional costume worn by Yi men — Legu Chenglong knew that people would be amazed by their beauty, and he was right.
During one Sunday afternoon, when he showed up in the centuries-old Songzhu Temple in Beijing, Legu Chenglong quickly became the focus of tourists' attention. People were intrigued by his clothes, especially his decorative silver buttons.
When he took out his tools and started to carve a piece of silver, people learned that the young man was a silversmith.
Along with his father, 69-year-old Legu Shari, Legu Chenglong joined in the latest exhibition, Hand-in-Hand Initiative, in Beijing, held from May 19 to June 16. The project is a partnership between Fendi and local artisans, and was launched in Rome in 2021, toured Tokyo in April, and has now arrived in Beijing's Songzhu Temple.
"I grew up watching my father making silver jewelry every day after school. I also helped him do some simple jobs, which allowed me to learn traditional Yi craftsmanship techniques," says Legu Chenglong, who is the 15th generation of his family to have inherited the art.