US-China ties need principled 'guardrails'
Share - WeChat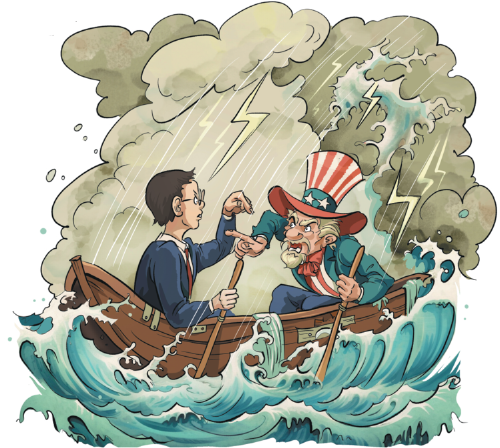 Editor's note: As the world's two largest economies and countries facing multiple challenges, China and the US need to strengthen cooperation, fulfill their international responsibilities, and work together to advance the world peace and development in line with the principles of mutual respect, peaceful coexistence and win-win cooperation. Three experts share their views on the issue with China Daily.
The US-China relationship, the most consequential bilateral relationship in the world, stands at a delicate juncture. After two years of false starts under the Joe Biden administration, including due to a wayward balloon that blew ties off course, the two countries are finally in sight of an opportunity to begin stabilizing their rocky relationship.
Washington and Beijing must not pass up this opportunity. They must begin erecting the "guardrails" that President Joe Biden and President Xi Jinping had envisaged at their meeting in Bali, Indonesia, on the sidelines of the G20 Summit in November 2022. For these guardrails to be durable and long-lasting though, they must abide by certain broad common understandings.
First, US-China relations must be built on the basis of equality and mutual respect. Beneficial engagement cannot, as a matter of principle, coexist with sanctions, coercion and suppression. The broad thrust of policy must be to reassure the other and seek to minimize differences. The practice of individual self-restraint rather than the pursuit of behavior modification of the opponent must become the order of the day.
And while both sides remain at liberty to introduce sanctions on designated individuals and entities deemed to be a threat to national security or public interest, neither side should harbor the illusion that business-as-usual lines of communication can be maintained with parties they have unilaterally sanctioned. Sanctioning incumbent Cabinet-level officials is particularly disrespectful and should be eschewed. If the Biden administration wishes to restart the defense ministers' dialogue, it must first drop Chinese State Councilor and Minister of National Defense Li Shangfu from its "specially designated nationals and blocked persons" list.
Second, US-China relations must be framed with a forward-looking and constructive perspective, without losing sight of the grave underlying challenges. In Bali, Xi had proffered "three noes" — China does not seek to change the existing international order; does not interfere in the US' internal affairs; and has no intention of challenging or displacing the United States.
For his part, Biden tendered "five noes" — the US does not seek a new Cold War; does not seek to change China's system; the revitalization of its alliances is not directed at China; does not support the independence of the Chinese island of Taiwan; and does not seek conflict with China.
These assurances provide a thick layer of geopolitical ballast to steady the ship of US-China relations. It serves little useful purpose for either side to dwell incessantly on the underlying intentions, and integrity, of its counterpart's assurances. Rather, both sides should accept them in good faith, abide by them, and aspire to memorialize them in a joint communique in the years ahead if the opportunity arises.
Third, there must be an observable symmetry between words and deeds in the conduct of US-China relations. Contrary to its assertions, the Biden administration's numerous technology denial measures against China are not grounded only in national security and supply chain resilience considerations. They are also intended to furnish an unfair economic competitive edge as well as selectively decouple the two economies in areas of commercial exchange that reach well beyond the perimeter of national security.
The inclination to say one thing and do another that is diametrically opposite must be discouraged. And both sides should desist from taking punitive measures that violate prior understandings, particularly during or immediately after a meeting of leaders or senior officials.
Finally, Sino-US relations must be based on respect for each other's core interests, starting with the respect for territorial integrity. Washington says it "acknowledges" but does not necessarily "recognize" or "admit" that Taiwan is a part of China.
Washington also says this has been the US' position since the days of the Shanghai Communique. At the same time, Washington vowed in the communique that it would "not challenge (Chinese) position" that Taiwan is an integral part of China. Yet of late the US has been relentlessly challenging China's one-China principle. This challenge must stop, and the US must credibly signal that its "one-China policy" is not being hollowed out beyond recognition.
Beijing, on its part, must credibly signal that peaceful reunification remains on the table. Also, violations of sovereignty, like the balloon incident, must be avoided at all costs.
Looking ahead, the scope for progress in US-China relations in the near term is modest, at best. With the presidential election season looming in the US, Biden will be looking over his right shoulder to ensure that he is not politically outflanked as being "soft on China". The domestic purpose of the proposed guardrails is to devolve a modicum of predictability and balance to bilateral ties — lest instability or uncontrollable tensions in US-China relations hand his harder-line Republican opponents a handy beating stick.
Be that as it may, the US-China guardrails could yet serve as a building block for a more stable and constructive relationship, post-2024. Democratic Party presidents in the post-Cold War era, from Bill Clinton to Barack Obama, have managed to author successful relationships with their counterparts in Beijing during their second terms.
And as improbable as this might seem in the post-Donald Trump "new normal" in Sino-US ties, a new window of opportunity could yet open up if Biden — a statesman steeped in the politics of US-China normalization — is reelected to office. Much hinges therefore on getting the guardrails done right at the present time.

The views don't necessarily reflect those of China Daily.
Most Viewed in 24 Hours
China Views