Shenzhou XV crew lands in Inner Mongolia
Share - WeChat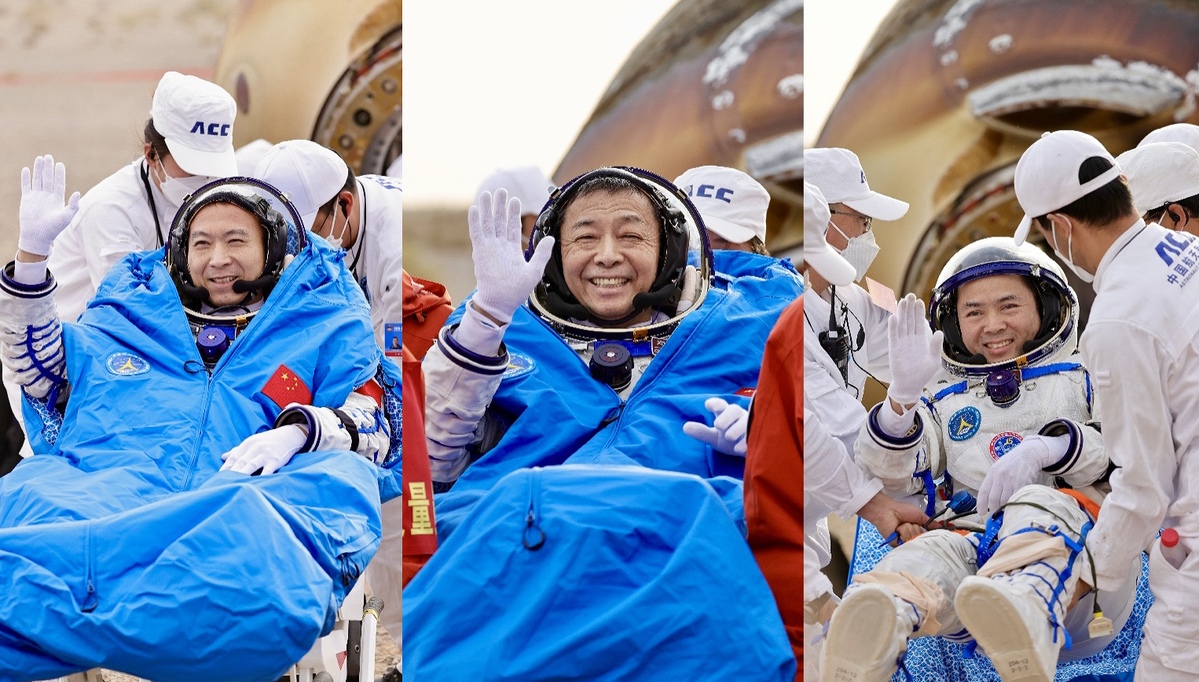 The Shenzhou XV mission crew returned to Earth on Sunday morning after a six-month mission that witnessed the completion of the Tiangong space station.
A reentry capsule carrying the crew members — mission commander Major General Fei Junlong, Senior Colonel Deng Qingming and Senior Colonel Zhang Lu — touched down on Earth at the Dongfeng Landing Site in northwestern China's Gobi Desert at 6:33 am after flying for nine hours in a reentry trajectory.
Ground recovery personnel soon opened the hatch of the capsule and conducted a preliminary examination of the astronauts' condition.
The crew members told ground controllers in Beijing via radio that they had safely landed and were "feeling pretty good".
After preparatory work, ground personnel carried the astronauts out of the capsule one by one to place them on chairs in front of the capsule.
While seated, the astronauts shared their feelings and thoughts with a reporter from China Central Television in a live program.
Fei, who was on his second spaceflight, said his crew has completed all of their tasks before returning safely to the motherland and all of them "are in good condition".
Deng, the last in the first generation of Chinese astronauts to go to space, told the State broadcaster that he was very happy to return to "the embrace of Earth and my motherland" and see so many friends.
"At this moment, I wish to thank all Chinese people for their attention, support and encouragement. I also want to thank all space industry workers involved in this mission for their company over the past over 180 days," he said.