Hainan Airlines takes to the skies with international routes
Share - WeChat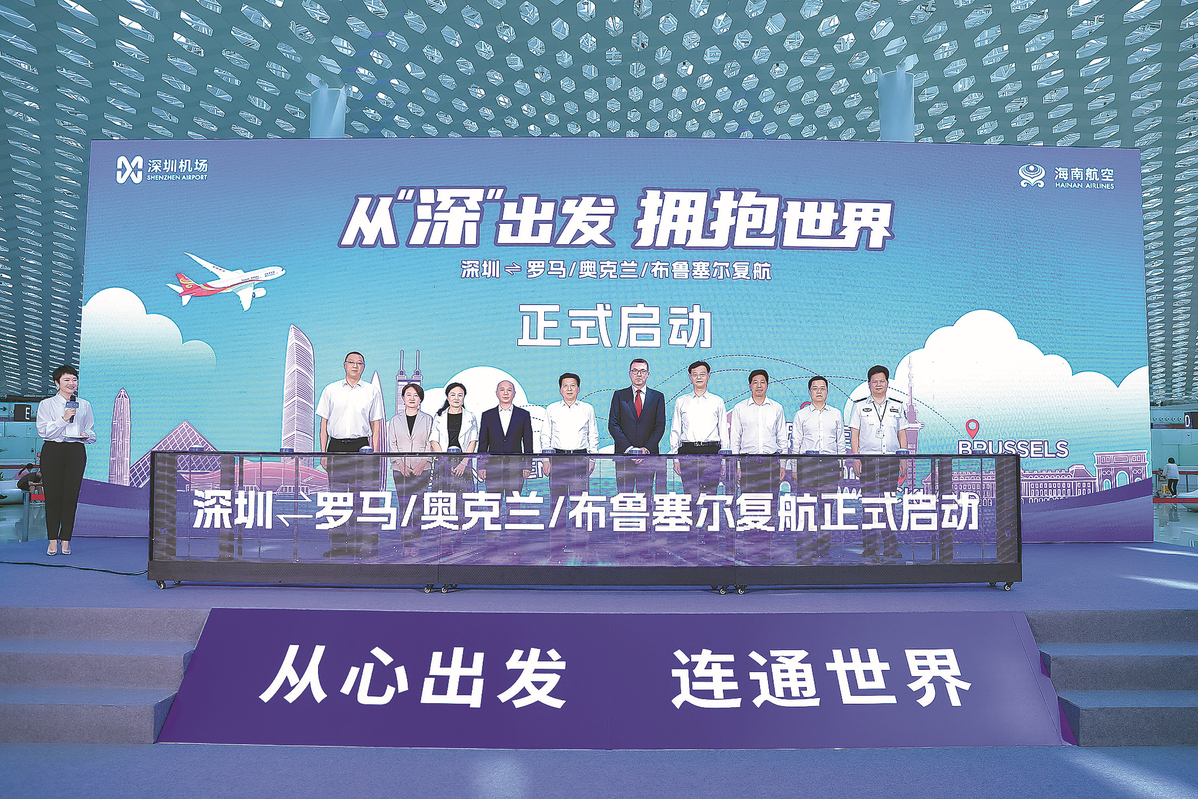 Flight HU437 departed from Shenzhen Baoan International Airport at 1:15 am on May 28 and arrived at Fiumicino Airport in Rome, Italy, at 8:30 am local time, marking the resumed operation of the fourth international air route operated by Hainan Airlines in Shenzhen, Guangdong province.
Ding Yongzheng, board chairman of Hainan Airlines, which is headquartered in South China's Hainan province, told a resumption ceremony two days ahead of the flight that joining Fangda Group, a large company specializing in carbon, steel, medicine, commerce and aviation as its core businesses, has given the airline a new lease on life.
"In response to the State Council, China's Cabinet, and the Civil Aviation Administration of China, the airline focusing on its core aviation business has undergone a significant transformation," Ding noted.
With the COVID-19 pandemic well under control, the aviation industry has embraced a robust recovery since early 2023. Against the backdrop, Hainan Airlines is ramping up the resumption of its domestic and international air routes. As a result, both its flight frequency and passenger throughput have substantially increased, he said.
Looking to the future, HNA Aviation Group, the parent company of Hainan Airlines, will actively respond to the strategic initiatives of the CAAC and the Shenzhen city government to step up the construction of Shenzhen into an international hub, added Ding, who also serves as CEO of HNA Aviation Group.
"In collaboration with the Shenzhen Baoan airport and other units, Hainan Airlines will grow with Shenzhen to assist the city in building itself into a national socialist demonstration zone with Chinese characteristics, help the Guangdong-Hong Kong-Macao Greater Bay Area join the ranks of the world's top bay areas and city clusters, and promote coordinated development between the Hainan Free Trade Port and the Bay Area," Ding said.
Among those in attendance at the ceremony were Chan Yaodong, deputy secretary-general of the Shenzhen city government; Valerio de Parolis, consul general of Italy in Guangzhou, Guangdong province; and Zhu Enping, board chairman of Shenzhen Airport Group.
Hainan Airlines announced it would operate one round-trip flight using the Boeing 787 widebody aircraft twice a week on Thursdays and Sundays on the Shenzhen-Rome route, with economy class one-way fares starting at 2,000 yuan ($284), which excludes taxes.
The airline plans to start resuming another two international routes from Shenzhen to Auckland, New Zealand, on June 17 and to Brussels, Belgium on June 21.
The round-trip flight service linking Shenzhen and Auckland will be offered twice a week on Tuesdays and Saturdays, and that a service linking Shenzhen and Brussels will be available on Wednesdays and Sundays, according to the company.
By then, Hainan Airlines will operate six international air routes starting from Shenzhen. The three others that have been in service before connect to Vancouver, Canada; Phnom Penh, Cambodia; and Paris, France.
Also, the airline operates a widespread domestic flight network from Shenzhen, covering 30 air routes.
The company operates nearly 30 international and regional round-trip passenger routes in eight Chinese cities. In addition to Shenzhen, the cities of Beijing, Shanghai, Haikou, Chongqing, Xi'an, Changsha and Guangzhou are in its international flight service landscape.
As a five-star airline on the Chinese mainland by international air transport rating organization Skytrax, Hainan Airlines said it is committed to providing passengers with "safe, convenient and comfortable flight experiences" and boosting the high-quality development of China's aviation industry.