Troublemaker Washington threatening peace in Asia: China Daily editorial
Share - WeChat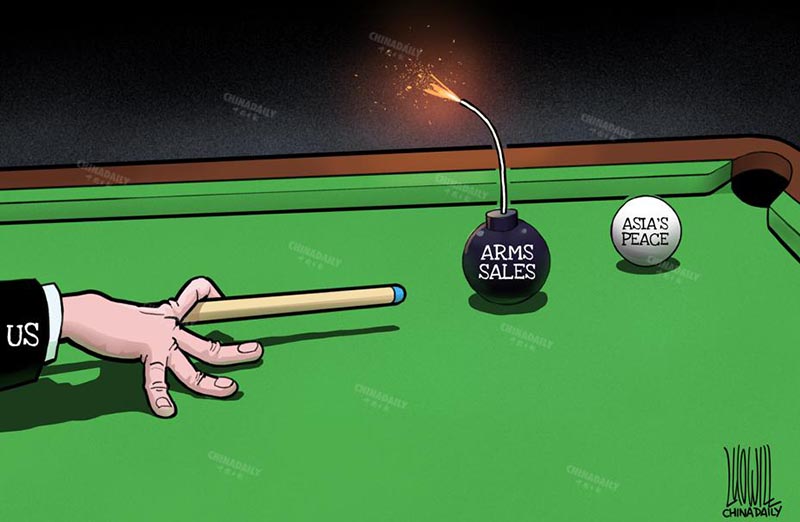 "Our militaries are operating and training together like never before to maintain peace, deter aggression and respond to crises," US Secretary of Defense Lloyd Austin told a joint news conference after his meeting with Japanese Defense Minister Yasukazu Hamada in Tokyo on Thursday, a day ahead of the Shangri-La Dialogue in Singapore where defense ministers of countries in the Asia-Pacific region are gathering to discuss ways to prevent confrontations and conflicts, and maintain peace and development.
That Austin accused China of "coercive behavior" and attempting "to undermine the rules-based international order" makes clear which country's aggression the United States and Japan are trying to deter. This is a typical case of the pot calling the kettle black, for the US has been instigating conflicts and "color revolutions" while claiming to help maintain peace and promote "democracy".
Why else is the US trying to extend NATO eastward? The US has even led NATO to agree to open a liaison office in Tokyo in 2024. In early 2021, it also "resurrected" the Quad, a security dialogue among the US, Japan, Australia and India. And in September 2021, it struck the AUKUS security alliance with the United Kingdom and Australia to supply nuclear-powered submarines to Canberra. These security alliances and arrangements are open attempts to encircle China.
Equally important, the US has been interfering in the Taiwan question and, in violation of the principles of the three joint communiques, it has been selling arms to the Chinese island apart from holding military exercises in the Western Pacific. These moves are a challenge to peace, not attempts to "maintain peace" as Austin claimed.
Austin's speech at the Shangri-La Dialogue, scheduled for Saturday, is titled "United States' Leadership in the Indo-Pacific". Perhaps the US equates "leadership" with "hegemony".
In contrast, Chinese State Councilor and Defense Minister Li Shangfu's speech, scheduled for Sunday, is titled "China's New Security Initiative", which opposes the pursuit of one country's security at the cost of another's. The contrast in the two countries' approach to peace is clear.
In keeping with its peaceful coexistence diplomacy, China brokered peace between Iran and Saudi Arabia earlier this year, leading to the two Middle East countries re-establishing diplomatic ties after seven years. It is now trying to mediate peace between Russia and Ukraine in an effort to help end the Ukraine conflict.
The US should be aware that strengthening alliances is one thing and interfering in the Taiwan question is another. As Li said in his talks with Singaporean Defense Minister Ng Eng Hen, the Taiwan question is of China's core interest and China will never compromise on its sovereignty and territorial integrity. The sooner the US understands this the better.
Most Viewed in 24 Hours
China Views