Schneider Electric to further tap China's green opportunities
Share - WeChat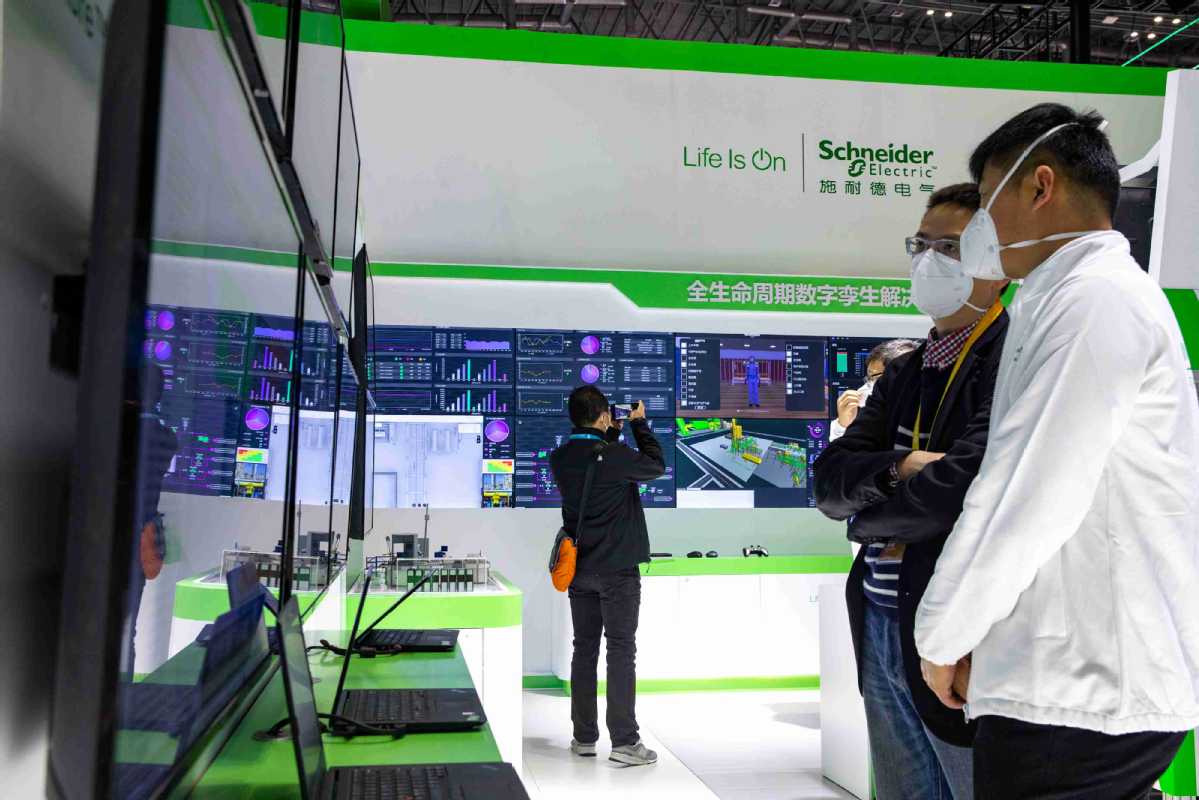 French company plans more resources to support nation's high-quality growth
With China entering a new era of green and innovation-led growth, Schneider Electric SE, a French multinational company specializing in energy management, will allocate more resources to growing electrification and digitalization-related businesses in China given the country's all-round progress toward high-quality development, said a senior executive.
China's focus on digitalization and sustainability with an economic return is complementary to Schneider Electric's growth strategy, said Chris Leong, chief marketing officer and member of the group's executive committee.
With Schneider Electric's expertise in energy management and automation, its "electrification plus digitalization equals sustainability "formula and solutions can contribute greatly to China's industry upgrade and dual carbon goals — reaching a carbon dioxide emissions peak by 2030 and achieving carbon neutrality by 2060, said Leong.
She said the formula is applied in various industries around the world and has proven to be the right path. One example is the research and development facility employing 5,000 workers that Schneider Electric opened in Grenoble, France last year.
The facility, called IntenCity, is fully equipped with Schneider Electric's technologies and solutions covering planning, building, operation and maintenance. It consumes 37 kilowatt-hours per square meter each year, nearly 90 percent less than the average building in Europe, using rooftop solar panels, on-site wind turbines and digital applications to generate, manage, share and coordinate energy with its community micro-grid.
The company has also assisted the industrial park in the Lingang Special Area of China (Shanghai) Pilot Free Trade Zone in achieving active energy management, access to renewable energy and improved operational efficiency with lower carbon emissions.
Supported by advanced solutions, the park is able to cut 60 percent of its monthly energy costs and expects to save 1.1 million kWh of electricity annually, accelerating its transformation toward a green and low-carbon industrial park.
"By strategizing, decarbonizing and digitalizing, we believe that current technologies not only improve efficiency and save costs but also cut carbon emissions. This will generate profits for companies and benefit society at the same time," Leong said, adding that more customers are willing to pay for green products since Schneider Electric already uses technologies to help reduce carbon emissions by 30 percent to 90 percent across various industries, from manufacturing and building to data centers and grids.
As many users may be concerned about their return on investment, Leong said that the average investment payback period, based on Schneider Electric's experience, is around three to four years.
"When a company has already received a return on its investment, it can continue to save more energy costs, reduce carbon emissions and improve its sustainable operations, which can bring green value to users and society," she noted.
Operating in China for 36 years, Schneider Electric has grown from a joint venture factory to one with 22 factories, seven distribution centers and five research and development centers across the country, with a more than 90 percent local purchase rate. China has become the French company's second-largest market worldwide.
Highlighting China's massive market, sophisticated industrial system, strong supply chain competitiveness and improved business environment, Leong said the group will continue to increase its expenditure in the country to strengthen its "China Hub" which comprises talent, innovation, supply chains and an ecosystem.
For example, after opening an automation R&D center in Wuxi, Jiangsu province in March of this year, Schneider Electric currently operates five innovation centers with over 2,000 engineers across China, one of which focuses on software development to help the company maintain and reinforce its competitiveness.
Despite the cautious global attitude toward foreign direct investment, China is expected to become more attractive to foreign companies this year due to its wider opening-up policies and anticipated economic rebound, said Wei Jianguo, vice-chairman of the China Center for International Economic Exchanges.
China's actual use of FDI grew by 2.2 percent year-on-year to 499.46 billion yuan ($70.2 billion) in the first four months of 2023, data from the Ministry of Commerce showed.