Policy support expected to boost growth
Share - WeChat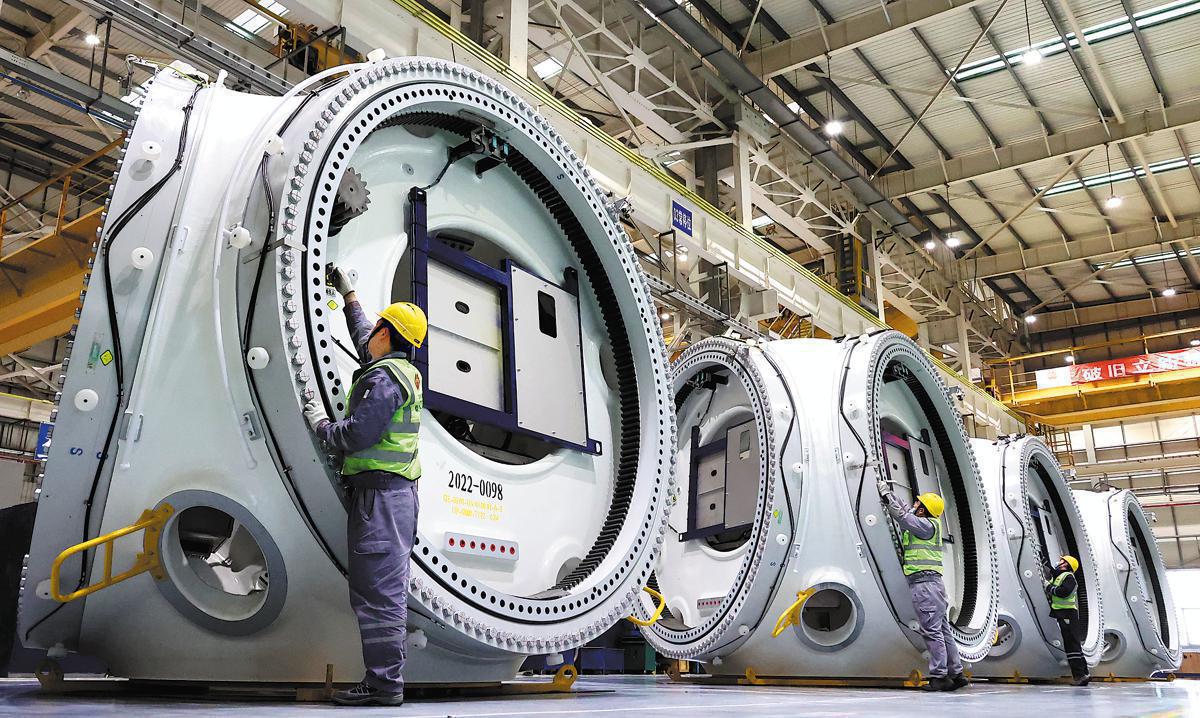 Data: Strong consumption crucial to steady recovery
China's factory activity dipped further into contraction in May amid slowing production and weakening demand, official data showed on Wednesday, putting more pressure on policymakers seeking to consolidate the foundations of economic recovery.
The official purchasing managers index for the country's manufacturing sector fell to 48.8 in May from 49.2 in April, below the 50-point mark that separates growth from contraction, data from the National Bureau of Statistics showed.
Economists said the latest figures indicated that China's businesses and the broader economy came under downward pressure amid insufficient demand and a more complicated external environment, raising the likelihood of more near-term policy support to boost growth, expand domestic demand and spur market confidence.
NBS data showed the subindexes for production and new orders came in at 49.6 and 48.3 in May, respectively, down from 50.2 and 48.8 in April.
Despite the challenges, Wen Bin, chief economist at China Minsheng Bank, said that China's economy will likely expand at a faster pace in the second quarter due to the low comparison base in the previous year. More efforts should be made to step up policy support such as reductions in the reserve requirement ratio and interest rate cuts, Wen added.
He linked the insufficient demand to factors including households lacking the purchasing power for persistently spending amid mounting employment pressure and the "scarring effect" of COVID-19.
Other factors include small and medium-sized enterprises' weakening expectations, a still weak property sector and the deteriorating export sector amid slowing external demand and geopolitical tensions, he added.
Li Xiaochao, former deputy head of the NBS, said that China will likely meet its preset annual growth target of around 5 percent in 2023 given the nation's continuing recovery trend and a low comparison base in the previous year.
Meanwhile, he called for more policy stimulus to shore up the economy and more efforts to stimulate market vitality.
Meanwhile, China's nonmanufacturing PMI remained resilient at 54.5 in May, albeit moderating from 56.4 a month earlier. Also, the country's official composite PMI, which includes both manufacturing and nonmanufacturing activities, came in at 52.9 in May compared with 54.4 in April, according to the NBS.
"The resilient nonmanufacturing PMI was mainly backstopped by a burst of suppressed demand during the first post-COVID Golden Week holiday, while the PMI for the construction sector dropped sharply on weak demand," said Lu Ting, chief China economist at Nomura.
Citing a meeting of the Political Bureau of the Communist Party of China Central Committee held in late April, economists said the recovery of the world's second-largest economy remains patchy with the endogenous driving force still weak and demand insufficient, underscoring the need for more policy stimulus to shore up growth.
Wang Yiming, vice-chairman of the China Center for International Economic Exchanges, said while China's domestic demand is on track for a continued recovery, it will still take some time to see a full recovery from the impact of the pandemic.
NBS data showed that China's retail sales growth jumped to 18.4 percent year-on-year in April from 10.6 percent in March.
Wang said at a meeting held by the CCIEE on Monday that the key to steady economic recovery is to expand consumption, boost domestic demand and improve market expectations.
The focus should be placed on innovating policy tools and improving the mechanism to expand consumption, further boosting consumer confidence, stabilizing employment, increasing support for the private sector, especially SMEs, and spurring in-person services, he said.