Russia shoots down eight drones near Moscow
Share - WeChat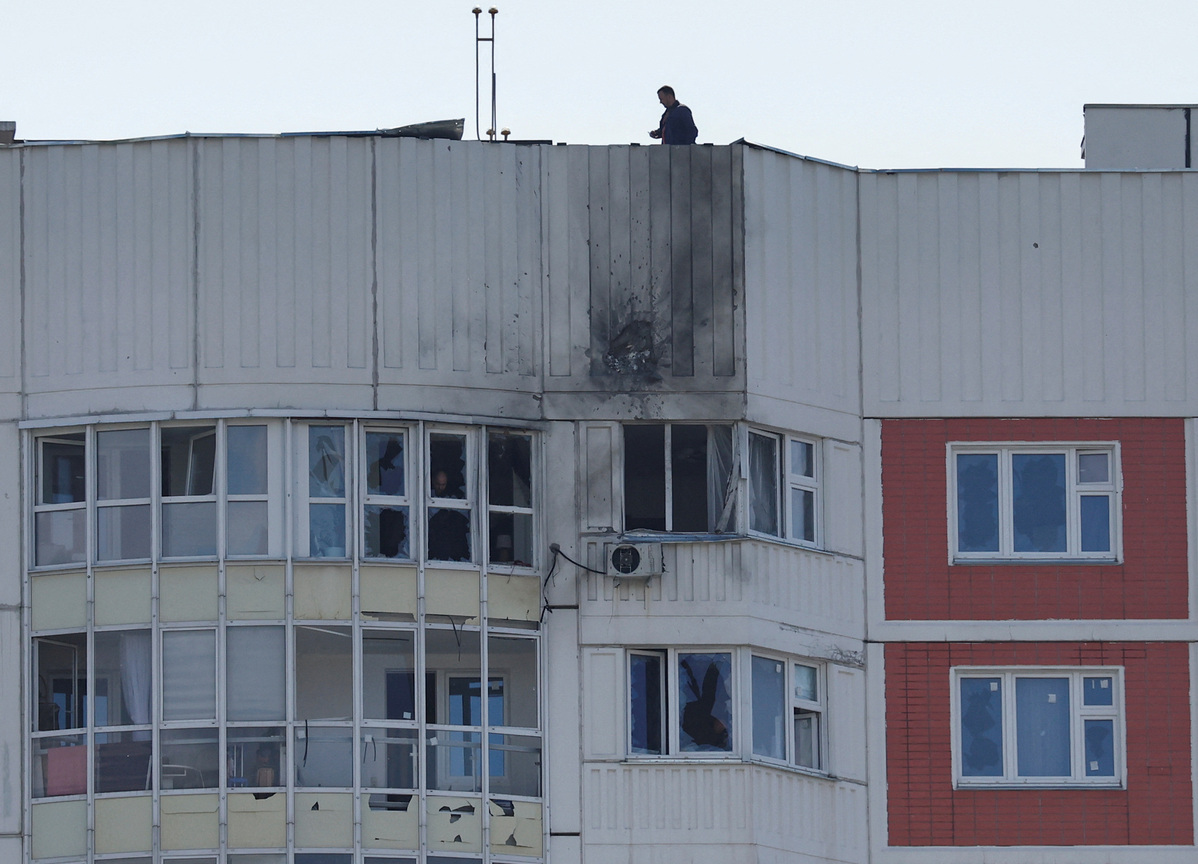 Russia's Defense Ministry accused Ukraine on Tuesday of a "terrorist attack", saying it had intercepted all of the eight Ukrainian drones aimed at Moscow.
"This morning the Kyiv regime carried out a terrorist attack with drones on targets in the city of Moscow," the ministry said on social media. "Eight drones were used in the attack. All of the enemy drones were downed."
There were no reports of deaths.
The drone attack was the biggest on the Russian capital since President Vladimir Putin ordered the February 2022 special military operation in Ukraine. Nobody has yet claimed responsibility.
Moscow Mayor Sergey Sobyanin said two people were injured, one of whom was hospitalized, in the early morning attack. Residents of several parts of two apartment blocks had been evacuated but later returned.
"Early this morning, as a result of the drone attack, minor damage occurred in several buildings," Sobyanin said. "No one has been seriously injured."
Some residents of a building on Profsoyuznaya Street in the city's south were being evacuated, Russia's state RIA news agency reported.
A video posted on social media showed what appeared to be a drone being shot down and a plume of smoke rising over the city skyline.
Moscow's airports remained open.
It was the most serious attack on Moscow since Nazi attacks during World War II, Russian lawmaker Maxim Ivanov said, adding no citizen could now avoid what he said was "the new reality".
Russia's investigative committee said a number of drones were shot down and that there was minor damage due to the falling wreckage, but did not specify the number (of drones).
The Telegram channel Baza, which has good sources among Russia's security services, said about 25 drones attacked the capital. Moscow business daily RBK cited an unidentified interior ministry source as saying that more than 10 drones were shot down.
Andrei Vorobyov, governor of the Moscow region, said on Telegram that several drones were shot down on their approach to Moscow.
The attack on Moscow came after two drones exploded over the Kremlin on May 3 in an attack that Russian officials blamed on Ukraine, which denied involvement.
Ukrainian drone attacks inside Russia have been growing in intensity in recent weeks. The United States intelligence believes Ukraine was behind the drone attack on the Kremlin, The New York Times reported.
Russian territories close to Ukraine have come under repeated attack in recent months and the Defense Ministry in Moscow said last week that troops defeated an incursion by attackers who crossed the border into the Belgorod region.
Agencies via Xinhua contributed to this story.