Xi congratulates Turkish leader on reelection
Share - WeChat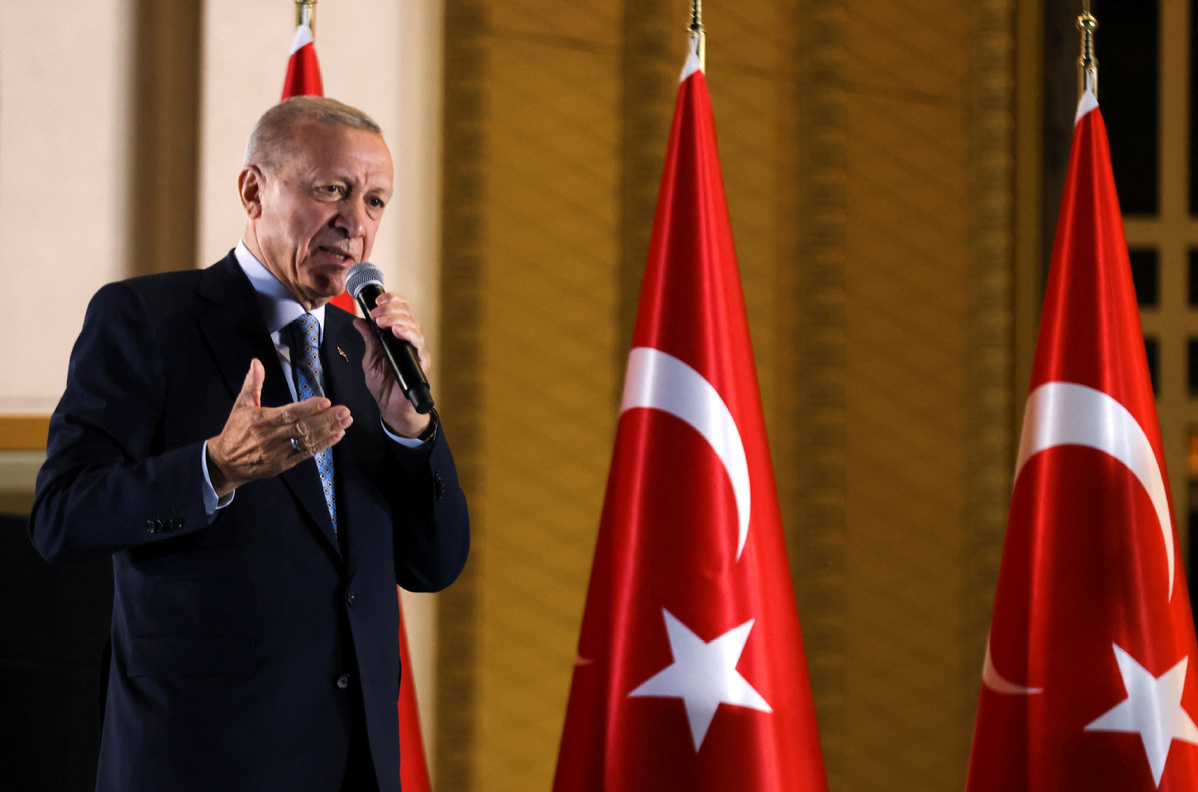 He tells Erdogan that pragmatic cooperation between two nations progressing in all fields
President Xi Jinping congratulated Turkish President Recep Tayyip Erdogan on Monday on his reelection as Turkiye's leader, expressing his readiness to work with Erdogan to promote the sustainable, healthy and stable development of bilateral ties.
In a congratulatory message, Xi said China and Turkiye are both major developing countries and emerging market economies that share broad common interests. The two countries' strategic cooperative relationship has maintained a momentum of development in recent years, and progress has been made in pragmatic cooperation in all fields, he said.
Noting that he highly values developing China's relations with Turkiye, Xi said he is ready to work with Erdogan to understand and support each other on issues concerning respective core interests and major concerns for both sides.
Turkish Supreme Election Council Chairman Ahmet Yener declared on Sunday evening that Erdogan won the presidential runoff.
Erdogan won 52.14 percent of votes in the presidential runoff against Kemal Kilicdaroglu, who garnered 47.86 percent of the votes, Yener said.
Erdogan heralded the "Century of Turkiye", and Xinhua News Agency quoted him as telling around 320,000 supporters gathered outside the presidential residence in Ankara, the capital: "We should come together in unity and solidarity. Nobody has lost today; all 85 million won. Now is the time to unite and integrate around our national goals and national dreams."
With a victory margin of slightly more than four percentage points — the closest in any presidential race that Erdogan has been involved in — the nation's Sabah daily newspaper greeted readers on Monday with the headline "The man of the people won".
Erdogan promised to immediately get to work on improving the nation's economy, which has been blighted by inflation running at around 50 percent in recent months. The country's economic turbulence has led to a cost-of-living crisis, and the Turkish lira has lost around 80 percent of its value against the United States dollar in the past five years.
"We are planning an economy focused on financial management, investment and employment," the BBC quoted Erdogan as saying. "We will continue on the road with confidence and stability."
Erdogan said Turkiye will create a resurgent manufacturing sector "with an international reputation for financial management, investment and employment".
He added that he will also prioritize the rebuilding of parts of the country devastated by massive earthquakes on Feb 6. The quakes left more than 50,000 people dead and tens of thousands homeless.