Gen Z in 'gold rush' for precious metal investment
Share - WeChat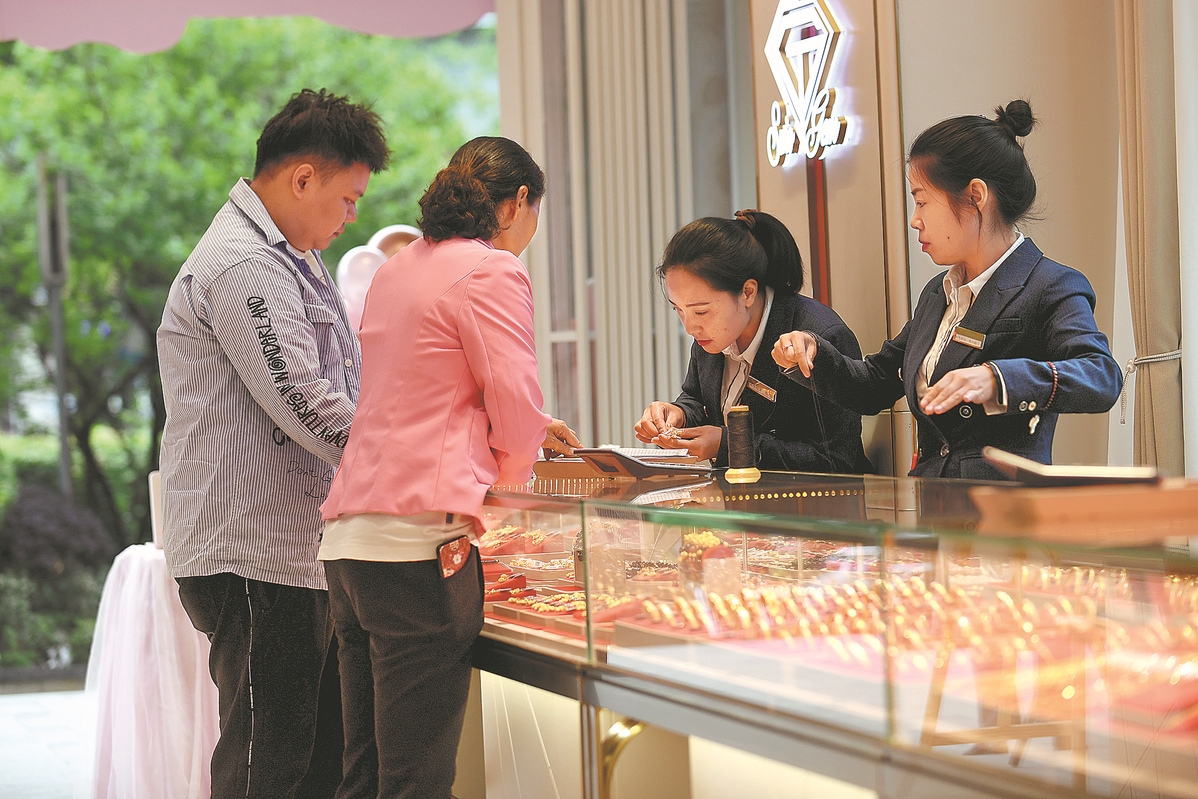 Ye Huiling, a 25-year-old middle school teacher in Shenyang, Liaoning province, has been purchasing gold products for the last three years.
Starting with gold jewelry such as rings and bracelets, her interest switched to gold bars last year.
"I bought the first gold bar in June when the gold price was 383 yuan ($54.2) per gram. The price soon jumped to 425 yuan at the beginning of this year, which means I have seen the investment return approaching 11 percent in six months," she said.
"I always prefer products that can maintain and increase their value over time. This is the major reason why I buy gold jewelry and bars. But the successful first attempt last year will prompt me to direct more of my savings to gold bars," said Ye.
Wang Nianwei, a 32-year-old marketing specialist at an advertising agency in Shanghai, has been investing in gold for over five years. Allocation to gold-based exchange-traded funds, or ETFs, is important to her investment portfolio, as it is the only asset that has churned out positive returns so far this year.
"All the other wealth management products I have chosen are reporting losses, while the gold ETF has been quite bullish. My only regret is that I have not invested enough in it," she said.
Wang said such investments via Alibaba's financial arm Alipay are quite convenient. Various gold ETFs are provided on the investment channel and purchases can be conducted via an online investor survey.
A new campaign on Alipay has attracted Wang's interest. By investing 830 yuan each week, Wang can expect to get a 50-gram gold bar in about seven months.
"It's like a scheduled investment — the weekly investment amount is acceptable to me based on my salary. I plan to increase more allocation to gold this year," she said.
Whether it is purchasing gold accessories or investing in precious metal, the younger Chinese generation is showing an increased interest in gold, which seems to be a more conventional investment category.
According to a report released by the LeadLeo Research Institute in mid-March, 55 percent of consumers frequenting gold shops on the Chinese mainland are those aged 25 to 34. Consumers aged 35 to 44 make up the second-largest group, accounting for 36 percent of gold store shoppers.
Experts from the China Gold Association said that Generation Z — those born between 1995 and 2009 — will become the majority of gold consumers. The consumption group of gold bars and jewelry is becoming increasingly younger, they said.
Leading gold accessory retailers are adding more designs that cater to the younger generation's preferences. In March, Chow Tai Fook rolled out products themed under the Japanese comic character Ultraman. Century-old brand Lao Feng Xiang rolled out authorized Disney-themed products as early as 2017.
The younger generation's interest in gold is in line with the overall shopping spree of the precious metal over the past few months. While global consumption in gold jewelry remained flat at a total of 478 metric tons in the first quarter, Chinese consumers purchased a total of 198 tons of gold jewelry during the same period, the highest since 2015, according to Wang Lixin, regional CEO of the World Gold Council (China).
The relatively bullish performance of gold in the capital market is another major reason for the "gold rush". London spot gold hit a record high of $2,079.37 per ounce on May 4, 14 percent higher than the price at the beginning of this year. The benchmark Shanghai Composite Index has climbed 7 percent during the same period.
China's central bank is also increasing its exposure to gold. Data from WGC showed that the gold reserve held by the People's Bank of China came in at 66.76 million ounces at the end of April, recording an increase for the sixth consecutive month.
As explained by Zhao Xiangbin, chief strategist at Beijing Gold and Forex Fortune Investment Management, there are several elements to support the gold price.
The possibility of an economic recession in Europe and the United States, untamed high-flying inflation in these markets and the prolonged geopolitical conflict between Russia and Ukraine have already pushed up demand for gold to hedge risks, he said.
The sudden collapse of Silicon Valley Bank in March has resulted in a liquidity crisis and pushed the gold price to top over $2,000 per ounce. The successive crisis of Credit Suisse and other banks has led to market concerns over the stability of the European banking system, further escalating the risk aversion in the market and increasing the market appetite for traditional risk-hedging assets such as gold, said Zhao.
"As the market expectation for the US Federal Reserve to pause interest rate hikes has been piling up, the US dollar will thus be deprived of policy support, which will pillar the gold price," he added.