Success story blooms amid desert roses
Share - WeChat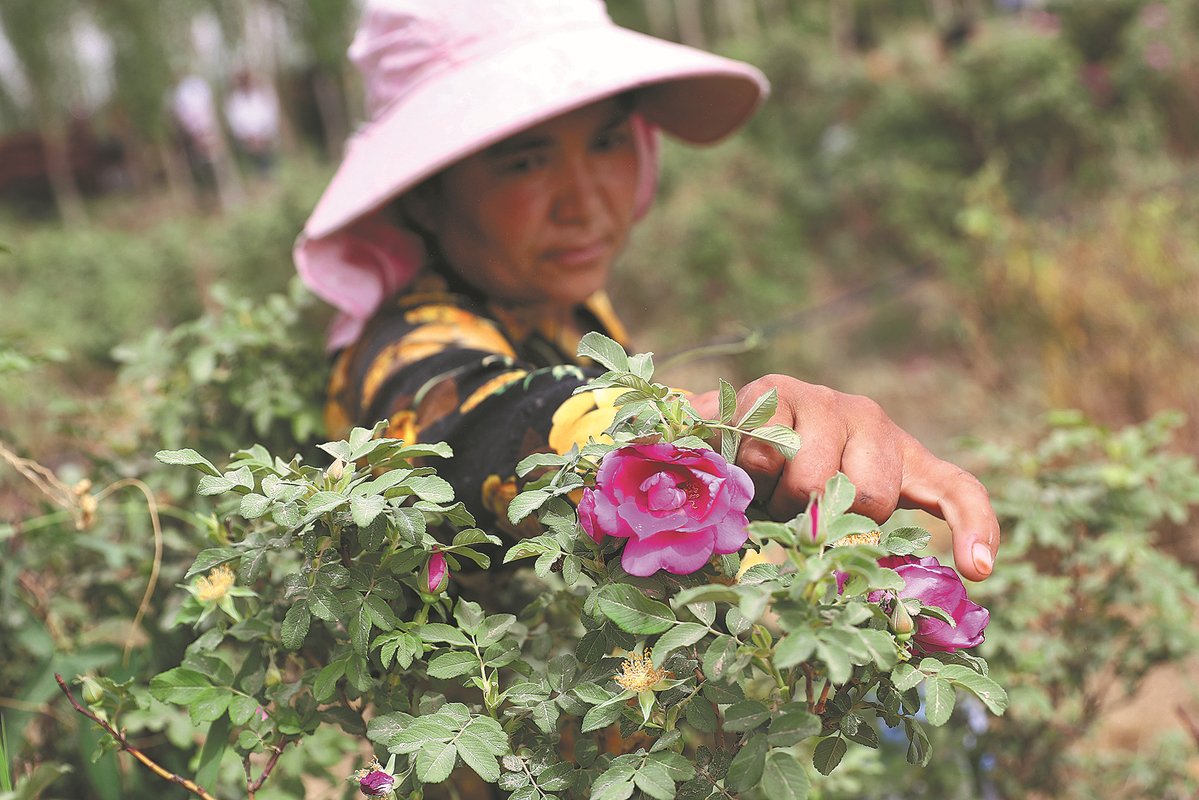 Xinjiang plantation creates jobs, brings wealth to area
Roses are now flourishing in northwestern China's harsh environments thanks to drip irrigation technology.
In Yutian county, an oasis area in the Xinjiang Uygur autonomous region, they have burst into bloom over vast areas of sun-scorched sandy fields on the edge of the nation's largest desert, the Taklimakan.
Roses have been grown in the greater Hotan region, which includes Yutian, for centuries for use in tea and medicine.
Rows of soaring poplar trees planted along the periphery of a 670-hectare plantation separate two worlds in Yutian. On one side of the trees is an untouched landscape of ever-shifting sand dunes, while on the other, pink willows and drought-resistant plants alternate with rose bushes.
Twelve wells supply irrigation water, and thin black tubes covering a total length of 2,000 kilometers snake through the rose bushes. Droplets containing a mixture of water and fertilizer seep from the tubes into the plants' roots.
This rose-growing venture is operated by Queme, the subsidiary of a State-owned business based in Urumqi, the regional capital.
A decade ago, as part of an assistance program to help develop Yutian, Queme's parent company sent a team of investigators to the then-impoverished county. The investigators decided to build the plantation.
They also proposed building a factory to process rose petals into rose essence at an industrial park about 20 km away. Rose extractions are widely used in a range of food and cosmetics products, including jam, wine and face lotions.
Wearing a sun hat, Liu Zhiyong, Queme's deputy general manager, showed visitors around the plantation — his brainchild — on a recent work day. Liu was among the investigators sent to Yutian.
"The poplars, which now act as windbreaks, were saplings when we started work in the county," he said.
Asked why the desert was chosen to cultivate roses, Liu said his company wanted to avoid becoming involved in a race to grab land with local farmers. The per capita amount of arable land in Hotan is less than 0.06 hectares, making the area one of places in China with the least amount of land for planting grain.