Peter Rabbit hops into Beijing's UCCA Lab
Share - WeChat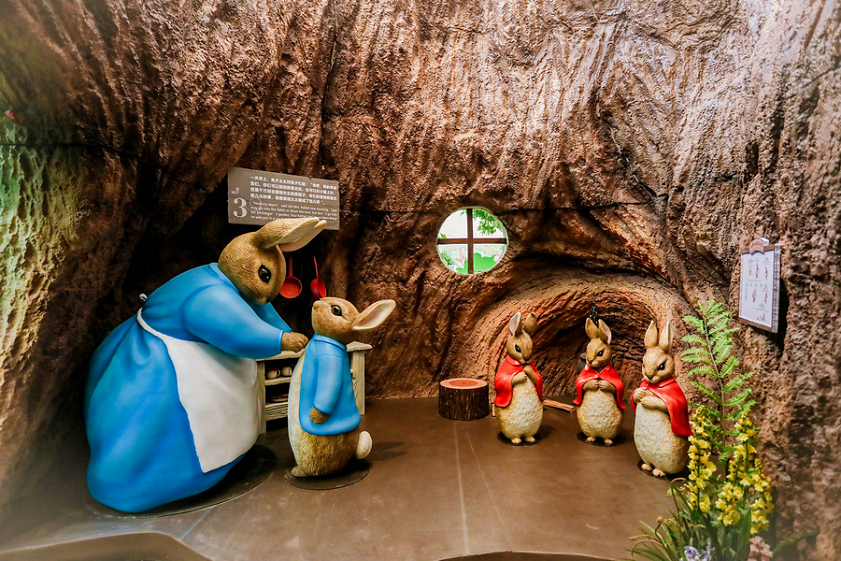 Shortly ahead of the Children's Day, Peter Rabbit, the rascal bunny and his friends from British novelist Beatrix Potter's beloved children's books, jumped into the UCCA Lab in Beijing, ready to take children and adults alike on a new adventure with a themed exhibition that kicked off on Friday.
Sporting a blue jacket, the mischievous and adventurous rabbit first appeared in The Tale of Peter Rabbit in 1902, and subsequently in five more books between 1904 and 1912. The six books by Potter featuring Peter Rabbit have sold over 150 million copies and been translated into 36 languages, catapulting the bunny to international fame and into the hearts of children around the world.
Jointly produced and curated by the Beijing art museum and the Kiddy Art Museum, a Shanghai-based children's museum, The World of Peter Rabbit: A Timeless Adventure, marks the first leg of the exhibition's tour in China.
Featuring installations of various plants, miniature sculptures and interactive games, the immersive exhibition "aims to re-create the classic stories from the Peter Rabbit series, present the audience with the idyllic country scenery depicted by Beatrix Potter and inform them of the author's legendary life stories," said You Yang, deputy director of UCCA Center for Contemporary Art, in his remarks at the opening ceremony.
First, one goes down the rabbit hole where Peter Rabbit's family resides and visitors are greeted by the bunny's family – Peter, Peter's widowed mother and his three younger sisters – all presented in sculptures. Then they are led into the living room of its creator where the audience can discover Potter's love for nature through all those rocks and insect specimens she collected as a child. They can also read the initial version of The Tale of Peter Rabbit, a facsimile of the picture and story letter that Potter wrote for the five-year-old son of her friend who was ill.