Experts' take on high temperatures
Share - WeChat Editor's note: Temperatures have surged to record levels across the world over the past years due to rising greenhouse gas emissions, leading to the warming of oceans, particularly the ocean surface, and melting of glaciers and polar ice sheets. This will have far-reaching consequences on the environment and water availability. Five experts share their views on the issue with China Daily.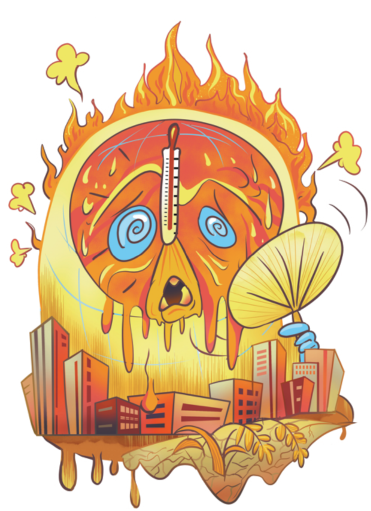 Measures to ensure stable energy supply
Lin Boqiang
Temperatures in most parts of China are expected to be above normal this summer, with some places likely to experience droughts or drought-like conditions, according to the National Climate Center. This means the demand for electricity will be higher, meeting which will be a big challenge for the power generation and supply companies. Also, there is a possibility of water shortage in some areas due to the likely increase in the demand for water.
The China Climate Change Blue Book released by the China Meteorological Administration says the eastern and southern parts of Southwest China are likely to witness a fall in annual precipitation levels. And extreme weather events in provinces such as Sichuan and Yunnan, which rely heavily on hydropower to meet their energy demand, will impact their energy generation to some extent.
Sichuan, for example, experienced extremely high temperatures and low precipitation last summer. As a result, the water levels in major rivers fell drastically, reducing hydropower generation which, in turn, made it difficult for Sichuan to meet the surging demand for electricity and water during the peak summer period. As a result, Sichuan had no surplus electricity to supply to other provinces, something it had been doing for years.
Hence, the authorities need to optimize the country's energy mix to ensure smooth supply of electricity, and strengthen energy security, which is important to sustain China's economic development and modernization drive.
Measures should be taken on both the supply and demand side, while promoting inter-regional and interprovincial cooperation in balancing electricity surplus and shortage. Since extreme weather events are likely to increase, and climate risks pose a big challenge to energy generation, there is a need to expedite the construction of smart grids, interconnect provincial power grids, and diversify the power structure to overcome the problem.
Given the huge impact of extreme weather events on normal life, steps should be taken to make the new smart grids more "resilient" to disruptions. For instance, digitalization and smart planning can help the new grids overcome problems such as excess load and frequent fluctuations.
Through the integration of digital and intelligent technologies, the operators of the new grids can make rapid and informed decisions during emergencies, and thus ensure stable power supply. And the use of intelligent grid regulation combined with scrupulous electricity consumption can help timely address the problem of sudden rise in power demand due to high temperatures. Promoting scrupulous electricity consumption means taking measures such as peak shaving, load shifting and rotating rest days, in order to prevent unplanned power outages.
Electricity consumption by industries accounts for about 70 percent of the total national electricity consumption. Since the proportion of electricity used by urban and rural residents is relatively small, the government's priority is to meet their electricity needs.
In this regard, scrupulous electricity consumption could alleviate the tensions in power supply during power shortages. Better still, smart grids and intelligent management can adjust the proportion of electricity to be supplied to industries and commercial establishments on the one hand and rural and urban residents on the other.
Besides, it is important to interconnect provincial power grids and facilitate electricity transmission between regions via interconnected regional grids. This will help reduce losses caused by localized power outages or inadequate power supply, which affects production.
Meanwhile, provinces with high hydropower potential have attracted huge investments for the construction of hydropower infrastructure. But extreme weather events, including decrease in rainfall, have been reducing hydropower generation, which hinders construction, and production in other sectors and causes losses. These problems can be overcome, to a large extent, by strengthening grid interconnection among provinces.
Also, cooperation and mutual benefit can prevent redundant investment. And by building an interconnected network for power distribution, the authorities can ensure smooth power supply.
Smart grids can also ensure the supply of not only hydropower, thermal power and nuclear power but also solar and wind power. This will help provinces rich in wind and solar power to generate electricity and connect their distribution networks to the smart grids, thus making energy utilization more efficient.
Diversifying the sources of power is crucial for building a new energy system that is coal-based but can be supplemented by hydropower, nuclear power, and solar and wind power.
More important, to achieve the climate goal of peaking carbon emissions before 2030 and realizing carbon neutrality before 2060, the proportion of wind and solar power in the primary energy structure has to be significantly increased. But to achieve that, and to ensure energy security, the authorities need to stabilize the output of wind and solar power.
Addressing the long-term power supply issues associated with the large-scale integration of wind and solar power into the energy structure requires treating energy transformation as a system-wide engineering project. On the production side, increasing energy storage capacity could help stabilize wind and solar power generation, while better coordination among the various stages of power generation, storage and transmission can facilitate stable power supply.
And on the consumption side, the electricity pricing mechanism needs to be reformed to encourage greater participation of consumers in ensuring stable power supply.
The views don't necessarily reflect those of China Daily.

Most Viewed in 24 Hours
China Views