Commercial street brings exotic twist to Shenyang in NE China
Share - WeChat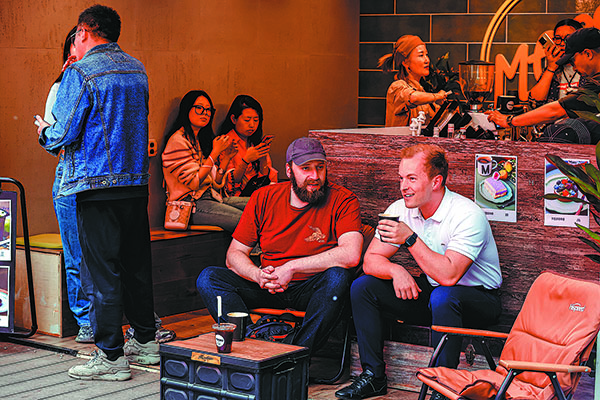 A new commercial street featuring pop-up stores opened on May 20 in Shenyang, capital of Liaoning province, bringing a refreshing change to the city's commercial landscape in the summer.
Named 37 Lounge, the street is part of the third-phase extension of Shenyang MIXC shopping mall.
Different from a conventional shopping street targeting consumers of all ages, 37 Lounge is designed to create a youth-friendly community, integrating brands and cultural elements appealing to younger generations, local officials said.
Running until Aug 26, the seasonal street bazaar is open from noon to 9 pm, Mondays to Thursdays. Over weekends, the opening time is extended to 10 pm.
Shattering the stereotypical image of a gritty and cold city in Northeast China, which has long been known as one of the country's traditional industrial hubs, the chic street is bedecked with tropical foliage and warm colors, presenting an exotic atmosphere.
The street bazaar has become a kaleidoscope of colors, smells and sounds. All the pop-up stores in the street are painted with "warm white" as the main color tone and adorned with "sunset orange" and "passionate yellow" to form a visually striking street logo image on the background walls.
Exotic plants such as palm trees, cacti and agaves, as well as a scattering of surfboards and swim rings, and a fountain at the heart of the street, have also helped 37 Lounge become a popular check-in spot in the city.
Live performances are lined up for weekend nights, meeting the diverse demands of visitors.
The street has introduced five popular pop-up store brands of food franchise Potato Corner, outdoor lifestyle creator Snow Peak, Dikka Bakery, More Yogurt and Nama Cocoa. The first three have made their Northeast China debut in the street.