'Food tourism' is full of tasty possibilities
Share - WeChat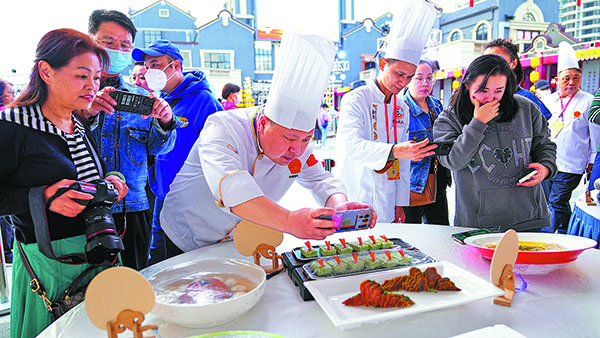 A journey enriched with cuisine and culture
As reported by China Tourism News, the merging of culture and tourism has prompted several cities in China to explore their culinary heritage while transforming food tours into cultural experiences.
The recent surge in popularity of Zibo barbecue is testament to this effort. Zibo, located in East China's Shandong province, was not widely known as a tourist destination. However, over the past three months the industrial city's succulent barbecue has gained immense popularity and attracted a massive influx of visitors who have turned it into a tourist hot spot.
"I never expected Zibo barbecue to become so popular all of a sudden!" said Zhang Linlin, deputy director of the business management department at Shandong College of Tourism and Hospitality. "With the recent intensive publicity, many of my young colleagues have rushed to try it out. They all praised its great taste and reasonable price."
Zhang is researching the Zibo barbecue craze to identify sustainable strategies that promote youth tourism and support the recovery of the tourism industry.
China boasts a diverse range of cuisine, and regions throughout the country have been actively exploring the potential of food as a catalyst for tourism growth.
In March, a monthlong festival featuring Dongpo food culture was held in Haikou, capital of Hainan province. The festival saw 10 cities that were once home to Su Dongpo, a renowned poet and gourmet during the Song Dynasty (960-1279), come together to showcase their unique Dongpo-related delicacies. The cities included Meishan in Sichuan province, Huanggang in Hubei province and Huizhou in Guangdong province.
In August 2022, at a festival featuring tourism and food in Fujian province, 126 booths showcased specialties such as smoked duck from Jian'ou, beef balls from Yongding and meat slices from Fuding, attracting throngs of locals and tourists to sample the fare.
Chengdu, capital of Sichuan province, has been organizing high-profile food-themed events such as the Chengdu International Food Festival for years. Additionally, it has implemented a three-year action plan (2018-20) and a five-year action plan (2021-25) to establish itself as an international food capital.
Food plays a vital role in driving tourism spending and capturing a traveler's heart. Wu Liyun, an associate professor at the China Academy of Culture and Tourism of Beijing International Studies University, illustrated this point by reflecting on her own experiences: "The tantalizing skewers of Dujiangyan, the crispy and spicy Yimeng stir-fried chicken of Linyi and the delectable grilled oysters of Guangzhou were not only among the most memorable and important components of my itineraries, they were the greatest motivators for me to return," Wu said.
"When it comes to the most memorable city I have visited, the first one that comes to mind is Langkawi in Malaysia. It was the first overseas city I visited, where we ate creamy lobster on a beautiful afternoon at the beach. To some extent, the creamy lobster represents my most memorable experience in Langkawi and serves as a symbol of my trip there."
Tourism experts suggest that enhancing the role of culture can enrich the overall tourist experience.
According to Zhang Linlin with Shandong College of Tourism and Hospitality, Zibo has undertaken initiatives to recommend local attractions to young visitors, including the Zibo Ceramic and Glass Museum and the Qi Heritage Museum.
Li Qinglei, vice-dean of the school of tourism and geography of Yunnan Normal University's Faculty of Geography, suggested leveraging food industry associations and writers' and artists' associations to promote local food culture through initiatives such as soliciting food stories, organizing trips for literature and art personnel and new media creators, composing food guides, filming documentaries and applying for inclusion on intangible cultural heritage lists.
Most Popular