High-level forum calls for stronger sci-tech links
Share - WeChat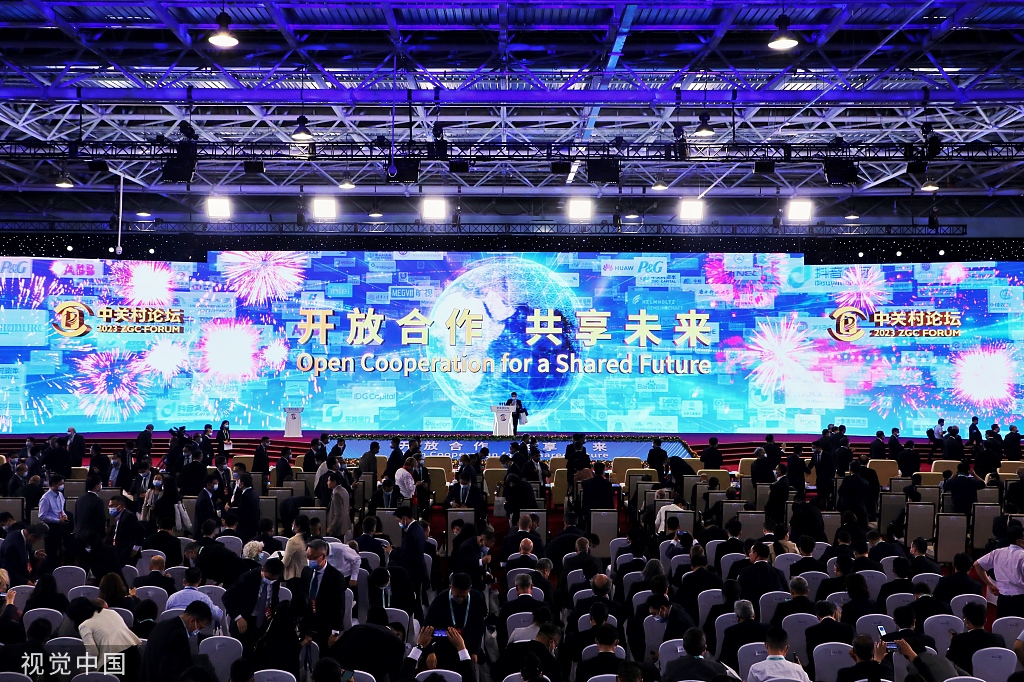 Greater global cooperation in science and technology is needed to help the world promote economic recovery, advance green development and deal with mounting uncertainties such as the potential risks of decoupling and regional conflicts, officials and experts said on Friday.
Highlighting the importance of technology in spurring innovation, they said that China will be able to make unique contributions to solving the challenges by sharing its technologies and experiences.
The comments came after President Xi Jinping said that China is willing to work with countries around the world to promote technological innovation to better benefit the people of all countries. He made the remarks in a congratulatory message to the 2023 Zhongguancun Forum, which opened in Beijing on Thursday, and runs through Tuesday.
Wang Zhigang, minister of science and technology, said at a meeting of the Zhongguancun Forum on Friday that China aims to partner with countries around the world in promoting global economic transformation, green development and poverty eradication.
"We will make more efforts to optimize the open innovation ecosystem and promote the smooth flow of knowledge, technology and talent, in order to provide a broader stage for international scientific and technological organizations, scientists, entrepreneurs and investors to come to China for innovation and business expansion," Wang said.
The country will also strengthen joint research in key areas, establish global scientific research funds and promote intergovernmental scientific and technological cooperation, he said.
Microsoft co-founder Bill Gates said in a speech via video link at the forum that greater global cooperation is needed to address the challenges facing humankind.
Gates said that although human society has been hit by challenges such as the COVID-19 pandemic, climate change and regional conflicts, he remained optimistic about the future and believes that humanity will once again be on the right track.
China has an incredible mix of expertise and experience, as well as investment in scientific and technological innovation, Gates said, adding that, "China will be able to make unique contributions to sharing its technologies and its lessons."
He said that China is already playing an important role in addressing challenges, and the country's drug and vaccine research and development resources, as well as its production capacity, can help the world prepare for future pandemics.
Hou Jianguo, president of the Chinese Academy of Sciences, said that open cooperation is key to advancing global technological progress, and the contribution of Chinese scientists to the global scientific and technological community is growing.
China's international scientific and technological cooperation papers accounted for 23.4 percent of the country's overall research papers in 2022, up from about 14 percent in 2013, Hou said.
China has, for the first time, replaced the United States as the largest contributor to high-quality natural-science research by ranking No 1 in the share of papers published in top journals in 2022, according to the latest data from Nature Index.
Denis Simon, president of the Alliance of Global Talent Organizations, said in an interview with China Daily that President Xi's remarks send a clear signal that efforts can be made to advance international cooperation in key areas despite uncertainties such as the potential risks of decoupling.
"We are seeing both competition and cooperation. I think that is the hallmark of this era. Just because we compete, it doesn't mean that we can't cooperate with one another," Simon said.