Racism impact more likely in black people with Alzheimer's
Share - WeChat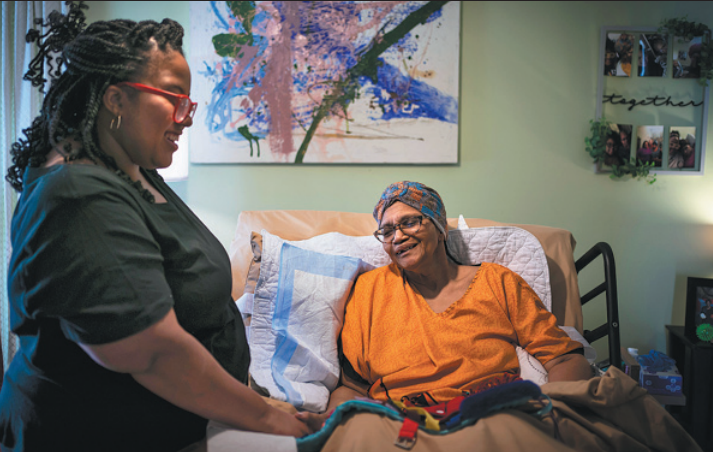 FREDERICKSBURG, Virginia — Constance Guthrie is not yet dead, but her daughter has begun to plan her funeral.
It will be in a black-owned funeral home playing songs of her ancestors, Jessica Guthrie said. She envisioned a celebration of her mother's life, not a tragic recitation of her long decline.
Constance will die of Alzheimer's disease, a scourge of black Americans that threatens to grow far worse in the coming decades.
Black people are more likely to develop Alzheimer's than white people in the United States. About 14 percent of black people in the US over the age of 65 have Alzheimer's, compared with 10 percent of white people, the Centers for Disease Control and Prevention said.
While some risk factors may differ by race, the large disparities among racial groups cannot be explained just by genetics.
The problems start much earlier in life. Health conditions such as heart disease and diabetes are known risk factors. Both are more common among the black population because of where they live in relation to polluting industries, lack of healthy food choices and other factors.
Across the board, black people do not receive the same quality of healthcare throughout life as white people. And there is the insidious impact of racism.
Racism is a trauma that can lead to increased stress, which in turn can cause health problems such as inflammation, a risk factor for cognitive decline, said Carl V. Hill, chief diversity, equity and inclusion officer of the Alzheimer's Association in Ohio.
In 2018, Constance started pointing at her stomach repeatedly, trying to tell her daughter she was in pain. Jessica took her to her primary care physician, who is white and brushed the concerns aside.
"My mother couldn't articulate that there was significant pain in the moment and the doctor of the practice basically said, 'Oh, well, you know, sometimes they just come in and put on a show and it seems like she's fine,'" Jessica said. They sent her home without performing further diagnostic tests. But the pain persisted.
Jessica took her mother to the emergency room the next day and a black male doctor ordered the necessary imaging. She needed emergency surgery to correct a painful, protruding hernia.
The problems black people face getting medical care are pervasive. Black people living with serious illnesses get less help managing pain and other symptoms, and they have worse communication with doctors, according to the Center to Advance Palliative Care in New York.
"I think that part of my journey would have looked significantly different if I were a middle-aged white person or a white male," Jessica said. "I would have been listened to the first time."
Agencies via Xinhua