Listed companies win more projects in May on robust investment pipeline
Share - WeChat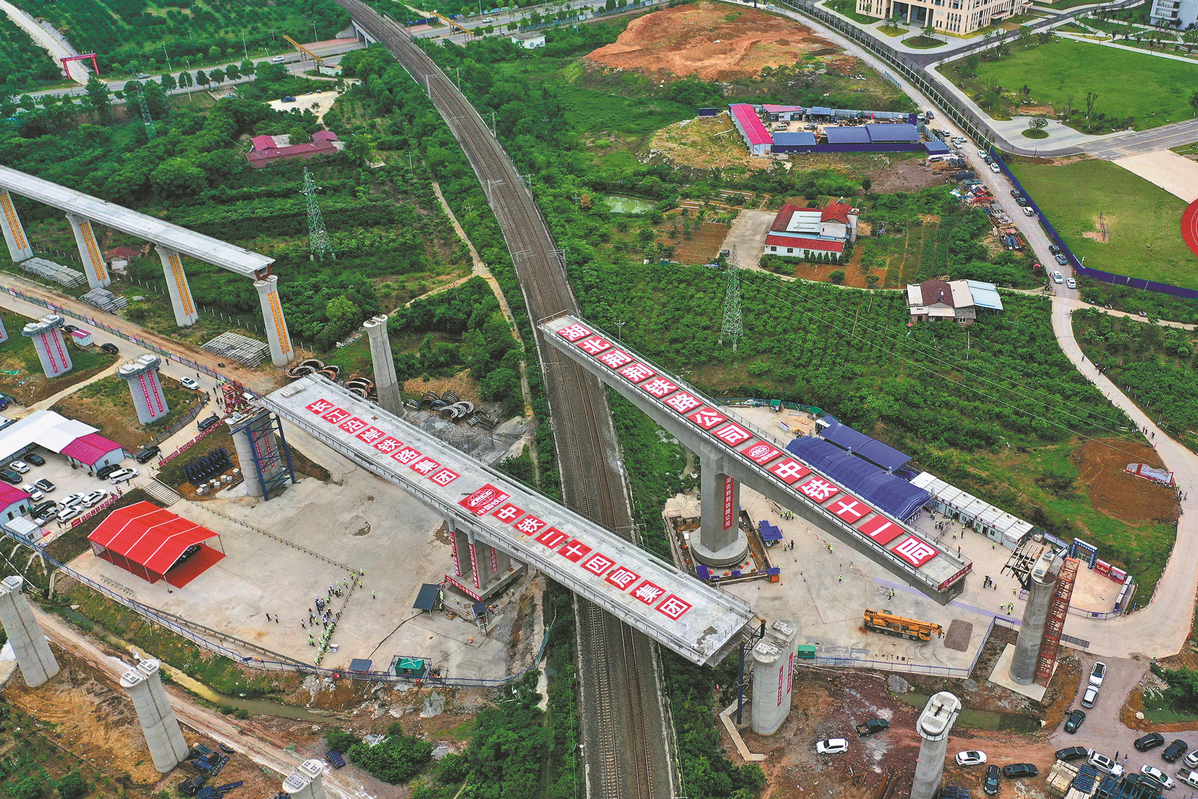 Supported by the expanding effective investment in the country, many listed companies along the infrastructure industrial chain recently announced the winning of major project tenders.
On Friday, Shanghai-listed China Railway Group Ltd (CREC) said it recently won several major projects with a total bid of around 82.33 billion yuan ($11.67 billion), accounting for about 7.15 percent of its revenue in 2022.
Among the bids, the largest is located in Xiong'an, Hebei province, with the value standing at 9.59 billion yuan, CREC said in an announcement.
According to a Securities Daily report, as of Tuesday, there had been at least 10 listed companies, including CREC, who reported winning major project tenders in May. The projects involve railway construction, integrated transportation, construction investment and highway upgrades.
The listed companies' bid reports reflect the stable growth of investments, which in turn will better support the nation's economic recovery, said Liu Xiangdong, a researcher at the Beijing-based China Center for International Economic Exchanges, quoted by Securities Daily.
According to the National Bureau of Statistics, China's infrastructure investment increased by 8.5 percent year-on-year in the first four months. Among the total, investment in railway transport increased by 14 percent year-on-year, water conservancy management by 10.7 percent and road transport by 5.8 percent, despite the relatively high base last year.
Looking at the intense promotion of infrastructure construction nationwide, experts said expanding effective investment will still be a main pillar for the nation's economy this year.
"According to the fixed-asset investment plans announced by local governments, expanding effective investment will continue to play an important role in boosting economic development. It is expected that infrastructure projects will continue to accelerate within the year," said Guan Tao, global chief economist of BOC International.
In addition, the commencement rate of projects in many areas around the country stands at a high level. According to a market research jointly conducted by China Media Group's financial news channel CCTV-2, heavy machinery maker Sany Group and cloud tech firm Rootcloud Technology Co Ltd, among the 31 Chinese mainland provincial regions, 28 have seen a commencement rate exceeding 60 percent in April. Anhui province tops the list with 80.7 percent of new projects that began construction in April.
Driven by such factors, many listed companies in the infrastructure sector achieved growth in major business figures in the first quarter.
CREC said in its first quarter report that the value of new contracts reached 667.38 billion yuan in the first three months, up 10.2 percent year-on-year, while its peer China Railway Construction Corp Ltd (CRCC), also listed on the Shanghai bourse, said it achieved 539.63 billion yuan in contract value, an increase of 15.82 percent.
China Railway 24th Bureau Group Corp Ltd (CR24), a CRCC unit, said it is bullish on its performance this year, as its engineering work is progressing smoothly across the country.
For instance, in Jingmen, Hubei province, two high-speed railway bridges spanning the Jiaozuo-Liuzhou Railway were rotated into position after 70 minutes of delicate engineering work last week, CR24 said.
The work was completed with "coordinated efforts" from China Railway 11th Bureau Group Co Ltd and China Railway Siyuan Survey and Design Group Co Ltd — builders of the Jingmen-Jingzhou high-speed railway — and China Railway Engineering Design and Consulting Group Co Ltd, which is working on the Shanghai-Chongqing-Chengdu high-speed railway with CR24.
Two 112-meter continuous T-beam bridges, built for two high-speed rail lines, were rotated 50 degrees to traverse the Jiaozuo-Liuzhou Railway. The bridges, weighing about 13,000 metric tons each, were built on the side of the operating rail, then rotated to position, with only a "minimum disruption to traffic", said Wang Ping, a manager on the rotation project.
To ensure safety during the rotation, construction workers collected and confirmed key parameters such as the speed of rotation, incremental displacement and the traction system. They analyzed and judged potential problems in the construction and formulated targeted measures and plans to ensure the successful completion of the rotation, Wang said.
The Jingmen-Jingzhou and Shanghai-Chongqing high-speed railways are important parts of the national high-speed railway network. The two railways intersect and connect at Jingmen West Station, with a designed speed of 350 kilometers per hour.