Experts: Micron decision in line with global practices
Share - WeChat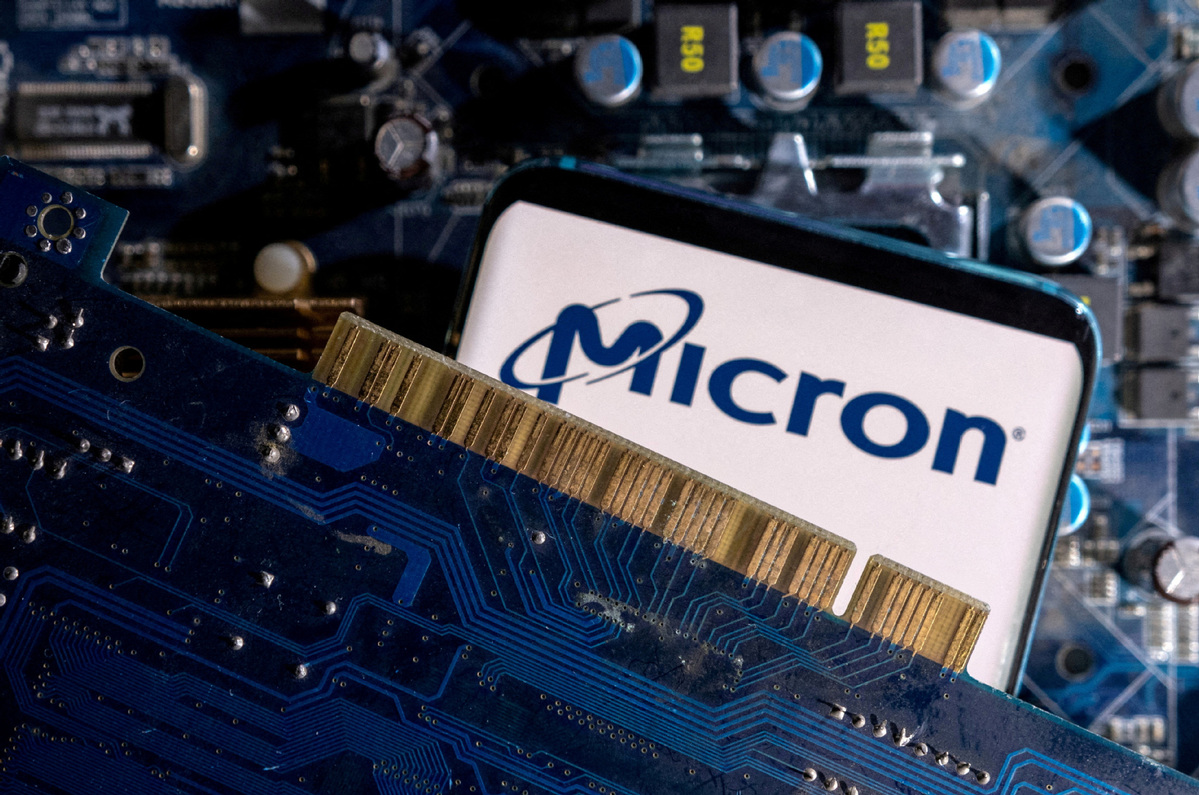 China's law-based decision on asking its critical information infrastructure operators to stop buying products from Micron Technology is in line with international practices of placing greater emphasis on cybersecurity, experts said on Monday.
The move could reshape China's memory chip supply chains, bringing opportunities to competitive Chinese memory chip makers such as Yangtze Memory Technologies Corp and South Korean companies such as Samsung Electronics and SK Hynix, they added.
The comments came after the Cyberspace Administration of China said in a statement on Sunday that products of Micron, a US-based global supplier of semiconductors, sold in China have not passed a recent cybersecurity review, and operators of China's key information infrastructure should stop purchasing its products.
The review found that Micron's products have serious hidden problems of network security, which has caused a significant security risk to the key information infrastructure supply chain in China, it said.
China approved a cybersecurity law in 2016 that outlined rules to safeguard critical information infrastructure, which refers to technology systems in sectors including telecommunications, transportation and defense that Chinese regulators believe would be vulnerable if they malfunctioned or leaked data, experts said.
Roger Sheng, vice-president of US market research company Gartner, said the move could have profound impact on Micron's business in China, a market that contributed to roughly 11 percent of its $30.8 billion in global sales in 2022.
"Chinese State-owned companies and their affiliates, at least, will stop buying Micron's products. And it could have broader impacts given the clear signal from the official statement that Micron's products have cybersecurity risks," Sheng said.
In March, China's cybersecurity review office announced its intention to carry out a cybersecurity review of Micron's products based on the National Security Law, the Cyber Security Law and the Cyber Security Review Measures.
"Since then, companies in the (Chinese) market have already started to avoid buying Micron's products, amid concerns that the products might end up nowhere in the future," Sheng added.
Micron said in a statement that "We have received the notice of conclusion of its review of Micron products sold in China."
"We are evaluating the conclusion and assessing our next steps," Micron added.
Huatai Securities and CITIC Securities both said in research notes that the move will bring opportunities to Chinese memory chip suppliers such as Yangtze Memory Technologies Corp and South Korean companies such as Samsung Electronics and SK Hynix.
Micron is the third-largest maker of DRAM, or dynamic random access memory chips, which are flash memory chips widely used in smartphones, personal computers and servers. Micron accounted for 22.8 percent of the global DRAM market in 2021, behind Samsung's 43.6 percent and SK Hynix's 27.7 percent, according to data from the market research company ICInsights.
On Monday morning, shares of Chinese memory-chip-related companies surged. Shares of Fujian Raynen Technology Co Ltd, for instance, skyrocketed by the daily limit of 10 percent in Shanghai.
Xiang Ligang, director-general of the Information Consumption Alliance, a telecom industry association, said the move on Micron is in line with international practices of attaching greater importance to cybersecurity.
"Countries are now all adopting tougher security reviews on IT and electronic products that concern data, because data is now increasingly a key part of national security," Xiang said.
Financial Times reported in April that Washington has urged South Korean officials to prevent its chip makers from filling the market void if Micron was unable to sell its chips to China.
Shu Jueting, spokeswoman of the Ministry of Commerce, said at a news conference in late April that China is firmly opposed to such misconduct by the US as it represents typical bullying in the technology sector, when she was asked about the comments on the Financial Times report.
Such practices cause serious disruptions to normal economic and trade exchanges among enterprises, break market rules, sabotage international economic and trade order and threaten the security and stability of the global industrial chain supply chain, Shu said.
Pan Helin, co-director of the Digital Economy and Financial Innovation Research Center at Zhejiang University's International Business School, said the US government has already adopted a series of well-calculated approaches to curb China's fast-growing chip sector.
Washington also wants to coerce Seoul to follow its moves, which would only further weigh down the global chip industry chain, Pan said.